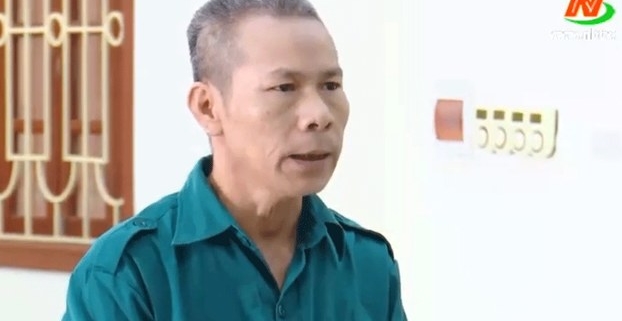 Vietnam Human Rights Report July 1, 2019 – September 30, 2019: No Improvement in Already Dismal Crackdown on Dissent
Featured Image: Le Van Sinh at trial in Ninh Binh on September 5, 2019. Source RFA
The third quarter of 2019 continued to be a difficult time for activists and political prisoners in Vietnam. The past three months yielded the new arrest of one person and trials of 12 individuals under vague criminal provisions, as well as harassment of members of civil society groups such as the Green Trees environmental group, public protesters, and family and friends of political prisoners. Up to this point in 2019, Vietnamese authorities have arrested 21 activists, at least 12 of whom are online commentators, and have tried and convicted 38 people. In addition, at least 53 activists remain at risk and have suffered from a variety of harassment incidents, including forced evictions, forced disappearances, physical assaults, and property confiscations.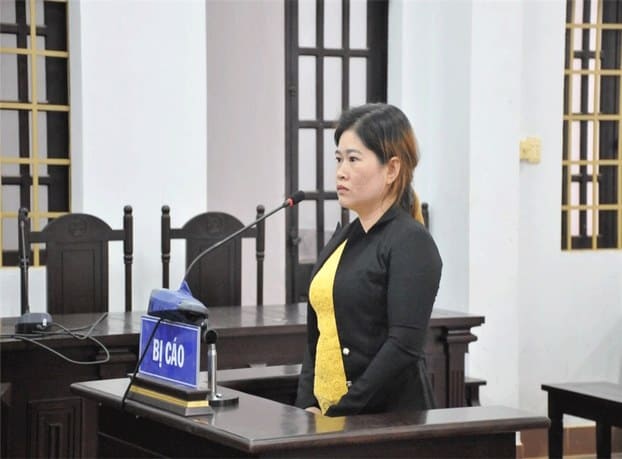 Duong Thi Lanh at trial on August 23, 2019. Source: Radio Free Asia Vietnamese
In just the month of September, authorities sentenced two Facebookers and one public protester to prison terms. The People's Court of Ninh Binh Province tried Le Van Sinh on September 5, 2019 and sentenced him to five years for his Facebook posts. On September 17, the People's Court of Ben Tre Province also sentenced Facebooker Nguyen Van Cong Em to five years for his online posts and for calling for public protests. One day later, Build-Operate-Transfer protester Tran Dinh Sang was sentenced to two years in prison. In addition, on September 23, the public security of Lam Dong province raided popular Facebooker Nguyen Quoc Duc Vuong's house and arrested him. 
Others sentenced to prison terms this quarter were online activists Duong Thi Lanh (eight years) and Huynh Dac Tuy (six years), as well as seven BOT toll station protesters, including driver Ha Van Nam (two years and six months). The other six people tried along with Nam were sentenced to between 18 and 36 months in prison. Further, on September 23, 2019, the People's Supreme Court of Ho Chi Minh City upheld the sentences of Vu Thi Dung and Nguyen Thi Ngoc Suong in an appeal trial. In May, the People's Court of Dong Nai province held the first instance trial against the two and sentenced them to six and five years in prison, respectively, for their Facebook posts with content critical of the state, calling on others to participate in protests, and distributing leaflets. 
Also this quarter, several activists were harassed for participating in protests over Chinese maritime actions within a Vietnamese economic zone; protests occurred in several cities across the country, highlighting both frustration with the government's handling of perceived Chinese violations of Vietnamese sovereignty and a lack of freedom of information in the country. Also in August, members of the Green Trees group were harassed and questioned about their new documentary film, Don't Be Afraid. Dang Vu Luong was kidnapped from a friend's home and interrogated; two other members were also briefly detained after calling for Luong's release.
In July, friends and family of political prisoners in Prison No.6 were attacked while trying to visit prisoners on hunger strike. Elderly members of the group, as well as youth, were assaulted, and the group could not make it to the prison to visit the strikers. The strike ended in late July, after 41 days.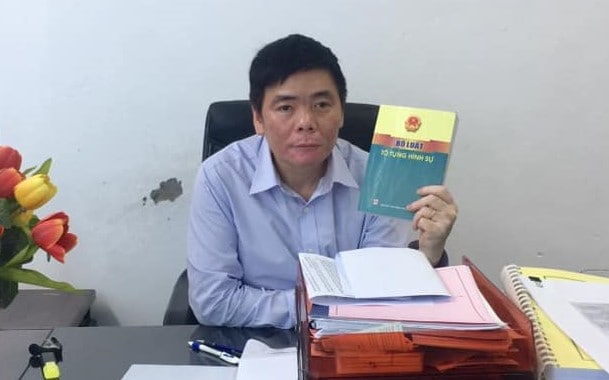 Tran Vu Hai, Source: Facebook Tran Vu Hai
Other notable developments in the past quarter include continued mistreatment of political prisoners behind bars and intense targeting of prominent dissidents. Nguyen Ngoc Anh is facing death threats from his cellmates while trying to appeal his conviction, likely at the command of prison authorities. Hien Phap member Doan Thi Hong is facing declining health, still in pre-trial detention a year after her arrest. And Nguyen Van Dien has recently started a hunger strike— his second in 2019– to protest the maltreatment of the political prisoners. Plus, new information has surfaced regarding the physical assault against and solitary confinement of journalist Nguyen Van Hoa. 
On September 20, 2019, Nguyen Thi Hue, Hoa's sister, reported that prison authorities threatened Hoa that they would cut the tendons in his legs back in July 2019 while he was in solitary confinement. Hue also reported that during his four months of confinement, he wasn't allowed to go outside and was also put under camera surveillance. Hoa completed his punishment of solitary confinement on September 14, 2019. He was placed there shortly after fellow political prisoner Hoang Duc Binh had reported that prison officers had gripped Hoa's neck and beat him.
Earlier in the quarter, lawyer Tran Vu Hai was placed under investigation for alleged tax evasion. No arrest was made, but a search warrant was issued and police took away a large amount of materials not related to the case, including the dossiers of multiple important cases, such as the case of Truong Duy Nhat. Authorities finalized the indictment against Nhat recently, under the charge of ""abuse of position and power when carrying out public duty" for an alleged fraudulent land sale, but many believe the charge against him to be politically-motivated.
There have also been several violations of freedom of publication in the past quarter. The bank accounts of the Freedom Publishing House (FPH), an independent publisher formed in February 2018, have been shut down and its delivery persons harassed. FPH's latest publications include A Handbook for Families of Prisoners, paperback reprints of the famous Politics for the Common People, by Pham Doan Trang, and Lives behind Bars, by Pham Thanh Nghien. FPH management told the Voice of America that "there's nothing unusual about the regime's attacks; it would do the same to any publisher that operates outside the system of state censorship."
Author Pham Doan Trang told Radio Free Asia (RFA) that when 1,000 copies of her book "A Handbook for Families of Prisoners" were given away to readers, many secret agents pretended to be interested in the book and made appointments at hidden locations to grab and beat the people who delivered them. Trang was recently awarded Reporters Without Borders's Prize for Impact, which she was unable to accept in person; then, on September 14, when several activists in Ho Chi Minh city held a party to celebrate her win, the police surrounded the location and tried to capture Trang. Luckily, the other activists helped her escape. Shortly after that incident, Trang announced her hiatus from social media for at least one month to receive medical treatment. Trinh Huu Long, her colleague and co-founder of Luat Khoa magazine, said that Trang's illness stems from severe wounds of the spine, arms, and legs, which she has received over the last four years while fighting for democracy in Vietnam. 
Throughout all of 2019, Ho Chi Minh City and Ha Noi authorities (at all levels of authority) have perpetrated the most incidents against activists, followed by authorities in Nghe An, Thanh Hoa, and Dong Nai and Ben Tre provinces (tied). In the last quarter, Nghe An has had the most incidents.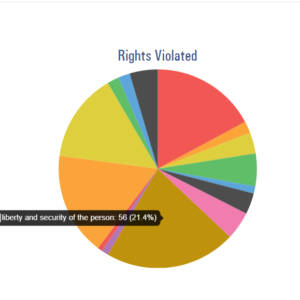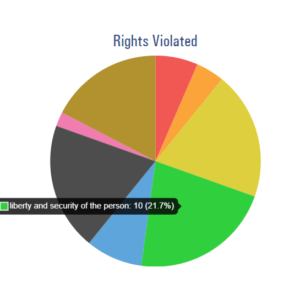 The right to liberty and security violated in incidents against activists and political prisoners in all of 2019 (left) vs. in the third quarter of 2019 (right)
When we look at rights violated in incidents, in 2019 overall, the top three most violated rights have been the right to liberty and security of the person (violated in 21% of cases), the right to freedom from arbitrary arrest or detention (17%), and the right to freedom of expression (17%). Looking at only the previous quarter, the most violated rights are the right to liberty and security of the person (22%), the right to freedom of assembly (20%), the right to freedom from discrimination (20%), and the right to equal protection of the law (17%) . This data shows that authorities continue to use detention as a main tactic when targeting dissenters, as well as continue to violate people's right to share their opinions or simply be present in public spaces. When activists are harassed by individuals and no action is taken by authorities, we note a violation of the rights to equal protection and freedom from discrimination. These rights were violated in many recent incidents, but perhaps most notably when authorities failed to investigate the attack on the supporters of political prisoners in Nghe An province. This failure to investigate points to the potential for the authorities' complicitness, if not direct involvement with, the attack.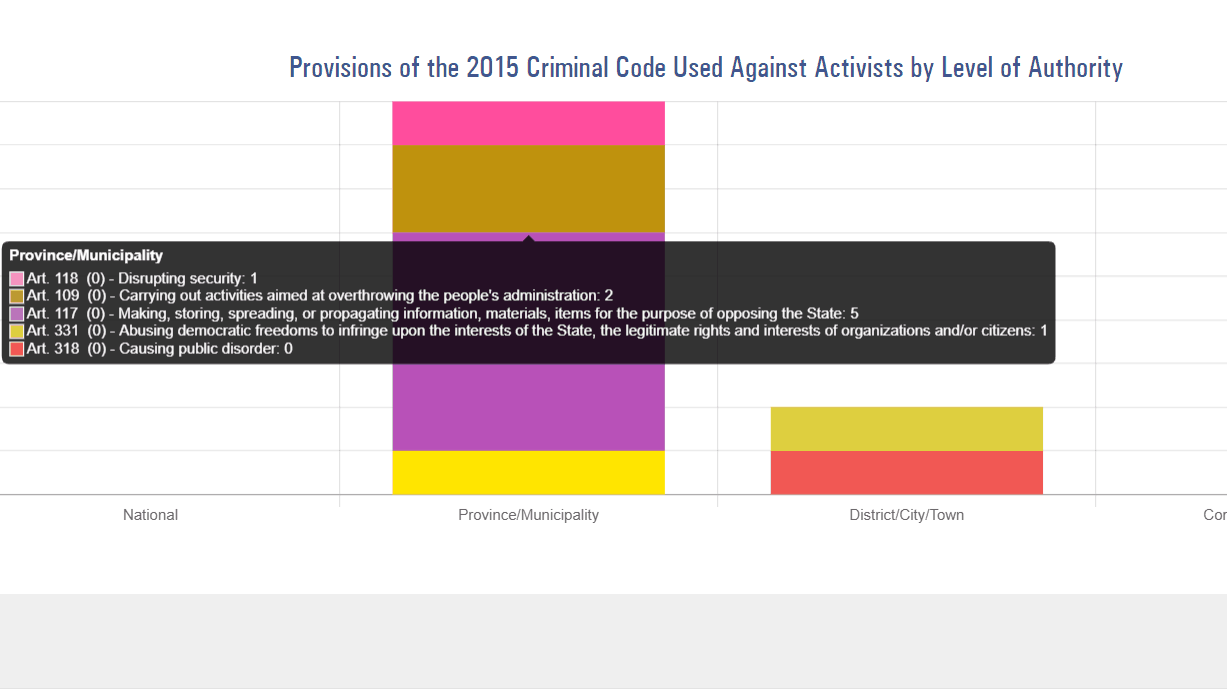 Provisions of the 2015 Criminal Code used against activists by level of authority so far in 2019
Over the course of the whole year, 45% of activists have been charged under Article 117 of the 2015 Criminal Code for propaganda against the state, followed by Articles 331 (abusing democratic freedoms) and 109 (subversion), tied at 18% each. Most charges have come from the provincial/municipal level. All of the charges under Article 117 have been brought by the provincial/municipal level of authority, again showing that provincial authorities are the leading perpetrators in the crackdown on online dissent.
In the past three months, Vietnamese authorities have shown further disregard for their obligations under international law. While the people and civil society groups targeted by authorities may change over time, the desire to suppress any and all dissent generates a continuous stream of human rights violations. We call on the international community to denounce the calculated patterns of repression of dissent in Vietnam and to urge the country to immediately release all political prisoners. 
You can support Vietnamese political prisoners Doan Thi Hong, Nguyen Ngoc Anh, and Truong Duy Nhat by taking international actions launched on their behalf. Call on Thai authorities to investigate Nhat's kidnapping, which they are now believed to have assisted in facilitating. Take action with Amnesty International in pressing for the release of Doan Thi Hong. She has been detained for over a year without trial, and when her family was finally able to visit her on September 4, 2019, they reported that her health had notably declined. We also urge the activist community, international human rights organizations, and foreign embassies in Vietnam to pay attention to Nguyen Ngoc Anh's dangerous situation in prison– including death threats against him– by sharing our article about his condition, reporting further about his situation, and requesting to visit him in prison. Read about more ways to get involved on our Take Action page.
© 2019 The 88 Project 
https://the88project.org/wp-content/uploads/2019/09/Le-Van-Sinh-at-trial-Source-RFA.jpeg
415
622
kayleedolen
https://the88project.org/wp-content/uploads/2019/01/88project.png
kayleedolen
2019-10-04 15:16:35
2019-11-21 15:10:48
Vietnam Human Rights Report July 1, 2019 – September 30, 2019: No Improvement in Already Dismal Crackdown on Dissent