Tran Vu Hai
Current Status: Sentenced to probation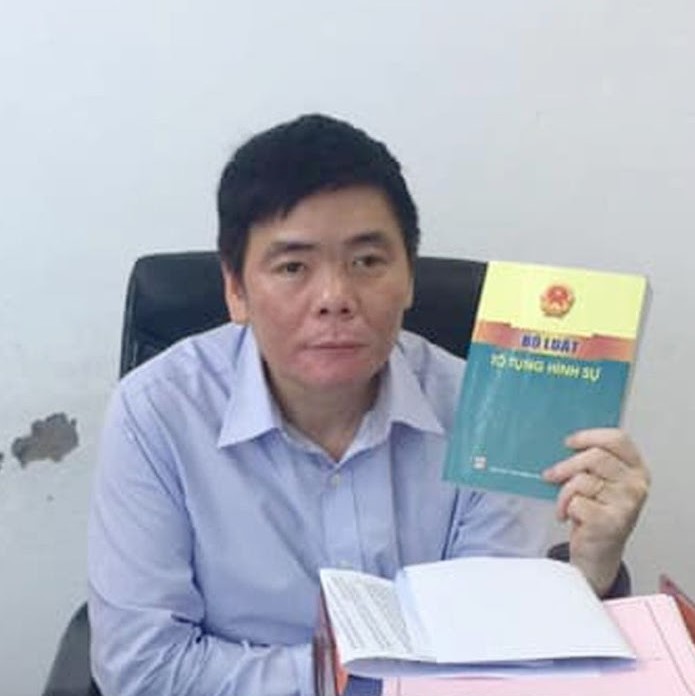 Other Names: Trần Vũ Hải
Date of Birth: August 5, 1962
Gender: M
Ethnicity: Kinh
Occupation: Lawyer
Areas of Activism:
Rule of law
Freedom of expression
Human rights
Land rights
November 2019:
Also on November 15, human rights lawyer Tran Vu Hai and his wife, Ngo Tuyet Phuong, were convicted on charges of tax evasion. They will have to serve 12-15 months of house arrest. The tax authority themselves did not request that the public security in Nha Trang investigate suspicious tax evasion activities. This, combined with the fact that Hai had previously agreed to represent dissident blogger Truong Duy Nhat, leads many to believe that the charges against Hai are politically-motivated. Before the trial began, most of the representatives of official news outlets and journalists were barred from entering the courtroom. On the second day of the trial, November 14, attorney Nguyen Duy Binh was forcefully escorted out of the courtroom for merely asking one of the defendants whether she had petitioned for five other lawyers to represent her and whether the Court had denied her request. Binh was also detained for a short period of time at the office of the public security force of Phuoc Tan ward. With the unprecedented support of dozens of lawyers, an extremely weak accusation against him, and clear political motives behind the indictment, if attorney Tran Vu Hai can still be found guilty, there is no realistic way in which other defendants can protect their legitimate rights and interests before this judicial system, especially those who are accused of political crimes. Read our full report on the trial here.
Details - Background, History of Activism, Family Situation.
Tran Vu Hai is one of the few lawyers in the association of 13,000 members that actively provides legal protection for human right activists, as well as participates in many other legal campaigns against injustices, land evictions, and wrongful convictions in Vietnam.
Profile photo source: Facebook Tran Vu Hai
Cases:
--One of eight lawyers representing death row inmate Huynh Van Nen. Nen was proven innocent, and the case became one of the textbook cases concerning wrongful conviction in Vietnam.
--Representing Doan Van Vuon in the contentious land rights case where farmer Vuon had to resort to armed violence to protect his land against the unlawful armed eviction involving the use of the State's army.
--Currently in the group of lawyers representing the residents of Vegetable Garden Lộc Hưng in a forced eviction attracting national attention.
--Representing the high-profile political dissenter Cu Huy Ha Vu.
--Hai is currently trying to represent another high-profile political dissenter Truong Duy Nhat. However, after the accusation of tax evasion in 2019, he was denied the role.
Incidents:
--Providing legal counsel and acting as the meditator in the most direct and dramatic land grab conflict in recent decades in Vietnam, between Dong Tam villagers and Ha Noi authority, where the villagers had to take 38 hostages, including police, after an influential octogenarian was publicly beaten by security and evicting forces.
--Providing legal counsel to the residents of Dong Yen parish to claim damage after the infamous Formosa environmental disaster.
He is also known as an outspoken critic of local and central governments in Vietnam.
July 2, 2019: under investigation for tax evasion
Police investigation
July 2, 2019
Public security
Hai's office in Ha Noi. (
map
)
equal protection of the law
respect of privacy, family, home, and correspondence
freedom from discrimination
Professional associations
On July 2, the Investigative police division of the Public Security Department of Khanh Hoa Province charged attorney Tran Vu Hai, a prominent lawyer in Vietnam, with "tax evasion." No arrest was made, but a search warrant was issued and police carried out a search of his office and took away a large amount of materials not related to the case. These materials included the dossiers of multiple important cases, such as the case of Truong Duy Nhat.
While no arrest has been made, the act of seizing unrelated documents and on-going case dossiers was indeed questionable. According to Hai, many of his documents relating to the case of blogger Truong Duy Nhat, who was arrested after being kidnapped from Thailand while attemtping to seek asylum there, have been arbitrarily taken. The company's safe was also seized.
Hai was not at his office when the search first initiated. His request that attorney Ngo Anh Tuan be able to observe the search was also denied by the public security forces.
On July 3, Tran Vu Hai announced on his personal Facebook account that he was going to take a break from work, to rest, read, and resolve the issue together with his family.
Also, interestingly, the beneficiary of the alleged "tax evasion" has suggested that it is a mistake and he/she is willing to pay the tax. Khanh Hoa investigators rejected this option. Nine attorneys have successfully registered as Hai's defense counsel. Hai also said that many lawyers are also ready to support his case. These attorneys include: Bui Quang Nghiem, Trinh Vinh Phuc, Đang Dinh Manh, Nguyen Van Mieng, Phung Thanh Son, Nuyen Duy Binh (HCMC Bar Association); Ha Huy Son and Ngo Anh Tuan (Ha Noi Bar Association) and Nguyen Hong Ha (Khanh Hoa Bar Association).
The Investigative Police Division of the Public Security Department of Khanh Hoa Province initially refused to complete the process of defense registration. Although some attorneys arrived at the department on July 22, 2019, as requested by the department, to complete the registration of defense, the receiving officer said they had "no working schedule with the attorneys." After a whole day of waiting, finally the attorneys were allowed to complete the registration to defend Tran Vu Hai and his wife.
October 2019:
Authorities have recommended lawyer Tran Vu Hai and his wife Ngo Tuyet Phuong for prosecution under charges of tax evasion under Article 161 of the 2015 Criminal Code. Two others have also been implicated in the charges in what was allegedly a fraudulent property transaction. In July, police issued a search warrant of Hai's office and took away a large amount of materials not related to the case. These materials included the dossiers of multiple important cases, such as the case of Truong Duy Nhat. Hai is a well-known human rights lawyer, leading many to believe that the charges against him are politically-motivated. The Ministry of Public Security recently refused Hai's request to represent Truong Duy Nhat at trial.
The Ha Noi Bar Association and over 100 lawyers across the country took action for Tran Vu Hai. The unity in supporting Hai shows a strong concern of lawyers in Vietnam about their future practices if the public security forces can do whatever they want to hinder the participation of lawyers in criminal cases.
More than 50 lawyers also signed a petition asking for an investigation into the actions and charges against Hai. The petition was sent to 12 organizations and leaders of Vietnamese government on July 15, 2019.
Profile last updated: 2019-12-04 06:12:40