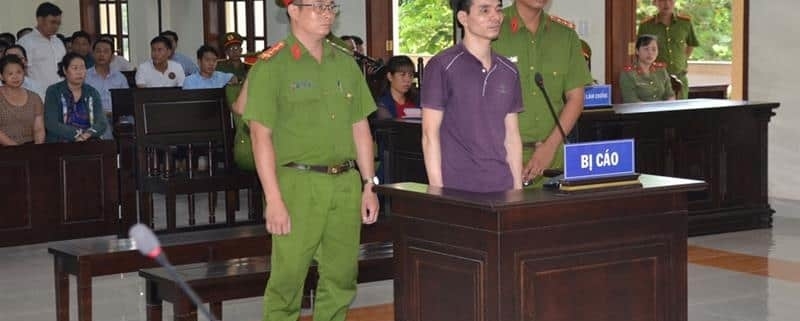 Nguyen Ngoc Anh Facing Death Threats and Other Severe Harassment in Prison
Featured Image: Nguyen Ngoc Anh at trial on June 6, 2019, Source: Huynh Phuc Hau/VNA via Reuters
Attention is falling on Binh Phu Detention center, in Ben Tre Province, where engineer Nguyen Ngoc Anh is facing serious maltreatment while waiting for an appeal trial. According to Anh's wife, Ms. Nguyen Thi Chau, Anh revealed his dangerous situation, which includes death threats against him, during the latest family visit on September 6. 
Anh has been held with common criminal inmates and has been suffering from severe physical and mental harassment for two months, which he believes to be inflicted upon him at the command of the detention center leadership. In particular, these cellmates beat Anh with food containers, prevent him from passing by their sleeping places, and scold him without any reason. These activities are probably meant to incite Anh to react and give the cellmates a reason to attack, and even kill, him. According to the cellmates, they plan to do so one of the coming days when music is played at 5:00 p.m. The plan was spread to other prisoners after one of Anh's cellmates met with detention officers for 15 minutes.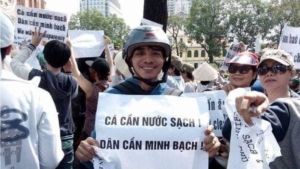 Nguyen Ngoc Anh at an environmental protest. Source: Facebook An Duong Nguyen Phu
In the days following that meeting, Anh discovered that a cellmate had a rope, a prohibited item in prison, and turned the cellmate in to the detention supervisors, who in turn forced Anh to admit that the rope belonged to Anh himself. Consequently, the violator was punished less than Anh; Anh was harassed for hours, while his inmate just had to talk with the supervisors for approximately 15 minutes and received no discipline. Meanwhile, the other inmates continued threatening to kill Anh. They even claimed that they wouldn't be held accountable for his death, hinting that the plan to kill him was sponsored by the authorities. Before meeting his wife on September 6, 2019, Anh himself also heard a conversation between his cellmate and another prisoner, in which his cellmate admitted to reluctantly having to attack and kill Anh in order to follow "their" order. This confirmation explains why other cellmates were able to possess banned items, probably to kill Anh, without any intervention from detention officers. 
In the time since these encounters, the cellmates have tried to isolate Anh by threatening other prisoners not to receive (or give) any support from (or to) Anh and are tempting others to join the plan. In response, Anh keeps silent and is praying all the time to avoid falling into their traps. Despite being aware of the death threats against him from the criminal prisoners, Anh has asserted to not plead guilty in any way and will continue to appeal his conviction. 
On June 6, 2019, the People's Court of Ben Tre Province sentenced Anh to six years in jail and five years of probation for "conducting anti-state propaganda" under Article 117 of the 2015 Penal Code. According to the indictment, from March to August 2018, he allegedly used many different Facebook and email accounts to share content distorting the people's administration and the state's policy, as well as inciting others to join demonstrations. 
It is notable that, from his arrest on August 30, 2018, until his first instance trial on June 6, 2019, Anh had no defense counsel. After the conviction was released and Anh appealed the charge, his wife hired a lawyer to support him. However, Anh and his lawyer have not been allowed to meet. Therefore, Anh said that he will request to cancel the appeal trial if the detention center continues to prevent him from meeting his attorney. 
The authorities also refused Anh's request for medical treatment and medicine sent by his wife, even though he is suffering from sinusitis and bone soreness. Through both physical and mental torture, the detention center seems to be employing all repression methods they can think of to force Anh to admit his guilt. 
We urge the activist community, international human rights organizations, and foreign embassies in Vietnam to pay attention to Nguyen Ngoc Anh's dangerous situation, by sharing this article, reporting further about his situation, and by requesting to visit him in prison. This report is based on the family's concerning account of their most recent visit in prison. The authorities will have a chance to prove otherwise by allowing foreign embassies' and independent civil society organizations' representatives to visit Anh and see his current condition for themselves.
© 2019 The 88 Project 
Sources:
Nguyễn Ngọc Ánh sử dụng mạng xã hội chống phá Nhà nước, lãnh án 6 năm tù, Thanh Nien Newspaper, June 6, 2019
Vietnam Human Rights Defenders' Weekly Report for September 2-8, 2019: Convicted Pro-democracy Activist Nguyen Ngoc Anh Threatened with Death, Defend the Defenders | September 8, 2019
Những kiểu tra tấn tinh thần trong trại tạm giam, Radio Free Asia, September 9, 2019
https://the88project.org/wp-content/uploads/2019/06/Nguyen-Ngoc-Anh-at-trial-6.6.19_Source-Huynh-Phuc-HauVNA-via-Reuters-e1568776396614.jpg
450
800
kayleedolen
https://the88project.org/wp-content/uploads/2019/01/88project.png
kayleedolen
2019-09-18 03:14:25
2019-09-18 03:22:07
Nguyen Ngoc Anh Facing Death Threats and Other Severe Harassment in Prison