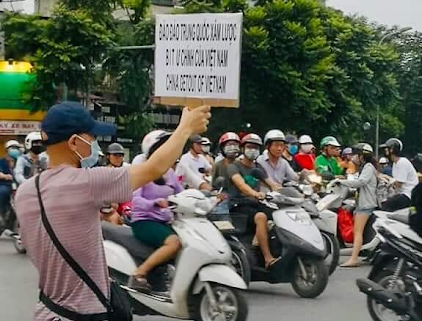 Anti-China Protests and Crackdowns in August 2019: A Review 
On July 3, Chinese survey vessels and coastguard ships entered Vanguard Bank, an area located entirely in Vietnam's Exclusive Economic Zone, to conduct seismic research. This, however, was obviously not the only purpose of the "survey mission." According to Hu Bo, director of the South China Sea Strategic Situation Probing Initiative, the mission was specifically publicized that it "was to prevent Vietnam's unilateral development of the hydrocarbon resources." With the presence of Haijing 3901, a 12,000-tonne cutter that is one of the largest coast guard vessels in the world, equipped with a 76mm (three-inch) rapid-fire gun, two auxiliary guns and two anti-aircraft machine guns, the intention of Chinese government in Vanguard Bank seemed more aggressive than a mere "seismic research." 
After one month of tension between the two countries, Haijing 3901 returned to the area on August 15, marking the possible escalation of the situation. 
Government's cover up and public opinion's division
Unlike the nationwide public outcry after the advancement of HD 981 into protected maritime areas of Vietnam under UNCLOS in 2014, Vietnamese people seemed divided over how they should respond to this incident. 
Many activists were still upset by the fact that waves of sovereignty demonstrations in 2014 and 2018 only resulted in a large scale crackdown, with hundreds of arrests, convictions, trials, and imprisonment. They did not want to be exploited by the regime as a bargaining tool in international relations.  The demonstrations could certainly attract international attention and ignite anti-China sentiment, therefore creating a bargaining tool for the regime. But after that, activists and protesters were often quickly arrested and turned into criminals. 
Others, however, were more optimistic. They believed that practicing their freedom of expression, right to assembly, and right to political participation, would only do good. Carrying out demonstrations against China's unlawful actions would also help to raise domestic awareness on the issue, especially since state-owned media outlets were suppressing the news on the developments in Vanguard Bank, which also violated the basic right to information of the Vietnamese people. All of the above-mentioned rights are recognized in Vietnam's 2013 Constitution, in accordance with Vietnam's international commitments, and should be respected. 
Protests and reactions from local authorities
The 88 Project has briefly reported on the protests against China's unlawful actions in our weekly newsletters. The following review will give readers a more detailed understanding about the protests and crackdowns in August 2019.
Location: In front of the Chinese Embassy in Ha Noi (map)
Description: In the morning of August 06, 2019, a group of activists started the first protest after China's activities in Vanguard Bank. They requested the Vietnamese government to bring China before the Permanent Court of Arbitration (PCA) under the special procedure of Chapter VII of UNCLOS and to take more serious actions. The police quickly dispersed the protest, which only lasted 30 minutes.
The activists during the protest. Source: Người Việt
Authorities' response: No arrests occurred. However, activist Nguyen Thuy Hanh said that she cannot be so sure that would have been the case if the protest had kept going any longer. She has been victim of mistreatment and police brutality for her activism.
August 8, 2019
Location: Tan Tao Industrial Zone in Ho Chi Minh City (map)
Description: Around 4 – 5 people participated in this protest. The participants were all ordinary citizens who wanted to show their patriotism and their dissatisfaction with the Chinese government. 
The protest proceeded calmly. Source: Le Thi Thuy Hanh's Facebook
Authorities' response: After a day participants were invited to work with the local public security and were subjected to administrative penalty. They were interrogated about their political affiliation. Ms. Le Thi Thuy Hanh was threatened, harassed, and fined 750,000 VND (approximately USD 35) for "causing public disorder."  The picture below shows her peaceful protest with some cardboard signs; no public nuisance.
Le Thi Thuy Hanh in the protest. Source: Le Thi Thuy Hanh's Facebook
August 10, 2019
Location: In front of the Chinese Consulate in Ho Chi Minh City (map)
Description: Ten scholars, all around 60 – 80 years old, participated in a small demonstration. They brought with them a banner that reads "Down with the Chinese aggression" and chanted "China out of Vietnam's sea and islands." The protest lasted around 20 minutes before participants peacefully dismissed it. There was a public security officer watching them and warning that "dealing with China is the State's business." 
The scholars before the Chinese Consulate. Source: BBC Vietnamese 
Authorities' response: No arrest occurred. However, Professor Hoang Dung, a participant, did mention that he and others were and still are under strict surveillance. They could be put under house arrest any time. 
August 10, 2019
Location: In front of the Chinese Consulate in Ho Chi Minh City (map)
Description: Le Hieu Dang Club held a protest before the Chinese Consulate in Ho Chi Minh City with around 10 participants.
Le Hieu Dang Club is a civil society organization named after Le Hieu Dang, the deceased Vice-President of the Fatherland Front of Ho Chi Minh City who had been a member of the Communist Party for 40 years but later reconsidered the leadership of the Communist Party and became very involved in the democratization movement in Vietnam in the early 2000s. 
Authorities' response: No critical issues were reported.
August 18, 2019
Location: Hon Chong Coffee Shop, Nha Trang City, Khanh Hoa Province (map)
Description: Four activists chose the coffee shop since the location is a main attraction for Chinese tourists. The signs were written in English with the hope that some tourists could understand the message. 
The coffee shop's guards called the local public security, who arrived shortly after and requested the activists to follow them to Vinh Phuoc Ward public security office in Nha Trang city. The activists were detained for four hours.  
Four activists at the coffee shop. Source: RFA
Harassment against individual activists 
Besides these public demonstrations, many other activists faced certain forms of harassment. 
Facebooker Vu He protesting at Nguyen Chi Thanh's intersection on August 8, 2019. Source: SBTN
Facebooker Vu He was detained for almost a day for "expressing his patriotism at the wrong place and wrong time," according to his testimony. On August 8, 2019, Vu He protested against China's activities at Vanguard Bank at the Nguyen Chi Thanh intersection. His demonstration lasted only 40 minutes due to public security's intervention. After he went back to his accommodation, security forces took him to the police station for interrogation, leaving his hospitalized son alone without his father's care. Before releasing him, public security reminded him to ask for permission before demonstrations and to demonstrate in the "right places." However, they refused to reveal what would be those "right places."
Ho Ngoc Hue, a resident in Dong Nai Province, also planned to participate in a demonstration before the Chinese Consulate with his friends in the morning of August 11, 2019. However, he was arrested on his way to Ho Chi Minh City. While the public security force inform his family about the detention, no warrant, decision or even the location of the detention was disclosed. He was only able to come home at 20:30 pm the next day. 
RFA also reported that Le Gia Khanh in Hanoi was "invited" to work with the district authority and forced to sign a guarantee that he will not go to the Chinese Embassy and participate in any related protest. Pham Hien in Kien Giang was also interrogated by the local police and got his phone and laptop confiscated. 
Final observation
Some observers believe that the anti-China protests in Vietnam only manifest a Sinophobia syndrome. We think, however, that the protests show the public's aspiration for freedom of expression and freedom of information. While history makes the Vietnamese constantly worried about China's expansionism, most of the anti-China protests in 2007, 2014, 2016, 2018, and 2019 have not tried to convey the message of violence against anything Chinese. They have been mobilized due to the fact that the Vietnamese government excludes the public from knowing, understanding, and discussing the relationship with China. With the general public's dissatisfaction regarding Chinese contractors, Chinese illegal migrant workers, and most importantly China's provoking actions in Vietnam's East Sea, the suppression of information and discussion only intensifies the public's discontent. The protests, therefore, also aspire for freedom of information and expression. And that is also the very reason that the Vietnamese regime sees the threats in them.  
© 2019 The 88 Project
https://the88project.org/wp-content/uploads/2019/09/Vu-He-protest-August-8-2019.png
512
422
Huong Nguyen
https://the88project.org/wp-content/uploads/2019/01/88project.png
Huong Nguyen
2019-09-05 16:15:45
2019-09-05 16:15:45
Anti-China Protests and Crackdowns in August 2019: A Review