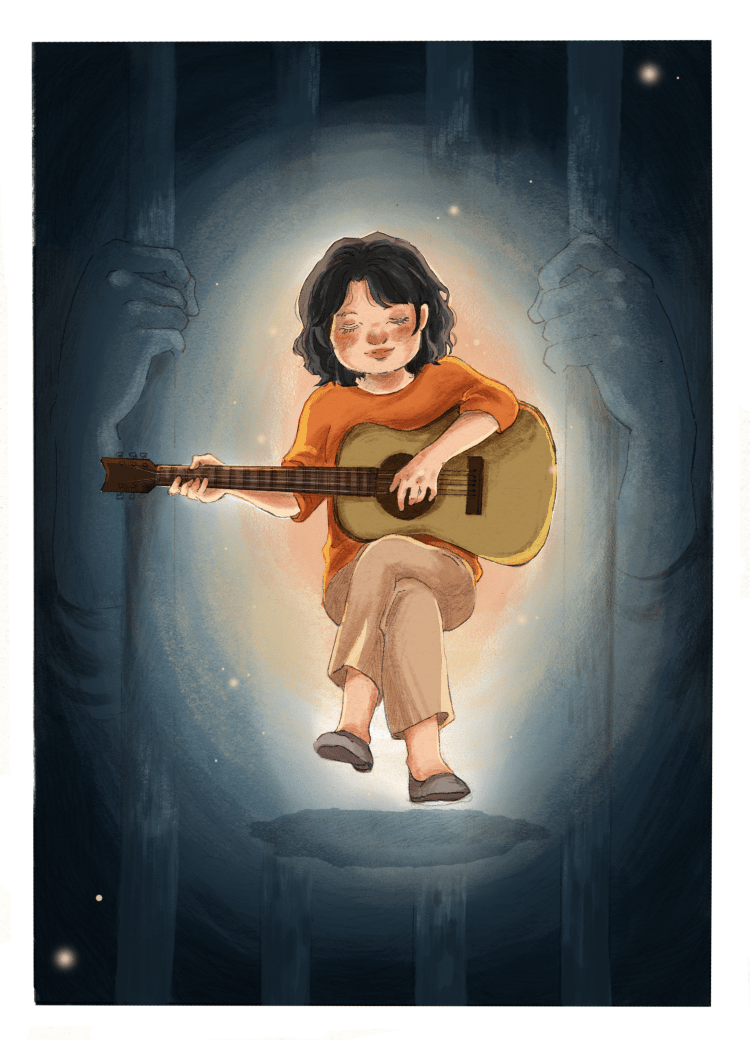 The 88 Project Encourages Audience To Send Letters To Imprisoned Journalist Pham Doan Trang
Featured Image: Pham Doan Trang and her guitar, credit: Jin Jin — see all of the illustrated journey on The Vietnamese's website
November 4, 2021 – The Vietnamese Magazine, Luat Khoa Magazine, and The 88 Project today jointly call on members of the public to send letters to Pham Doan Trang who is being detained in Ha Noi.
In her letter to her friends before her arrest in October 2020, Doan Trang wanted us to read more books on political participation and pushing for free elections in Vietnam. We think that those are tasks for the mass.
As individuals, we think each of us can also write letters to Doan Trang to keep her spirits up and continue to do it during her detention.
We can't be certain whether she will receive everyone's letter. That's up to fate. But we can be sure that she'll receive our love.
You can mail your letter for Trang to:
Pham Thi Doan Trang, Hanoi Detention Center No. 1, Lane 702, Phuc Dien, Nam Tu Liem district, Hanoi city, Vietnam.  Prison number: 4661 V1-M2 (M5).
In Vietnamese: Phạm Thị Đoan Trang, Trại Giam Số 1 Hà Nội, Ngõ 702, Phúc Diễn, Quận Nam Từ Liêm, TP. Hà Nội, Việt Nam. Số Giam: 4661 V1-M2 (M5).
You can also send a message here: bit.ly/dearTrang. We will collect the messages, put them on postcards, and send them to Trang in the detention center.
Another way is to create your own postcard by following the instructions below:
Step 1: Use the template available here (https://bit.ly/write4doantrang; https://bit.ly/write4Trang) or compose your own letter template (handwritten or email).
Step 2: Fill in the message for Doan Trang and download it to your device (if using the design template provided by the campaign)
Step 3: Send a letter to the email address (doantrang@mail.luatkhoa.org) or print it out and send it via post to the address above.
Step 4: Re-upload the image of the letter on your social media account with the hashtag #Thư_gửi_Trang and #DearTrang, tag Luat Khoa Magazine at @luatkhoatapchi and @thevnmesemag on Twitter, or send it to Luat Khoa Magazine (https://www.facebook.com/luatkhoa.org/) or The Vietnamese Magazine (https://www.facebook.com/thevietnamese.org) to show your solidarity with the support community.
You can learn a bit more about Pham Doan Trang and her works by reading this illustrated background of her journey on The Vietnamese's website.
Please also refer to Pham Doan Trang's profile in our Database.
https://the88project.org/wp-content/uploads/2021/11/Pham-Doan-Trang-Credit-Jin-Jin.png
1040
750
kayleedolen
https://the88project.org/wp-content/uploads/2019/01/88project.png
kayleedolen
2021-11-04 22:25:33
2021-11-05 20:28:11
The 88 Project Encourages Audience To Send Letters To Imprisoned Journalist Pham Doan Trang