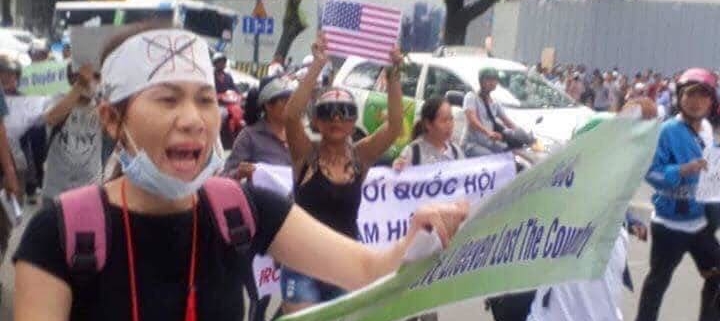 Procedural Irregularities in the Detention of Doan Thi Hong: How Ho Chi Minh Public Security Violates Domestic Criminal Law
It has been a year since Ms. Doan Thi Hong was arrested and detained by the public security forces of Ho Chi Minh City. The "criminal activities" of which she was accused? Participating in the national demonstrations against the bills on Special Economic Zones and Cybersecurity in June 2018, being a member of a human rights group, and calling for a peaceful demonstration in September 2018. Possibly charged under Article 118 of the 2015 Criminal Code for "disrupting security," Hong is currently held at Ho Chi Minh City Police Detention Center, No. 4 Phan Dang Luu, Ho Chi Minh City. 
While cultural relativists might assert their century-old argument: our land – our law, the arrest and detention of Doan Thi Hong does not follow any Vietnamese procedural or due process requirements imposed by the domestic law itself, specifically those set out in the Criminal Procedure Code 2015. This article will analyze all procedural irregularities in Hong's case, most notably the unlawfulness of her detention as a mother of a child under 36 months old, and call for her immediate and unconditional release.  
No Justification for the Arrest 
Criminal arrests have to be carried out in certain manners: 
Emergency arrest (Article 110): This is invoked when the authorities have sufficient evidence to reasonably believe that the arrestee will commit a serious and most serious crime (according to the Criminal Code). The arrest decision, nevertheless, has to be approved by the People's Procuracy. Such a characteristic cannot be found in Hong's case. While she did call for a peaceful demonstration in the public, such an act is recognized as a constitutional right in Article 25 of the 2013 Constitution, and there is no justifiable evidence showing that such a simple call can disrupt national security. 
In regards to an arrest of a wanted person (Article 112): Hong did not appear to be on any national wanted list. 
An individual can also be arrested and taken into custody to prepare for his/her trial (Article 113): This procedure can only be initiated if that person is already formally prosecuted with a specific crime. Such a condition does not exist in the case of Hong. No formal charges were announced against her or notified to her family until three months later, and it was not via an official announcement. The only official proof of Hong's detention was a notice from the Public Security of Ho Chi Minh City accepting attorney Nguyen Van Mieng as Hong's defense counsel. No other documentation has been provided to the family.
No Public Arrest Record
According to Article 115 of the Criminal Procedure Code 2015, an arrest has to be, without exception, accompanied by a public arrest record with details on the time, place, the situation of the arrest, arrestee belongings, health condition, and the opinion and complaint of the arrestee. In the case of Doan Thi Hong, the family was not aware of her arrest and or where she was being detained, therefore the creation of the public arrest record clearly did not follow the required procedure. Hong was forced to go with the public security force without having the chance to question the legality of the arrest or voice her opposition. 
No Meaningful Witness
In any case, arrest procedures require a witness. As specified in Article 113, if the person is arrested at their workplace or office, the representative of the organization must be present; if the person is arrested at their residence, the representative of the local government must be present; if the person is arrested at any other place, the representative of such local government must be present.    
In this incident, it is reasonable to say that no other organization or individual was summoned to witness Hong's arrest. 
No Notification to Arrestee's Family 
Letting the family and relatives of the arrestee know about their temporary detention is an important requirement to safeguard legitimate rights of the arrestee: knowing where they are, informing someone about their health, access to legal advice, demanding the release, formally complaining about the legality of the arrest, etc.; these rights cannot be protected if the person is arrested in a secretive manner (which could be rightly called a "kidnap"). This basic procedural protection is recognized by Article 116 of the Criminal Procedural Code. 
In this case, after being arrested, it took Hong's family a month to find out where she was being held, another two months for the family to learn that Hong was prosecuted for "disrupting security," and a whole year for her family, including her young daughter, to be allowed a visit with her. It was an abuse of power of the Public Security of Ho Chi Minh City, and it did not meet any national or international legal standards. 
Unlawful Detention of a Mother of a Child Under 36 Months Old 
Detaining Hong, a mother of a two-year-old, as a criminal preventive measure is unlawful. According to Article 119 of the Criminal Procedure Code, women with children under 36 months old should not be imposed with detention as a preventive measure. It is possible the public security force argues that there are exceptions to this general principle, especially if the person is accused of crimes against national security and there are sufficient reasons to believe that not detaining such person could severely affect public order and the security of the nation. In this case, it is hard to rationalize how a mother and a member of a rights group, with the most serious of her "activities" was calling for a peaceful demonstration that had not even taken place, could challenge the entire state apparatus to disrupt national security. Considering other available preventive measures, a simple movement restriction order could have achieved the objectives of the investigation without inhumanely separating Hong and her daughter.
Hong's arrest was part of a targeted reaction to the national June 2018 protests to quell demonstrations and silence groups and individuals supporting them. Hong and other Hien Phap members were arrested right around the time they had planned to call for renewed protests, following the positive public reaction to the June protests. Hong's arrest is indicative of the authorities' desire to clamp down on public displays of dissatisfaction. One cannot help but wonder whether the authorities hoped to make examples out of Hong and other Hien Phap members to deter future demonstrations, hence the harsh repression against her. 
Political motives, however, cannot justify the blatant violations of procedural criminal law in Hong's arrest and detention. Doan Thi Hong should be immediately released. We ask observers to take action for Hong, who is in poor health in prison, by joining Amnesty International in taking Urgent Action for her. We also urge the international community to intervene to improve her health conditions and call upon the Vietnamese government to respect their own domestic law by freeing Hong. 
© 2019 The 88 Project 
https://the88project.org/wp-content/uploads/2018/11/doan-thi-hong-at-a-protest_source-facebook-nguyen-thuy-hanh.jpg
540
720
Huong Nguyen
https://the88project.org/wp-content/uploads/2019/01/88project.png
Huong Nguyen
2019-09-25 16:24:24
2019-09-25 16:24:24
Procedural Irregularities in the Detention of Doan Thi Hong: How Ho Chi Minh Public Security Violates Domestic Criminal Law