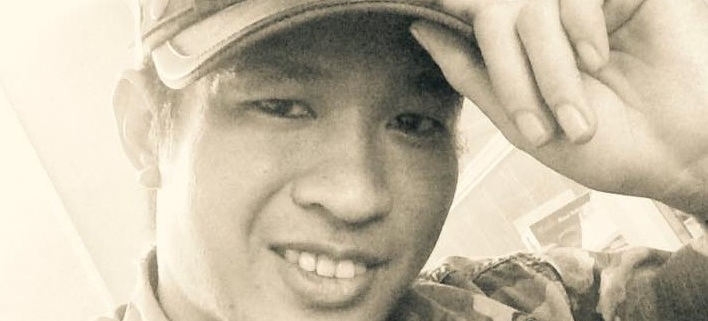 Activist Vuong Nguyen in Lam Dong Province Arrested For Online Political Commentaries
Nguyen Quoc Duc Vuong, or Facebooker Vuong Nguyen, was suddenly arrested on September 23, 2019. At 11:00 AM, hundreds of public security officers raided Vuong's house at Hai Duong Hamlet, Lac Lam Commune, Don Duong District, Lam Dong Province and took him away in handcuffs in front of his father and siblings. Facebooker Vo Hong Ly, after communicating with the family after the arrest, said that an arrest warrant might have been read to the family, but the family was not sure neither of the nature of the document that was read to them, nor the official charges against Vuong. The public security also confiscated Vuong's cell phone and laptop before leaving. 
The arrest of Vuong Nguyen (in blue T-shirt). Source: Facebook Vo Hong Ly
Vuong Nguyen is a popular Facebooker with more than 10,500 followers. Besides sharing news articles, Vuong often live-streams to express his opinion and debate on national and social issues such as sovereignty, corruption, and land rights.
According to Facebooker Vo Hong Ly, Vuong had been detained for three days by public security near Hoang Van Thu park on June 10, 2018, while participating in the mass demonstrations against two bills on Special Economic Zones and Cybersecurity. 
She also noted that Vuong is the youngest in a Catholic family of five children. His mother passed away. He has been living with his father and other siblings.He used to work as a farmer, but after changing jobs and suffering from multiple harassment incidents from the authorities, he now works as an assistant driver for his brother. Both Vuong and his family have been well aware of his potential arrest. They all support Vuong's activism. Before being taken away, Vuong told his father and siblings that they should all remain calm, and that they shouldn't worry about visiting him. 
A profile picture on Vuong's Facebook with a caption that calls for the release of political prisoner Tran Huynh Duy Thuc. Source: Facebook Vuong Nguyen
Mobilizing a powerful security force ranging from the provincial to communal level to arrest Vuong may imply a more intense crackdown by the authorities to eliminate online dissent and silence whoever shares different views on politics or speaks out about injustice in the society. In Vuong's case, sharing articles and debating on social issues, especially on corruption or land rights, could be alleged to be"abusing democratic freedoms to infringe upon the interests of the State," the same as what the authorities recently used to sentence Facebookers Le Van Sinh and Nguyen Van Cong Em to five years in prison each. 
The third incident in as many weeks signals that authorities have no plans to stop their crackdown on online dissent. As the digital realm becomes ever more important for activists to connect with each other and also report on little-known issues in the country, the Vietnamese authorities continue to use every method possible to quell criticism, including passing the new Law on Cybersecurity and arresting 21 activists, 12 of whom are online commentators, so far in 2019. We condemn the Vietnamese authorities' continued practice of arbitrary arrest and detention of peaceful activists, and call for the immediate release of Vuong Nguyen and other political prisoners and for Vietnam to respect its international commitments to uphold freedom of expression for all citizens.. 
© 2019 The 88 Project
Sources:
https://the88project.org/wp-content/uploads/2019/09/Vuong-Nguyen-Source-Facebook-Vuong-Nguyen-1.jpg
667
708
Huong Nguyen
https://the88project.org/wp-content/uploads/2019/01/88project.png
Huong Nguyen
2019-09-24 15:19:59
2019-09-24 15:21:49
Activist Vuong Nguyen in Lam Dong Province Arrested For Online Political Commentaries