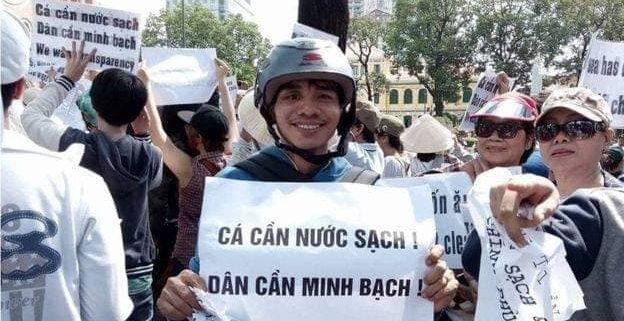 Vietnam Free Expression Newsletter No. 38/2019 – Week of September 16-22
Featured Image: Nguyen Ngoc Anh at an environmental protest. Source: Facebook An Duong Nguyen Phu
Greetings from The 88 Project! We are bringing you news, analysis, and actions regarding human rights and civil society in Vietnam during the week of September 16-22. Political prisoner Nguyen Ngoc Anh is facing death threats in prison, which he believes are at the command of prison authorities; he also is continuing his fight to appeal his six-year prison sentence. On September 17, Nguyen Van Cong Em was sentenced to five years in prison for his Facebook posts and for calling for protests. He's the second Facebooker tried in September. Freedom Now and a international law firm have submitted a petition to the UN Working Group of Arbitrary Detention on behalf of student blogger Phan Kim Khanh. Authorities have released a complete indictment against journalist Truong Duy Nhat, and they have also finished their investigation into music teacher Nguyen Nang Tinh. Based on reports from his family, Hoang Duc Binh is in stable health in prison, and fellow prisoner Nguyen Van Hoa was finally released from solitary confinement after four months. Meanwhile, Le Dinh Luong's family was prohibited from visiting with him in prison for the second time. Also this week, authorities broke up a party celebrating Pham Doan Trang's recent international award for press freedom; they tried to detain her, but she was able to escape. And Vietnam received harsh criticism from rights groups at the 42nd session of the UN Human Rights Council. In the news, read about the potential for increased US-Vietnamese defense cooperation and Vietnam's continued attempts to create domestic social media networks. Please take action for Nguyen Ngoc Anh by sharing our article on his difficult situation in prison, reporting further on his condition, and requesting to visit him.
HUMAN RIGHTS & CIVIL SOCIETY
Prisoners of Conscience
In Binh Phu Detention center, in Ben Tre Province, engineer Nguyen Ngoc Anh is facing serious maltreatment while waiting for an appeal trial. Anh has been held with common criminal inmates and has been suffering from severe physical and mental harassment– including death threats– for two months, which he believes to be inflicted upon him at the command of the detention center leadership. On June 6, 2019, the People's Court of Ben Tre Province sentenced Anh to six years in jail and five years of probation for "conducting anti-state propaganda" under Article 117 of the 2015 Penal Code for using different Facebook and email accounts to share content allegedly distorting the people's administration and the state's policy, as well as inciting others to join demonstrations. From his arrest on August 30, 2018, until his first instance trial, Anh had no defense counsel. Now in the process of his appeal, Anh and his lawyer (hired after the first trial) have still not been allowed to meet. The authorities also refused Anh's request for medical treatment and medicine sent by his wife.
On September 17, the People's Court of Ben Tre Province sentenced activist Nguyen Van Cong Em, a 48-year-old resident of My Thanh Commune, Giong Tom District, to five years in jail and five years of probation. He was charged with "making, storing, spreading, or propagating information, materials, items for the purpose of opposing the State of Socialist Republic of Vietnam" under Article 117 of the 2015 Penal Code, accused of using different Facebook accounts to post, share articles, and conduct live-streams with content distorting the policies of State and Party. During the second summit of the United States and the Democratic People's Republic of Korea in Hanoi from February 27-28 this year, he was also alleged to incite others to participate in a demonstration; he was then arrested on February 28. Em is the second online commentator to be tried in recent weeks, following the trial of Facebooker Le Van Sinh, was also convicted of similar accusations and was handed a five-year sentence.
On September 16, 2019, on the behalf of political prisoner Phan Kim Khanh, Freedom Now and the international law firm Dechert LLP sent a petition to the UN Working Group on Arbitrary Detention (UNWGAD), accusing the Vietnamese government of violating international laws when arresting and prosecuting blogger Phan Kim Khanh. According to Freedom Now and Dechert LLP's press release, "Phan admitted in court to have run the blogs, but said that his main purpose was to fight corruption, and he did not know that reporting on corruption constituted a crime." Khanh, a university student at the time, was then sentenced to six years in prison. He's had difficulties appealing his sentence, and he has faced mistreatment from prison authorities while attempting to lodge the formal appeal. Read the full petition to the UNWGAD, here.
After three months of detention, the investigation police of Nghe An province completed the investigation period of Nguyen Nang Tinh on September 17, 2019. Authorities arrested Nguyen Nang Tinh, 43, on May 29, 2019,  while he was having breakfast with his sons. He was charged under Article 117 of the 2015 Criminal Code ("making, storing, spreading information, materials, items for the purpose of opposing the State of Socialist Republic of Vietnam"). His case will now be sent to the People's Procuracy for prosecution. Tinh is a music teacher who sings many songs with political content; he is also a member of several civil society groups.
On September 17, 2019, the state-owned newspaper Nguoi Lao Dong announced the 
complete indictment
 (article 
in Vietnamese
) against journalist 
Truong Duy Nhat
. According to the indictment, Nhat signed papers to send to the People's Committee of Da Nang city to buy a house in the center area of the city as a public asset to make it a representative office of the Dai Doan Ket newspaper. The People's Committee of Da Nang city made a decision to sell the public asset at the address of 82 Tran Quoc Toan street, Hai Chau district, Da Nang city to Dai Doan Ket newspaper. Also according to the indictment, after getting the decision, Nhat had businessman Phan Van Anh Vu transfer the money to the state budget on the behalf of Dai Doan Ket newspaper with the condition that the house would be in Vu's possession. Thus, it is alleged that Nhat abused his position at Dai Doan Ket newspaper to 
help with a fraudulent purchase of land
, resulting in the state budget losing 300 million at the time, July 2004, which is equivalent to 13 billion VND as of the discovery date of April 17, 2018. Nhat is behind bars for the second time after being kidnapped by Vietnamese security agents in Thailand in January while attempting to seek asylum there. Nhat allegedly left Vietnam for Thailand after he found out that he
 faced risk of re-arrest
. Some say Nhat potentially had 
information that could be damaging
 to the Vietnamese Prime Minister. He was also in prison from 2013-2015 for the contents of his blog, "A Different Viewpoint."
Hoang Duc Binh (left) and Nguyen Van Hoa (right)
On September 14, 2019, Hoang Nguyen, brother of political prisoner 
Hoang Duc Binh
, visited Binh in prison. According to Nguyen's post on Facebook, 
Binh's health
 has been stable, and they were happy to hear about 
Nguyen Van Hoa
, who is in the same prison as Binh and was recently returned to the main prison after spending the past four months in solitary confinement. Nguyen Van Hoa 
completed his punishment
 of solitary confinement on September 14, 2019. On May 13, 2019, Binh had called his family and revealed that detention officers had gripped Hoa's neck and
 beat him harshly
. On May 14, Hoa's family went to visit Hoa. However, the detention center informed them that Hoa had been punished and was not allowed to meet with them. Hoang Duc Binh and Nguyen Van Hoa are both held at An Diem prison. Binh is a labor and environmental activist sentenced to 14 years in prison, and Hoa is a freelance journalist who is serving seven years.
Prison authorities barred 
Le Dinh Luong
's family
 from visiting with him
 on September 17, 2019, even though it was the normal visiting time. They did not give a reason for the denial, and the family is concerned that Luong maybe being disciplined behind bars. The family members had traveled from as far away as Ho Chi Minh City (Luong is in Ba Sao prison camp in the northern Ha Nam province) for the visit. This was the second time they were prohibited from visiting. Denial of family visitation is a common tactic used by authorities to separate prisoners from their networks of support or punish them for their defiance while imprisoned. Le Dinh Luong is an environmental and pro-democracy activist who was sentenced to 20 years in prison in August 2018.
This week, we remember the arrest and trial anniversaries of the following political prisoners:
Activists at Risk
On September 14, 2019, several activists in Ho Chi Minh city 
held a party to celebrate
 journalist 
Pham Doan Trang
 winning Reporters Without Borders's Prize for Impact. The police surrounded the place where the party was held and tried to capture Trang. The activists at the party quickly divided into two groups to help Trang get into a taxi and escape. 
Nguyen Dai
, who 
played a song
 with Trang at the party, was detained for keeping Trang's backpack.
International Advocacy
International groups voiced their 
criticism of the human rights situation
 in Vietnam this week during the 42nd session of the U.N. Human Rights Council. They pointed to the dozens of political prisoners behind bars, kidnapping of activists in recent months, religious persecution, and government attempts to block civil society actors from participating in events with representatives of foreign countries. Representatives of the Interfaith Council of Vietnam, in a separate meeting with US officials in Vietnam this week, also recommended that the US re-designate Vietnam as a "Country of Particular Concern" in their list of religious freedom violators.
NEWS & ANALYSIS
Many states inflict 'serious cruelty' on rights activists
: U.N., Stephanie Nebehay, Reuters, September 19, 2019: "China, Egypt, Iran, and Vietnam were among states named in his annual report who rejected the allegations during a two-hour debate at the U.N. Human Rights Council. 'Acts of serious cruelty have continuously been reported against those who dare to come to the UN or share information with us – incommunicado detention, torture and ill-treatment, prolonged solitary confinement, and even deaths in custody,' Andrew Gilmour, U.N. Assistant Secretary-General for Human Rights, told the Geneva forum in presenting the report."
After a China-Vietnam Standoff, Expect a Turn to the US, Christopher Sharman, The Diplomat, September 20, 2019: "If Hanoi follows the same template as it did following the 2014 standoff, we should expect Vietnam to seek closer defense links with the United States following the current standoff near Vanguard Bank. Vietnam's president will likely visit the United States this fall, which will provide its Ministry of National Defense the strategic latitude to advance overall defense ties."
Vietnam's social media crowd swells with new entrant to take on Facebook, Google, Channel News Asia, September 17, 2019: "'Lotus was born not to compete with Facebook or any other social networks,' Tan said late on Monday (Sep 16). 'We will focus on content and content creation.' Information Minister Nguyen Manh Hung, who was at the launch, has urged Vietnamese companies to create viable domestic alternatives to foreign social media platforms which are more difficult for the government to control. Last month, a Facebook-style app, Gapo, also made its debut. Older domestic social platforms such as VietnamTa and Hahalolo have struggled to build large user bases."
TAKE ACTION

Nguyen Ngoc Anh at an environmental protest. Source: Facebook An Duong Nguyen Phu
We urge the activist community, international human rights organizations, and foreign embassies in Vietnam to pay attention to Nguyen Ngoc Anh's dangerous situation in prison– including death threats against him– by sharing our article about his condition, reporting further about his situation, and requesting to visit him in prison. Our report is based on the family's concerning account of their most recent visit with Anh in prison. The authorities will have a chance to prove otherwise by allowing foreign embassies' and independent civil society organizations' representatives to visit Anh and see his current condition for themselves.
© 2019 The 88 Project
https://the88project.org/wp-content/uploads/2019/09/Nguyen-Ngoc-Anh-at-a-protest.jpg
351
624
kayleedolen
https://the88project.org/wp-content/uploads/2019/01/88project.png
kayleedolen
2019-09-23 13:33:46
2019-09-23 13:33:46
Vietnam Free Expression Newsletter No. 38/2019 – Week of September 16-22