Nguyen Van Oai
Current Status: Released - at risk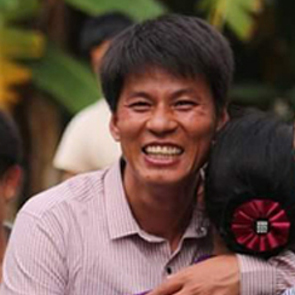 Other Names: Nguyễn Văn Oai
Date of Birth: June 18, 1981
Gender: M
Religion: Christian (Catholic)
Ethnicity: Kinh
Occupation: Engineer
Last Known Prison: Gia Trung prison, Gia Lai province
Areas of Activism:
Labor rights
Sovereignty
Press
Religious freedom
Known Affiliations:
Highlighted Human Rights Concerns:
Former Political Prisoner
Denial of Family Visit/Punitive Prison Transfer
January 2022:
Nguyen Van Oai was released from prison after serving a five-year sentence for "resisting officers on official duty." He accused the prosecution of falsifying paperwork and forging signatures in order to indict and convict him. Regarding his release, he said, "I am happy because I am free from that small prison, but I return to the large prison." Oai's mother, Tran Thi Lieu. told RFA, "I was sad and worried when he was in prison, but I knew that he had sacrificed himself for a cause shared by everyone."
Details - Background, History of Activism, Family Situation, Support the Family.
Nguyen Van Oai is from Nghe An province and is an active member of the Catholic community.
Nguyen Van Oai is a Catholic leader who has been active in the labor rights movement and protests against Chinese relations with Vietnam. He has also blogged on social and political issues and has been targeted for alleged ties to overseas pro-democracy group, Viet Tan.
Contact us if you can assist.
Arrested July 30, 2011. Sentenced to 4 years in prison under Art. 79 (1999 Code). Released August 2, 2015.
January 9, 2013
4 years in prison
August 2, 2015
Arrested January 19, 2017. Sentenced to 5 years in prison under Art. 257 (1999 Code), Art. 304 (1999 Code). Released January 19, 2022.
January 19, 2017
Art. 257 (1999 Code)
Art. 304 (1999 Code)
September 18, 2017
Ha Huy Son
5 years in prison
January 19, 2022
January 19, 2022
First arrest:
Oai was arrested as part of a crackdown on Catholic youth activists in 2011. He was arrested along with several others, was tried in 2013, and received a sentence of four years in prison and four years probation. He was released from prison in August 2015 and was still serving the four years of probation at the time of his re-arrest in January 2017.
Latest arrest:
Oai was arrested while on a trip in Nghe An province on January 19, 2017, for allegedly violating the terms of his probation. He was supposed to face trial on Monday, August 21, but news came just one day prior to the scheduled trial that his trial had been postponed. According to a notice from the People's court of Hoang Mai commune, the court received a motion to postpone the trial from several individuals with related legitimate interests. The court did not provide more details as to the reasons for the motion, what constituted "related legitimate interests," or the substantive grounds for granting the motion.
Oai was tried on September 18, 2017, in Hoang Mai and sentenced to five years in prison and four years probation. It was a short, secretive trial. His family was not allowed to attend. Police actively blocked the public's cell phones and ability to enter the court. Oai and his lawyer, Ha Huy Son, refused to admit guilt throughout. Article 304 ("failing to execute probation"), one of the provisions he was tried under, has rarely been used to silence activists previously. He has reportedly appealed his sentence.
A court in Nghe An later
denied
Nguyen Van Oai's
appeal
of his five year sentence on January 15, 2018. His wife and mother were the only family members permitted to attend the hearing; they reported Oai to be in poor health. Both he and his lawyer maintained his innocence and claimed that the trial was not fair. Supporters were attacked outside the courthouse, their cellphones and banners with messages of solidarity were confiscated.
Catholic activist Nguyen Van Oai was transferred without notice to Gia Trung prison, his wife reported. She reports that he is doing hard labor in prison. Transferring prisoners to remote prisons is a tactic often employed by the authorities in order to further isolate political prisoners from their families and networks of support.
December 2011:
Four UN Special Rapporteurs and the Chair-Rapporteur of the Working Group on Arbitrary Detention sent a letter to Vietnamese authorities regarding the detentions of several Catholic activists, including Nguyen Van Oai, questioning why the detainees' locations were not disclosed to their families, why their families were not allowed to visit them, and the motivations for the arrests. They expressed the worry that "the events described may be directly linked to the legitimate and peaceful work of the aforementioned individuals in defence of human rights and the exercise of their right to freedom of expression." They also encouraged that the detainees' rights to legal representation be protected.
January 2013:
Three UN Special Rapporteurs and the Chair-Rapporteur of the Working Group on Arbitrary Detention sent a letter to the Vietnamese government asking about the circumstances behind the detentions of several pro-democracy activists, including Nguyen Van Oai. Of the 14 activsits mentioned in the letter, they said: "All have advocated for social justice, including by organizing peaceful demonstrations. The majority of them are Catholic, from the Catholic Diocese of Vinh City." They asked for more information about the cases and how the governments' actions were compatible with international law.
February 2017:
On February 15, 2017, Amnesty International issued an Urgent Action, calling on Vietnam to release Oai and two other human rights defenders, Tran Thi Nga and Nguyen Van Hoa, unconditionally and immediately.
August 2017:
RSF called for the release of Oai ahead of his trial, which was originally scheduled for August 21 but then postponed to September 18. They encouraged the use of the hashtag #FreeNguyenVanOai to bring awareness to his case.
November 2017:
Seventeen nongovernmental organizations released a letter ahead of the APEC Summit, calling on world leaders to raise the issue of human rights in host country Vietnam and press for the release of prisoners of conscience. The letter specifically raised the cases of female bloggers Tran Thi Nga and Nguyen Ngoc Nhu Quynh, as well as Oai; all three were sentenced to multiple years in prison in 2017. Read the full text here.
Profile last updated: 2022-01-24 17:52:09