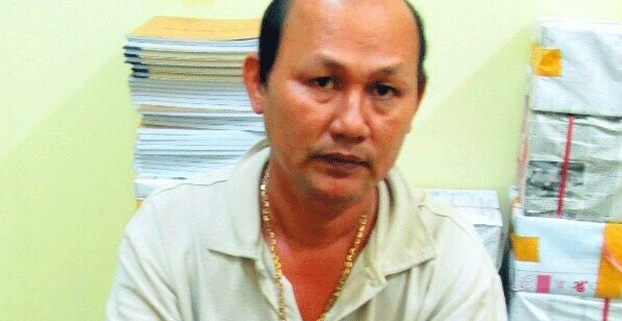 Second Activist Convicted in September for Facebook Postings: Nguyen Van Cong Em Sentenced to Five Years in Prison under Article 117
On September 17, the People's Court of Ben Tre Province sentenced activist Nguyen Van Cong Em, a 48-year-old resident of My Thanh Commune, Giong Tom District, to five years in jail and five years of probation. He was charged with "making, storing, spreading, or propagating information, materials, items for the purpose of opposing the State of Socialist Republic of Vietnam" under Article 117 of the 2015 Penal Code. 
In this first instance trial, the court accused Em of using different Facebook accounts, such as "Vệ Quốc Đoàn," "Tấn Lê," "Tân Nguyên," "Lê Thành Bạc," etc. to post, share articles, and conduct live streams with content distorting the policies of State and Party. During the second summit of the United States and the Democratic People's Republic of Korea in Hanoi from February 27-28 this year, he was also alleged to incite others to participate in a demonstration, which the authorities found harmful to the security and public order. 
Nguyen Van Cong Em was arrested on February 28, 2019, by the Investigation Agency of Ben Tre Province public security. Security forces also searched his house, confiscated items, documents, and looked into his electronic data that was alleged to include content "against the State."
Em is the second person this month to be imprisoned regarding his online activities. In early September, another Facebooker, from Ninh Binh Province, Le Van Sinh, was also convicted of similar accusations and was handed a five-year sentence by the provincial court due to his writings on Facebook. The common reason for which the authorities targeted the two activists was their usage of social media to raise concerns on social problems, and more importantly, to criticize the government for mismanaging the country, which is not tolerable in a "Not Free" authoritarian regime like Vietnam. 
As of September 20 this year, The 88 Project's Database of Persecuted Activists has recorded 266 activists who are in detention in Vietnam because of their exercise of fundamental rights, including freedom of expression and press. We urge the Vietnamese authorities to stop applying the vague provisions of the 2015 Penal Code, especially Articles 117 (propaganda against the State), 318 (causing public disorder), and 331 (abusing democratic freedoms), to silence political dissidents. Under Vietnam's commitment to the International Covenant on Civil and Political Rights, to which Vietnam has been a signatory since 1982, it is the government's duty to promote citizens' rights to freely express their political views and to protect them from human rights violations, not to repress whomever the government considers posing a threat to the legitimacy of the Party's ruling power. 
© 2019 The 88 Project
Sources:
Nguyen Van Cong Em's Profile, The 88 Project's Database of Persecuted Activists
Tuyên phạt 5 năm tù đối tượng tuyên truyền thông tin chống Nhà nước, Vietnamplus, September 19, 2019
Thêm facebooker bị án tù với cáo buộc tuyên truyền, chống Nhà Nước, Radio Free Asia September 19, 2019
Criticizing Government Corruption on Facebook, Activist Le Van Sinh Sentenced to Five Years for "Abusing Democratic Freedoms," The 88 Project, September 18, 2019
United Nations Treaty Collection
Vietnam Profile, Freedom in the Word 2018, Freedom House
https://the88project.org/wp-content/uploads/2019/09/Nguyen-Van-Cong-Em-Source-RFA.jpeg
415
622
Huong Nguyen
https://the88project.org/wp-content/uploads/2019/01/88project.png
Huong Nguyen
2019-09-20 03:44:21
2019-09-20 03:44:21
Second Activist Convicted in September for Facebook Postings: Nguyen Van Cong Em Sentenced to Five Years in Prison under Article 117