Nguyen Nang Tinh
Current Status: Sentenced to prison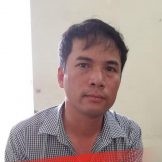 Other Names: Nguyễn Năng Tĩnh
Date of Birth: 1976
Gender: M
Religion: Christian (Catholic)
Ethnicity: Kinh
Occupation: Teaching professional
Areas of Activism:
Freedom of expression
Sovereignty
Religious freedom
Known Afilliations:
Bao Ve Su Song (Save Life)
Quy Phat Trien Con Nguoi (Human Development Fund)
Truyen Thong Cong Giao (Catholic Media)
No-U Saigon
Details - Background, History of Activism.
Tinh is a music teacher at the Nghe An College of Art and Culture, living in Nghe An province.
Profile photo source: Nghe Anh Times
Nguyen Nang Tinh is an activist and member of "NoU FC Vinh," "Bao ve su song (Save Life)," "Quy Phat Trien Con Nguoi (Human Development Fund)," and "Truyen Thong Cong Giao (Catholic Media)," which the authorities consider to be "opposition groups." As a music teacher, he sang many songs with content allegedly "distorting the policy and guidance of state and party."
Arrested May 29, 2019. Sentenced to 11 years in prison under Art. 117 (2015 Code). Expected Release is May 29, 2030.
May 29, 2019
Nghe An province public security, Nghe An province
Quynh Luu district, Nghe An province (
map
)
November 15, 2019
The People's Court of Nghe An province, Nghe An province
Trinh Vinh Phuc
Nguyen Van Mieng
11 years in prison
May 29, 2030
freedom from arbitrary arrest or detention
liberty and security of the person
freedom of expression
fair trial
Authorities arrested Nguyen Nang Tinh, 43, on May 29, 2019, when having breakfast with his sons. Security forces searched his residence, confiscated documents, and then brought Tinh and his sons to the commune people's committee. A few hours later, they called Tinh's father to come bring Tinh's sons back home. He was alleged to post "anti-state" content online.
September 2019:
After three months of detention, the investigation police of Nghe An province completed the investigation period of Nguyen Nang Tinh on September 17, 2019. He was charged under Article 117 of the 2015 Criminal Code ("making, storing, spreading information, materials, items for the purpose of opposing the State of Socialist Republic of Vietnam"). His case was sent to the People's Procuracy for prosecution.
October 2019:
On October 11, 2019, the People's Court of Nghe An province prohibited Nguyen Nang Tinh's attorneys from copying his case files, even though six days later Tinh was to be tried for "making, storing and distributing documents that are anti-state and the government of Vietnam." In his Facebook post, lawyer Nguyen Van Mieng, one of the two defense lawyers, wrote that the court didn't allow him to copy Tinh's files because they were related to national security and, therefore, confidential. On the same day, the two lawyers submitted a request to postpone the trial until the files can be copied. However, according to the lawyers and Tinh's family, the People's Court of Nghe An warned that the next trial will be conducted with or without the lawyers.
November 2019:
On November 15, music teacher Nguyen Nang Tinh was sentenced to 11 years in prison for his Facebook posts with alleged "anti-state" content, continuing a troubling crackdown on social media users. A video of him teaching students the famous song "Give back to the people" attracted a lot of attention and the support of Vietnamese people both inside and outside of Vietnam. While Tinh never calls for violence, the authorities said that his case is "exceptional" and "dangerous." Many of his friends were forced to leave when they tried to attend the trial. Father Nguyen Cong Huong, the local priest in the church that Tinh used to attend, also wanted to witness the trial, but his request was denied. In a Facebook post, Trinh Vinh Phuc, Tinh's defense lawyer, reported that Tinh was very calm and determined at trial, stating: "10 years, 20 years… No matter how harsh the sentence will be, I will never change my opinions."
***
December 2019:
Nguyen Nang Tinh appealed his 11-year prison sentence. The Supreme People's Court sent verification of the appeal proceedings to his lawyer, Dang Dinh Manh.
November 2019:
Human Rights Watch released a statement calling for Nguyen Nang Tinh's release from prison.
Profile last updated: 2020-03-19 04:00:15