Tran Duc Thach
Current Status: Sentenced to prison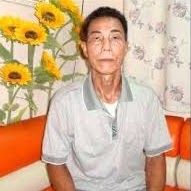 Other Names: Trần Đức Thạch
Date of Birth: 1952
Gender: M
Ethnicity: Kinh
Occupation: Veteran, Author
Last Known Prison: Prison No. 5, Thanh Hoa province
Areas of Activism:
Anti-corruption
Democracy
Human rights
Known Affiliations:
Highlighted Human Rights Concerns:
Former Political Prisoner
Denial of Legal Representation
Denial of Family Visit/Punitive Prison Transfer
November 2022: The UN Working Group on Arbitrary Detention plans to communicate to Vietnam its findings on the case of Tran Duc Thach. The Advance Edited Version can be accessed here.
March 2022:
Nguyen Thi Chuong, the wife of Tran Duc Thach, visited Thanh Hoa Detention Center No. 5 on March 15, 2022 but was not allowed to see her husband. She said she could not give him food and necessities via the prison guards but only via the post office. Tran Duc Thach is reportedly healthy and mentally strong.
***
Read our translation of an original poem by Thach, entitled "Repentance," here.
Details - Background, History of Activism.
Tran Duc Thach, born in 1952, is a former political prisoner and a member of the Brotherhood for Democracy, as well as a veteran of the Vietnam War and a former member of the People's Army of Vietnam.
Thach was a witness to war crimes committed by the People's Army of Vietnam during the Vietnam War (especially the Tan Lap massacre, in Dong Nai). He has written about the event and was sentenced to three years in prison for the disclosure of the information and his other activism. Thach was arrested in 2008 on charges of "conducting propaganda against the state." He was released from prison on August 30, 2011 and served another three years of house arrest.
Arrested April 23, 2020. Sentenced to 12 years in prison under Art. 109 (2015 Code). Expected Release is April 23, 2032.
April 23, 2020
Nghe An province public security, Nghe An province
Dien Hai Ward, Dien Chau District, Nghe An Province (
map
)
December 15, 2020
The People's Court of Nghe An province, Nghe An province
Ha Huy Son
12 years in prison
April 23, 2032
freedom from arbitrary arrest or detention
liberty and security of the person
freedom of expression
fair trial
The 88 Project
Human Rights Foundation
Vietnam Human Rights Network
Human Rights Watch
UN Working Group on Arbitrary Detention
PEN International
According to Tran Duc Thach's wife, at around 9 am on April 23, 2020, Nghe An provincial police went to Thach's house with an arrest warrant. His wife reported that police had been harassing Thach for quite some time, and the police who arrested him were plainclothes officers. After they searched his house, they took him away around noon. They also confiscated many personal computers and belongings. He was charged with subversion under Article 109 of the 2015 Criminal Code. He will be held in pre-trial detention in the prison of Nghe An Police's Department for four months.
July 2020:
Tran Duc Thach's wife, Chuong Nguyen, was allowed to see her husband on July 9, three months after his detention. She said that Thach was looking skinnier than before. They gave each other a big hug. After they talked for a while, the two were taken to separate rooms. They started to interrogate Chuong about her husband's activities. They asked her about his Facebook and if Thach belonged to any groups, but Chuong told them she was busy selling vegetables and didn't know anything about Thach's work. After the investigation, they asked about her and her family. She was surprised that they treated her well during the interrogation.
November 2020:
More than six months after his arrest, writer Tran Duc Thach was finally allowed to meet with his lawyer, even though his investigation period had previously ended. His lawyer, Ha Huy Son, was barred from copying the indictment against Thach. Thach is suffering from high blood pressure, ulcerative colitis, and gout while in prison.
Update, December:
The first-instance trial for Tran Duc Thach, scheduled for November 30, was canceled without warning. His family arrived at the courthouse on the day of the trial and were told he was unfit to stand trial. His wife was allowed to see her husband the next day, and he told her he had been hospitalized for a week for high blood pressure.
The first-instance trial was rescheduled for December 15.
December 2020:
Poet Tran Duc Thach, 69, was sentenced to 12 years in prison with three years of probation for "activities aimed at overthrowing the government." The trial lasted less than three hours, and his wife and son were allowed in the courtroom. Thach was a member of the Brotherhood for Democracy, many of whose members have also been imprisoned. Ha Huy Son, his lawyer, argued that he was not allowed to review materials related to his client, that the prosecution violated trial procedures and failed to produce any incriminating evidence or witnesses, and that some of the charges actually predate Article 109 of the 2015 Criminal Code and therefore should be thrown out.
March 2021:
On March 19, his wife went to the detention center to bring him some food, but she was not able to see him. She said he had not been allowed to call home, so she had no way of knowing how he was doing.
On March 24, Thach was denied the appeal of his 12-year prison term after a short "trial" in which his lawyer was not allowed to argue his case. The defendant himself was not notified about the trial until a few days before.
June 2021:
Tran Duc Thach was transferred from Nghi Kim Detention Center in Nghe An Province to Prison Camp 5 in Thanh Hoa Province, but his wife, Nguyen Chuong, was never notified. On June 8 she drove 40 km to bring him supplies, only to be told when she got there that he'd been moved the week before. When she asked why nobody told her, they said they'd sent the information to her precinct police. She then went to the court to double check and was told the same thing.
***
Help spread the word about poet and former North Vietnamese soldier Tran Duc Thach who is serving time for "anti-state propaganda."
Read our translation of an original poem by Thach, entitled "Repentance," here.
"Vietnam is using the COVID-19 pandemic as a cover to round up human rights activists," Joy Park, HRF's legal counsel for Asia, said of Thach's arrest. "It's outrageous. Last week, several other activists [in Laos and VIetnam] were arrested for posting coronavirus-related information on Facebook."
September 2020:
After five years without any recipient, the Paris-based 'Nguyen Chi Thien POC Award' has been given to poet Tran Duc Thach. Thach's wife says she has not been able to see her husband since July and is very concerned about his health even though his spirit remains strong.
December 2020:
Human Rights Watch put out a statement on Tran Duc Thach before trial. The article gives a thorough look at his background as a PLA soldier and member of the Brotherhood for Democracy. Days after this HRW article was published, Thach was given a 12-year sentence.
April 2021:
PEN America released a statement in support of Thach on the first anniversary of his arrest.
August 2021:
The wives of four political prisoners in Vietnam wrote an open letter to Vice President Kamala Harris asking her to pressure Vietnamese leaders to release their husbands when she meets with the officials during her trip to Vietnam. The men are: Truong Minh Duc, Nguyen Nang Tinh, Luu Van Vinh, and Tran Duc Thach. The letter was initially circulated only on Facebook, but by August 17 it was co-signed by 60 Viet-American pro-democracy, religious, media and community organizations.
November 2022:
The UN Working Group on Arbitrary Detention deemed Thach's detention and arrest arbitrary. The Advance Edited Version of their opinion can be accessed here.
December 2022:
The Vietnam Human Rights Network held its award ceremony in Frankfurt, Germany on December 10. The recipients of its Human Rights Award for this year were Nguyen Tuong Thuy, Luu Van Vinh and Tran Duc Thach – all are serving multi-year sentences in Vietnam. Their wives appeared on a video link from Vietnam to thank the organization and the international community for advocating on their husbands' behalf.
Facebook Nguyen Kim Thanh, April 22, 2020
Vietnamese Activist Tran Duc Thach Arrested, Beaten, and Detained for Facebook Post, Human Rights Foundation, April 23, 2020
Vietnamese Police Arrest Dissident Writer for Connection With Democracy Group, Radio Free Asia, April 24, 2020
Bắt đối tượng 'Hoạt động nhằm lật đổ chính quyền nhân dân', Công an Nghe An, April 24, 2020
Tạm giam Trần Đức Thạch - kẻ có hành vi chống đối chính quyền, Báo Mới, April 29, 2020
Vietnamese Dissident Meets With Lawyer For First Time Since April Arrest, Radio Free Asia, November 5, 2020
Vietnam: Release Dissident Poet, Human Rights Watch, November 25, 2020
Vietnam writer jailed for 12 years over articles critical of government, AFP/Channel News Asia, December 15, 2020
Vietnamese Dissident Writer Sent Back to Serve 12-Year Term After Losing Appeal, Radio Free Asia, March 24, 2021
Take action for poet Tran Duc Thach, The 88 Project, April 7, 2021
Families of Vietnamese Political Prisoners Ask US Vice President to Pressure Hanoi for Their Release, Radio Free Asia, August 17, 2021
Profile last updated: 2022-12-13 04:44:55