Tran Duc Thach
Current Status: Pre-trial detention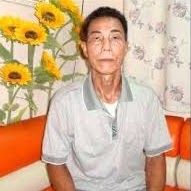 Other Names: Trần Đức Thạch
Date of Birth: 1952
Gender: M
Ethnicity: Kinh
Occupation: Veteran, Author
Current Prison: Nghe An province police detention center, Nghe An province
Areas of Activism:
Anti-corruption
Democracy
Human rights
Known Affiliations:
Brotherhood for Democracy
September 2020:
After five years without any recipient, the Paris-based 'Nguyen Chi Thien POC Award' has been given to poet Tran Duc Thach. Thach's wife says she has not been able to see her husband since July and is very concerned about his health even though his spirit remains strong.
July 2020:
Tran Duc Thach's wife, Chuong Nguyen, was allowed to see her husband on July 9, three months after his detention. She said that Thach is looking skinnier than before. They gave each other a big hug. After they talked for a while, the two were taken to separate rooms. They started to interrogate Chuong about her husband's activities. They asked her about his Facebook and if Thach belonged to any groups, but Chuong told them she was busy selling vegetables and didn't know anything about Thach's work. After the investigation, they asked about her and her family. She was surprised that they treated her well during the interrogation.
Details - Background, History of Activism.
Tran Duc Thach, born in 1952, is a former political prisoner and a member of the Brotherhood for Democracy, as well as a veteran of the Vietnam War and a former member of the People's Army of Vietnam.
Thach was a witness to war crimes committed by the People's Army of Vietnam during the Vietnam War (especially the Tan Lap massacre, in Dong Nai). He has written about the event and was sentenced to three years in prison for the disclosure of the information and his other activism. Thach was arrested in 2008 on charges of "conducting propaganda against the state." He was released from prison on August 30, 2011 and served another three years of house arrest.
Arrested April 23, 2020. Charged under Art. 109 (2015 Code).
April 23, 2020
Nghe An province public security, Nghe An province
Dien Hai Ward, Dien Chau District, Nghe An Province (
map
)
freedom from arbitrary arrest or detention
liberty and security of the person
freedom of expression
Human Rights Foundation
According to Tran Duc Thach's wife, at around 9 am on April 23, 2020, Nghe An provincial police went to Thach's house with an arrest warrant. His wife reported that police had been harassing Thach for quite some time, and the police who arrested him were plainclothes officers. After they searched his house, they took him away around noon. They also confiscated many personal computers and belongings. He was charged with subversion under Article 109 of the 2015 Criminal Code. He will be held in pre-trial detention in the prison of Nghe An Police's Department for four months.
"Vietnam is using the COVID-19 pandemic as a cover to round up human rights activists," Joy Park, HRF's legal counsel for Asia, said of Thach's arrest. "It's outrageous. Last week, several other activists [in Laos and VIetnam] were arrested for posting coronavirus-related information on Facebook."
Profile last updated: 2020-10-05 01:39:59