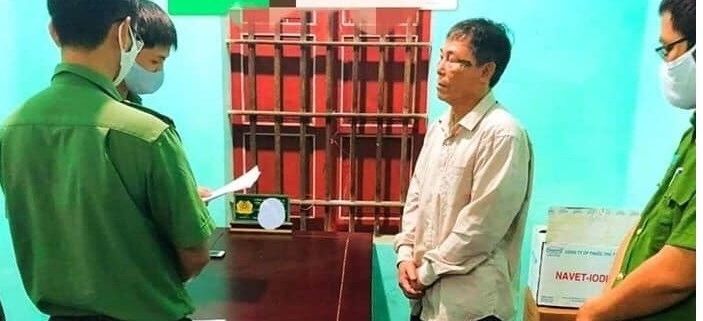 Vietnam Free Expression Newsletter No. 17/2020 – Week of April 20-26
Featured Image: Tran Duc Thach after arrest (with a visible facial injury), Source: Giao Thong newspaper
Greetings from The 88 Project! We bring you news, analysis, and actions regarding human rights and civil society in Vietnam during the week of April 20-26. The People's Court of Nghe Anh Province denied music teacher Nguyen Nang Tinh's appeal of his 11-year sentence this week. Tinh had been on a hunger strike for at least a month before the trial. Nghe Anh provincial police also arrested Tran Duc Thach, veteran, former political prisoner, and member of the Brotherhood for Democracy, this week on the allegation of subversion. Police also arrested Dong Tam resident Nguyen Van Chung. Several online users also received police invitations for questioning in recent days. Facebook has agreed to censor posts in Vietnam in exchange for access to local servers, drawing criticism from many. In international advocacy, a U.S. representative and the commissioner of the U.S. Commission on International Religious Freedom wrote an opinion calling for the release of Hoa Hao Buddhist Nguyen Bac Truyen, and Reporters Without Borders released its latest World Press Freedom Index. Amnesty International also released its 2019 report on the death penalty. In the news and analysis section, read perspectives on the Vietnamese response to COVID19. Take action this week by sharing Amnesty International's press release calling for Facebook to end its censorship of political posts by Vietnamese users.
HUMAN RIGHTS & CIVIL SOCIETY
Political Prisoners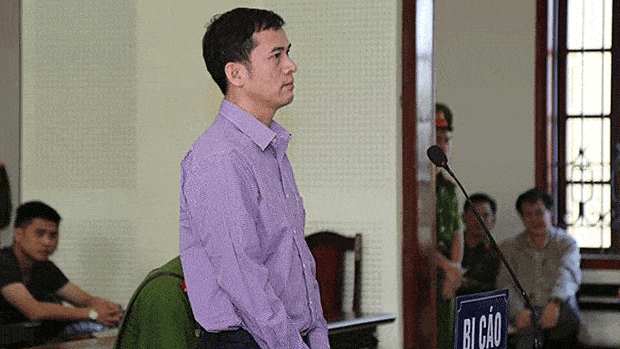 Nguyen Nang Tinh at his first instance trial, Source: State media via Radio Free Asia
On April 20, The People's Court of Nghe An Province denied Nguyen Nang Tinh's appeal of his 11-year sentence. The Catholic music teacher was jailed for his online posts and teaching "reactionary" songs to students. While Tinh did admit to making Facebook posts, his lawyer argued that they were within his internationally-recognized right to freedom of expression. It is reported that Tinh was on a hunger strike from March 13-April 17 and will now resume his strike (Defend the Defenders reports he was on a hunger strike from March 3-April 17). At his first instance trial, he said: "10 years, 20 years… No matter how harsh the sentence will be, I will never change my opinions." Tinh's appeal trial comes on the heels of the arrests of two women last week, also for their online posts. You can sign a petition to support Tinh's release here.
Tran Duc Thach after arrest (with a visible facial injury), Source: Giao Thong newspaper
According to Tran Duc Thach's wife, at around 9 am on April 23, 2020, Nghe An provincial police went to Thach's house with an arrest warrant. His wife reported that police had been harassing Thach for quite some time, and the police who arrested him were plaincothes officers. After they searched his house, they took him away around noon. They also confiscated many personal computers and belongings. He was charged with subversion under Article 109 of the 2015 Criminal Code.
Tran Duc Thach, Source: Facebook Nguyen Kim Thanh
Tran Duc Thach, born in 1952, is a former political prisoner and a member of the Brotherhood for Democracy, as well as a veteran of the Vietnam War and a former member of the People's Army of Vietnam. Thach is said to be a witness of war crimes committed by the People's Army of Vietnam during the Vietnam War (especially the Tan Lap massacre, in Dong Nai). He has written about the event and was sentenced to three years in prison for the disclosure of the information and his other activism activities. He was arrested in 2008 on charges of "conducting propaganda against the state." Thạch was released from prison on August 30, 2011 and served another three years of house arrest. "Vietnam is using the COVID-19 pandemic as a cover to round up human rights activists," Joy Park, HRF's legal counsel for Asia, said of Thach's arrest. "It's outrageous. Last week, several other activists [in Laos and VIetnam] were arrested for posting coronavirus-related information on Facebook."
On April 19, police arrested Nguyen Van Chung, a resident of Dong Tam commune, the site of a violent raid in January that resulted in the death of local land rights leader Le Dinh Kinh. Chung is one of 29 locals arrested in the aftermath of the raid. He is the son of a local woman who is also in custody, he was arrested in Ho Chi Minh City.
This week we remember the arrest anniversaries of the following political prisoners:
Activists at Risk
Several people received "police invitations" in recent days, calling for them to come into their local police stations for questioning. Vo Thi Tra My received an "invitation" letter from the police to talk about her Facebook posts. She went to meet with them and then went home. Huynh Thi Thu Van also received a letter from the Di An Police Department in Binh Duong District telling her to go to the police station. Van is a musician, and the police wanted to talk to her about three of her songs. Tran Quoc Hien (Facebook Trong Nhan Tran) received an "invitation letter" to go to the Dak Lak police station on April 15 to discuss his Facebook posts criticizing the Vietnamese government and China.

Nguyen Thi Thien Nga and the police invitation, Source: Facebook Le Khanh
Further, on April 23, 2020, Nguyen Thi Thien Ng was invited by the local public security authorities of Vinh Quang Commune, Kontum Province, to "explain" her posts on Facebook. The use of police invitations seems to have increased during the pandemic lockdown in Vietnam.
Internet Freedom
It was reported this week that Facebook agreed to drastically increase censorship of posts deemed to have "anti-state" content in exchange for Vietnam increasing performance for local Facebook access. Access to the site had been greatly decreased in recent weeks as server speeds were slowed, creating issues for Facebook, which has a significant market in Vietnam. This news comes as Vietnam continues its crackdown on online users and also is questioning many citizens over online posts about the COVID19 crisis.
Human rights groups have criticized Facebook for giving in to pressure from Vietnam. Human Rights Watch said that the decision creates dangerous precedent and that it "increases the likelihood of other content restrictions in the future." Facebook says it is committed to free speech but also is struggling to provide access to the site because Vietnamese laws require tech companies to comply with local policies for online regulation. In one example of the effects of this agreement, activist La Viet Dung says a post about slain land rights leader Le Dinh Kinh was removed from Facebook without any explanation; in the past, if his content was removed, he was at least provided with an explanation of Facebook's decision.
International Advocacy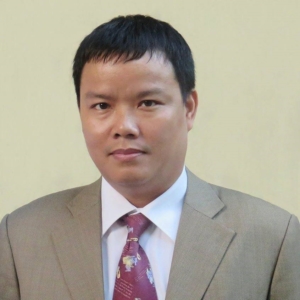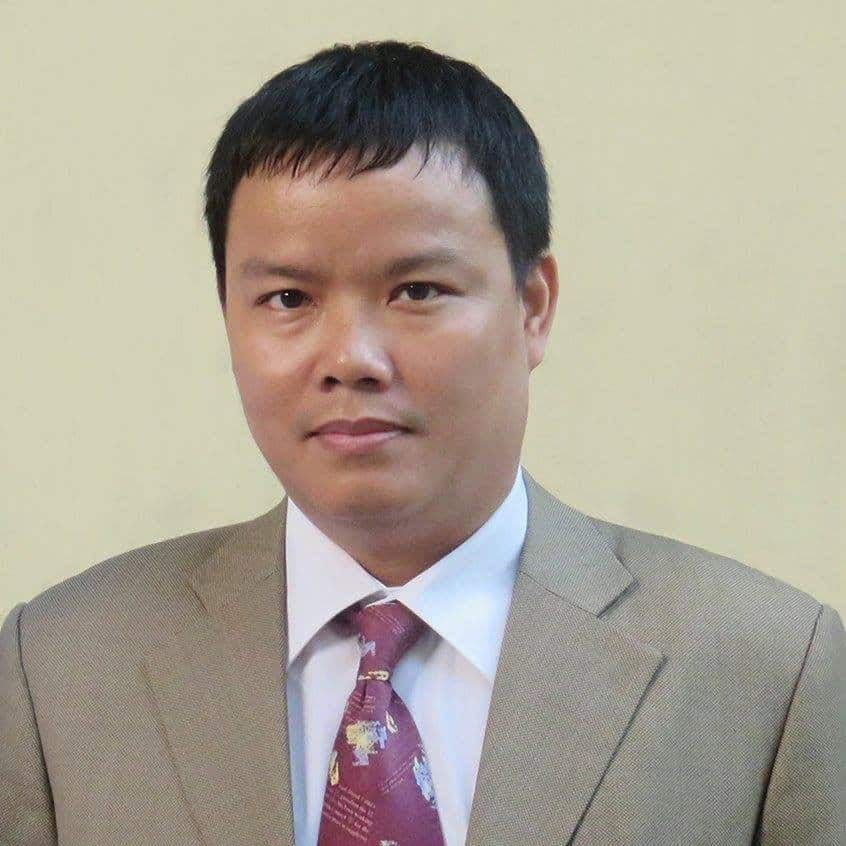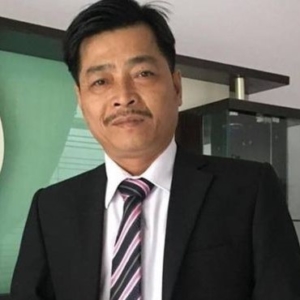 Imprisoned journalists Le Anh Hung and Ngo Van Dung
Vietnam ranks 175/180 countries on Reporters Without Borders's 2020 World Press Freedom Index, ahead of only Djibouti, China, Eritrea, Turkmenistan, and North Korea. In 2019, it ranked 176. The organization says of the ranking: "As Vietnam's media all follow the Communist Party's orders, the only sources of independently-reported information are bloggers and independent journalists, who are being subjected to ever-harsher forms of persecution, including plainclothes police violence." The 88 Project's Database of Persecuted Activists in Vietnam lists six imprisoned journalists and at least six more journalists at risk who recently were harassed by the police. In addition, dozens of bloggers and freelance writers were also harassed or imprisoned.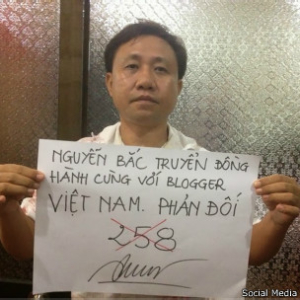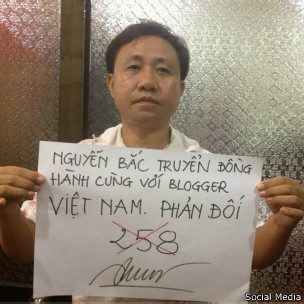 The Commissioner of the U.S. Commission on International Religious Freedom and U.S. Representative Harley Rouda (D-CA) wrote an opinion calling for the release of Hoa Hao Buddhist Nguyen Bac Truyen from prison. Truyen is a human rights lawyer and founder of the Vietnamese Political and Religious Prisoners Friendship Association. He was arrested in 2017 and is currently serving an 11-year prison sentence. In the opinion, they wrote about Truyen's poor health conditions and said that, "His immediate and unconditional release is necessary to demonstrate the Vietnamese government's stated commitment to religious freedom." The letter writers urged U.S. officials to continue to press for the release of Vietnamese political prisoners. They also called for USAID funding in Vietnam to go towards education on the importance of religious freedom and for the US to designate Vietnam as a Country of Particular Concern if Vietnam refuses to protect religious freedom in the country.
The Death Penalty
Amnesty International (AI) released its report "Death Sentences and Executions 2019." Vietnam did not report its number of executions in 2019, but it did sentence at least 76 people to death in 2019, and at the end of the year, almost 250 people were reported to be on death row. The incomplete information released for 2019 shows similar data to 2018 executions. According to AI, "In a report to the Justice Committee of the National Assembly for consideration in early September 2019, the Government stated that between 1 October 2018 and 31 July 2019, 68 men had been executed, and that the number of death sentences imposed in the first seven months of 2019 was 25% higher than in the same period in 2018. It was further noted that 229 people had been waiting for their execution on death row for between five and 10 years, with 20 others waiting for more than 10 years."
Vietnam has long been criticized for a lack of transparency in its reporting on the use of the death penalty. We reported in our last newsletter that a new decree in Vietnam will temporarily halt executions if lethal drug injections are ineffective 10 minutes after the third try. Vietnam still permits the death penalty for 18 crimes, including some political crimes, such as subversion and drug crimes.
NEWS & ANALYSIS
Vietnam-linked hackers targeted Chinese government over coronavirus response: researchers, Jack Stubbs and Raphael Satter, Reuters, April 22, 2020: "FireEye [a cybersecurity firm] said a hacking group known as APT32 had tried to compromise the personal and professional email accounts of staff at China's Ministry of Emergency Management and the government of Wuhan, the Chinese city at the centre of the global coronavirus pandemic. Investigators at FireEye and other cybersecurity firms have said they believe APT32 operates on behalf of the Vietnamese government. The group's recent activity mirrors attempts by a host of state-backed hackers to compromise governments, businesses and health agencies in search of information about the new disease and attempts to combat it."
The Domestic Politics of Vietnam's Coronavirus Fight, Viet Phuong Nguyen, The Diplomat, April 24, 2020: "A competent Ministry of Health alone, however, is not enough to control the situation, as the government as a whole has to act swiftly and efficiently in mobilizing all available resources for the costly campaign against COVID-19. In addition, the central and local governments must also be transparent in communicating with the public in order to gain much-needed trust during the enforcement of quarantines and social distancing. The Vietnamese government learned this lesson the hard way during the 2016 marine life disaster, when pollution caused by Taiwanese conglomerate Formosa's steel plant in Ha Tinh province brought devastating consequences for the maritime environment in the central part of Vietnam."
Vietnam Reports Zero COVID-19  Deaths – Drawing Praise and Scrutiny, Linh Nguyen, The Vietnamese, April 24, 2020: "Some observers believe that the Vietnamese government can earn a great public image by touting zero deaths and indeed, the Vietnamese government has been praising itself in state-owned media and winning acclaim internationally, including in NPR and The World Economic Forum. Furthermore, the zero death count helps to shore up a belief among Vietnamese citizens that the authoritarian system is better able than democratic countries to handle crises. Prime Minister Nguyen Xuan Phuc has described Vietnam's actions to control the virus as the 'spring general offensive of 2020,' referring to the 1968 Tet Offensive by Communist forces during the Vietnam-American war. 'Autocrats love a crisis,' writes Michael Abramowitz and Arch Puddington of Freedom House in a Los Angeles Times op-ed."
TAKE ACTION
Take action this week with Amnesty International
 and call for Facebook to overturn its decision to censor posts that the Vietnamese government deems to be "anti-state." AI says that Facebook's decision will have negative effects for Vietnamese citizens and activists and will also affect international freedom of expression by providing a dangerous model of state censorship for others to follow. "Facebook must base its content regulation on international human rights standards for freedom of expression, not on the arbitrary whims of a rights-abusing government," says William Nee, Business and Human Rights Advisor at Amnesty International. Take action by sharing AI's letter on your social media.
© 2020 The 88 Project
https://the88project.org/wp-content/uploads/2020/04/Tran-Duc-Thach-after-arrest_Bao-Giao-Thong.jpg
460
703
kayleedolen
https://the88project.org/wp-content/uploads/2019/01/88project.png
kayleedolen
2020-04-27 13:32:59
2020-04-27 13:32:59
Vietnam Free Expression Newsletter No. 17/2020 – Week of April 20-26