Nguyen Bac Truyen
Current Status: Released - exiled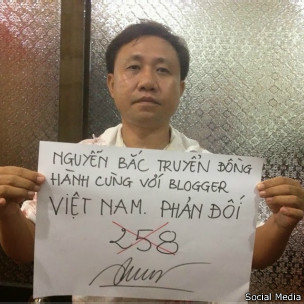 Other Names: Nguyễn Bắc Truyển
Date of Birth: August 12, 1968
Gender: M
Religion: Buddhist (Hòa Hảo)
Ethnicity: Kinh
Occupation: Business professional
Last Known Prison: An Diem prison, Dai Loc district, Quang Nam province
Areas of Activism:
Democracy
Land rights
Religious freedom
Highlighted Human Rights Concerns:
Former Political Prisoner
Denial of Adequate Medical Treatment or Supplies
Prolonged Incommunicado Detention
Harsh Physical and Administrative Conditions
Denial of Family Visit/Punitive Prison Transfer
Infliction of Physical and Psychological Pain
Nguyen Bac Truyen has been freed early from his 11-year prison sentence and has gone into exile with his wife to Germany. On her Facebook page, Bui Kim Phuong announced that she and her husband arrived in Berlin on Sept. 8. She thanked the German government and its representatives at the embassy in Hanoi for their assistance and advocacy. Phuong also asked for some private time to recuperate and resettle.
June 2022:
Bui Thi Kim Phuong, wife of political prisoner Nguyen Bac Truyen, was banned from leaving the country to attend the International Religious Freedom Summit from 2019 to 2022, having received an invitation each year.
September 2021:
The UN released its annual report on reprisals for cooperating with the UN on human rights abuses. The section on Vietnam highlighted many familiar organizations and individuals such as VOICE, IJAVN, Nguyen Tuong Thuy, Nguyen Bac Truyen, as well as their spouses and family members who were harassed by police for talking to UN representatives.
Details - History of Activism.
Nguyen Bac Truyen ran the Vietnamese Political & Religious Prisoners Friendship Association; he also provided free legal advice to those affected by land grabs and has been an adovcate for human rights and for the release of all political prisoners in Vietnam.
In 2011, he won Human Rights Watch's Hellman/Hammett Award for his work.
Arrested November 17, 2006. Sentenced to 3 years 6 months in prison under Art. 88 (1999 Code). Released May, 2010.
May 10, 2007
3 years 6 months in prison
May, 2010
freedom from arbitrary arrest or detention
liberty and security of the person
fair trial
Arrested July 30, 2017. Sentenced to 11 years in prison under Art. 79 (1999 Code). Released September 8, 2023.
April 5, 2018
11 years in prison
July 30, 2028
September 8, 2023
freedom from arbitrary arrest or detention
liberty and security of the person
freedom of expression
fair trial
ASEAN
International professionals
Human Rights Watch
US government
Amnesty International
International government officials
Boat People SOS
Profile last updated: 2023-09-20 19:21:12