Nguyen Bac Truyen
Current Status: Sentenced to prison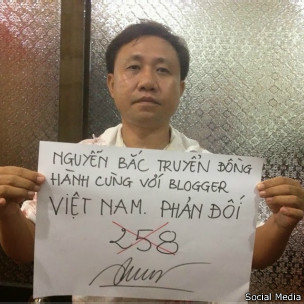 Other Names: Nguyễn Bắc Truyển
Date of Birth: August 12, 1968
Gender: M
Religion: Buddhist (Hòa Hảo)
Ethnicity: Kinh
Occupation: Business professional
Current Prison: An Diem prison, Dai Loc district, Quang Nam province
Areas of Activism:
Democracy
Land rights
Religious freedom
May 2019:
On May 23, Hoang Duc Binh's family went to visit him at An Diem Detention Center, Quang Nam province. Binh was in very poor health due to being on hunger strike. Binh, Nguyen Bac Truyen, and other prisoners started a hunger strike on May 12 to protest against the detention center torturing fellow political prisoner Nguyen Van Hoa. On May 12, 2019, a detention center officer at An Diem forced Hoa to sign a report with many blank spaces. Hoa revealed to other prisoners that he refused to sign because the authorities could later fill those blank spaces with false content to punish him. After that, public security forces and detention officers beat him harshly, causing bruises, and took him away without an official punishment decision.
***
According to an update from Hoa's sister, who went to visit him at An Diem Detention Center on May 28, 2019, Hoa's health is fine now in spite of being beaten and held in solitary confinement for ten days. He was released but will still have to be isolated in one room at camp K1 for the next six months. As of May 27, there was one prisoner who stopped his hunger strike, while political prisoners Hoang Duc Binh and Nguyen Bac Truyen, as well as one other, kept striking in solidarity with Hoa, Hoa said. Those striking are said to be unaware of Hoa's current condition.
Details - History of Activism.
Nguyen Bac Truyen runs the Vietnamese Political & Religious Prisoners Friendship Association; he also provides free legal advice to those affected by land grabs and is an adovcate for human rights and for the release of all political prisoners in Vietnam.
In 2011, he won Human Rights Watch's Hellman/Hammett Award for his work.
Arrested November 17, 2006. Sentenced to 3 years 6 months in prison under Art. 88 (1999 Code). Released May, 2010.
May 10, 2007
3 years 6 months in prison
May, 2010
Arrested July 30, 2017. Sentenced to 11 years in prison under Art. 79 (1999 Code). Expected Release is July 30, 2028.
April 5, 2018
11 years in prison
July 30, 2028
Human Rights Watch
Amnesty International
Profile last updated: 2019-12-15 02:03:10