Nguyen Bac Truyen
Current Status: Sentenced to prison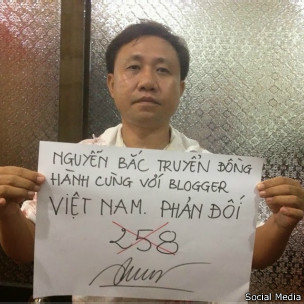 Other Names: Nguyễn Bắc Truyển
Date of Birth: August 12, 1968
Gender: M
Religion: Buddhist (Hòa Hảo)
Ethnicity: Kinh
Occupation: Business professional
Last Known Prison: An Diem prison, Dai Loc district, Quang Nam province
Areas of Activism:
Democracy
Land rights
Religious freedom
October 2020:
Nguyen Bac Truyen has been awarded the Stefanus Prize 2020. According to the organization, "The Stefanus Prize was established by the Norwegian missions- and human rights organization Stefanus Alliance International. It is awarded to a person or persons who has made a great contribution to the human right of freedom of religion and belief."
September 2020:
Boat People SOS (BPSOS) expedited a letter to be sent to US Secretary of State Mike Pompeo by September 28, in time for the State Department to consider adding Truyen's case to the agenda for its annual dialogue on human rights and religious freedom with Hanoi on October 6.
Details - History of Activism.
Nguyen Bac Truyen ran the Vietnamese Political & Religious Prisoners Friendship Association; he also provided free legal advice to those affected by land grabs and has been an adovcate for human rights and for the release of all political prisoners in Vietnam.
In 2011, he won Human Rights Watch's Hellman/Hammett Award for his work.
Arrested November 17, 2006. Sentenced to 3 years 6 months in prison under Art. 88 (1999 Code). Released May, 2010.
May 10, 2007
3 years 6 months in prison
May, 2010
freedom from arbitrary arrest or detention
liberty and security of the person
fair trial
Arrested July 30, 2017. Sentenced to 11 years in prison under Art. 79 (1999 Code). Expected Release is July 30, 2028.
April 5, 2018
11 years in prison
July 30, 2028
freedom from arbitrary arrest or detention
liberty and security of the person
freedom of expression
fair trial
ASEAN
Human Rights Watch
US government
Amnesty International
Boat People SOS
Profile last updated: 2020-10-26 14:53:09