Nguyen Bac Truyen
Current Status: Sentenced to prison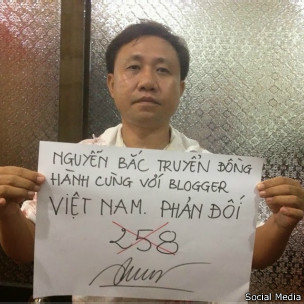 Other Names: Nguyễn Bắc Truyển
Date of Birth: August 12, 1968
Gender: M
Religion: Buddhist (Hòa Hảo)
Ethnicity: Kinh
Occupation: Business professional
Last Known Prison: An Diem prison, Dai Loc district, Quang Nam province
Areas of Activism:
Democracy
Land rights
Religious freedom
Highlighted Human Rights Concerns:
Former Political Prisoner
Denial of Adequate Medical Treatment or Supplies
Prolonged Incommunicado Detention
Harsh Physical and Administrative Conditions
Denial of Family Visit/Punitive Prison Transfer
Infliction of Physical and Psychological Pain
March 2021:
Nguyen Bac Truyen's wife, Bui Kim Phuong, was able to visit Truyen last week and set an update to The 88 Project on his condition. She said he has not been feeling well but is physically stable. However, he is under a lot of psychological stress caused by prison guards. He told her they have been using other prisoners to harass and provoke him so that they could "isolate and demean him." In the morning, whenever he tries to study English, they deliberately make a lot of loud noises so that he can't concentrate. She said he seemed to be very stressed.
Bui Kim Phuong also told The 88 Project that her husband has been mistreated in prison. Several letters that she sent to him were not delivered. An Diem Prison has ignored his requests and has not forwarded his petitions to the proper court authorities. He is not being medically treated for his gout condition. Several letters that he tried to send home asking for supplies were never delivered. The authorities have denied his request to be transferred closer to home.
December 2020:
Update: Nguyen Van Hoa ended his hunger strike after eight days. Truyen and Diep also ended their hunger strike. The three reportedly resumed eating after their demands were approved by the prison administration, though it is unclear exactly what those demands were.
Three political prisoners have been on a hunger strike at An Diem Prison since at least November 20. They are Nguyen Bac Truyen, Pham Van Diep, and Nguyen Van Hoa. On November 26, Hoa's sister visited him and reported that her brother looked pale and weak and had been on a hunger strike for seven days. They were protesting violations of their human rights, such as not being allowed to send or receive letters, not being given adequate healthcare, and being transferred to prisons far from their hometowns, causing hardship for their families. All their requests have been ignored by the authorities, even Truyen's 2019 petition for a medical examination.
Details - History of Activism.
Nguyen Bac Truyen ran the Vietnamese Political & Religious Prisoners Friendship Association; he also provided free legal advice to those affected by land grabs and has been an adovcate for human rights and for the release of all political prisoners in Vietnam.
In 2011, he won Human Rights Watch's Hellman/Hammett Award for his work.
Arrested November 17, 2006. Sentenced to 3 years 6 months in prison under Art. 88 (1999 Code). Released May, 2010.
May 10, 2007
3 years 6 months in prison
May, 2010
freedom from arbitrary arrest or detention
liberty and security of the person
fair trial
Arrested July 30, 2017. Sentenced to 11 years in prison under Art. 79 (1999 Code). Expected Release is July 30, 2028.
April 5, 2018
11 years in prison
July 30, 2028
freedom from arbitrary arrest or detention
liberty and security of the person
freedom of expression
fair trial
International professionals
ASEAN
Human Rights Watch
US government
Amnesty International
International government officials
Boat People SOS
Profile last updated: 2021-03-29 02:47:13