Nguyen Bac Truyen
Current Status: Sentenced to prison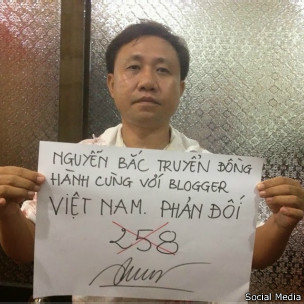 Other Names: Nguyễn Bắc Truyển
Date of Birth: August 12, 1968
Gender: M
Religion: Buddhist (Hòa Hảo)
Ethnicity: Kinh
Occupation: Business professional
Current Prison: An Diem prison, Dai Loc district, Quang Nam province
Areas of Activism:
Democracy
Land rights
Religious freedom
April 2020:
The US Commission on International Religious Freedom called for the release of Nguyen Bac Truyen on the second anniversary of his trial. USCIRF Commissioner Anurima Bhargava said of Truyen that: "He should be home with his family, especially now that the coronavirus pandemic has increased the public health risk to prisoners and his health problems have escalated since his imprisonment.
**
The Commissioner of the U.S. Commission on International Religious Freedom and U.S. Representative Harley Rouda (D-CA) wrote an opinion calling for the release of Hoa Hao Buddhist Nguyen Bac Truyen from prison. In the opinion, they wrote about Truyen's poor health conditions and said that, "His immediate and unconditional release is necessary to demonstrate the Vietnamese government's stated commitment to religious freedom." The letter writers urged U.S. officials to continue to press for the release of Vietnamese political prisoners. They also called for USAID funding in Vietnam to go towards education on the importance of religious freedom and for the US to designate Vietnam as a Country of Particular Concern if Vietnam refuses to protect religious freedom in the country.
Details - History of Activism.
Nguyen Bac Truyen ran the Vietnamese Political & Religious Prisoners Friendship Association; he also provided free legal advice to those affected by land grabs and has been an adovcate for human rights and for the release of all political prisoners in Vietnam.
In 2011, he won Human Rights Watch's Hellman/Hammett Award for his work.
Arrested November 17, 2006. Sentenced to 3 years 6 months in prison under Art. 88 (1999 Code). Released May, 2010.
May 10, 2007
3 years 6 months in prison
May, 2010
freedom from arbitrary arrest or detention
liberty and security of the person
fair trial
Arrested July 30, 2017. Sentenced to 11 years in prison under Art. 79 (1999 Code). Expected Release is July 30, 2028.
April 5, 2018
11 years in prison
July 30, 2028
freedom from arbitrary arrest or detention
liberty and security of the person
freedom of expression
fair trial
ASEAN
Human Rights Watch
US government
Amnesty International
Boat People SOS
Profile last updated: 2020-09-21 13:50:54