Nguyen Bac Truyen
Current Status: Sentenced to prison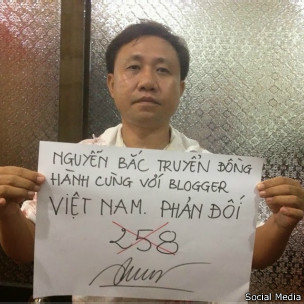 Other Names: Nguyễn Bắc Truyển
Date of Birth: August 12, 1968
Gender: M
Religion: Buddhist (Hòa Hảo)
Ethnicity: Kinh
Occupation: Businessman
Current Prison: An Diem prison, Dai Loc district, Quang Nam province
Areas of Activism:
Democracy
Land rights
Religious freedom
April 2019:
Several international human rights organizations sent a letter to top EU leaders as negotiations continue on the EU-Vietnam Free Trade Agreement, urging Vietnam to release religious and democracy activist Nguyen Bac Truyen from prison. Truyen has spent years defending the legal rights of victims of injustice and advocating for human rights; for this work, his family has been harassed and Truyen arrested and sentenced to 11 years in prison. Read the letter, here.
Details - History of Activism.
Nguyen Bac Truyen runs the Vietnamese Political & Religious Prisoners Friendship Association; he also provides free legal advice to those affected by land grabs and is an adovcate for human rights and for the release of all political prisoners in Vietnam.
In 2011, he won Human Rights Watch's Hellman/Hammett Award for his work.
Arrested November 17, 2006. Sentenced to 3 years 6 months in prison under Art. 88 (1999 Code). Released May, 2010.
May 10, 2007
3 years 6 months in prison
May, 2010
Arrested July 30, 2017. Sentenced to 11 years in prison under Art. 79 (1999 Code). Expected Release is July 30, 2028.
April 5, 2018
11 years in prison
July 30, 2028
Profile last updated: 2019-04-23 03:35:17