Doan Viet Hoan
Current Status: Sentenced to prison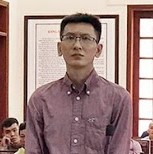 Other Names: Đoàn Viết Hoan
Date of Birth: 1984
Gender: M
Ethnicity: Kinh
Current Prison: Prison No. B5, Dong Nai province
May 2020:
Doan Viet Hoan and Ngo Xuan Thanh had their appeal trial on May 6, 2020. The court upheld Hoan's three-year sentence and Thanh's 28-month sentence.
Details - Background, History of Activism.
Profile photo source: TVTS
Doan Viet Hoan is an ordinary citizen with concerns about the human rights conditions of Vietnam, especially Vietnamese political independence and issues of sovereignty regarding China.
Six Activists Sentenced to a Combined 25 Years in Prison in One Day Ahead of Vietnam Communist Party's National Congress, The 88 Project, November 28, 2019
Bốn đối tượng lên kế hoạch gây cháy nổ ở Biên Hòa lãnh án, Nhan Dan, November 26, 2019
Hơn 10 năm tù cho các đối tượng phản động, phá hoại ở Biên Hòa, Phu Nu, November 26, 2019
Arrested April 25, 2019. Sentenced to 3 years in prison under Art. 118 (2015 Code). Expected Release is April 25, 2022.
April 25, 2019
Dong Nai province public security, Dong Nai province
November 26, 2019
The People's Court of Dong Nai Province
Nguyen Van Mieng
3 years in prison
April 25, 2022
freedom from arbitrary arrest or detention
liberty and security of the person
freedom of expression
freedom of peaceful assembly
fair trial
Profile last updated: 2020-05-12 00:28:09