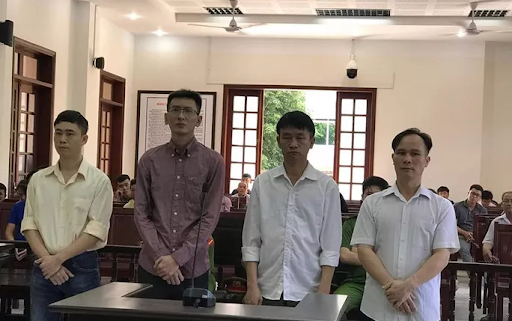 Six Activists Sentenced to a Combined 25 Years in Prison in One Day Ahead of Vietnam Communist Party's National Congress
In 2019 alone, ahead of the National Congress of the Communist Party in 2020, dozens of activists, independent journalists, and even ordinary citizens have been arrested or convicted under national security charges. In one single day, on November 26, 2019, Vietnam authorities held three trials across the country and sentenced six activists to a total of 25 years and eight months in jail and five years of probation. Those activists are Pham Van Diep from Thanh Hoa Province, Nguyen Chi Vung from Bac Lieu Province, and a group of four from Dong Nai Province – Vo Thuong Trung, Doan Viet Hoan, Ngo Xuan Thanh, and Nguyen Dinh Khue. 
Among the six, Pham Van Diep and Nguyen Chi Vung received the heaviest sentences: nine years and six years in jail, respectively. Both were accused of "making, storing, spreading information, materials, items for the purpose of opposing the State of the Socialist Republic of Vietnam," under Article 117 of the 2015 Criminal Code. The other four were convicted to up to three years in prison each under Article 118 for "disrupting security."
Pham Van Diep
Pham Van Diep at trial. Source: Bao Moi Newspaper
Diep, a 54-years-old Vietnamese-Russian, has been an active democracy and human rights activist since 2002. He was born in Thanh Hoa Province and went to Russia to study in 1992. In 2016, he returned to Vietnam to live in his hometown. On his Facebook accounts, Diep often shares his political views and national issues. He also participated in protests against Formosa after the toxic waste spill in 2016 and against the draft bills on Cybersecurity and Special Economic Zones in June 2018. On June 29, 2019, the Investigation Agency of Thanh Hoa Province formally arrested Diep. Six days before his first instance trial, Human Rights Watch called on the Vietnamese authorities to immediately release him, saying that "all Pham Van Diep has done in the last 17 years is voice his opinions about important social and political issues and protest his persecution for speaking out."
In the first instance trial on November 26, The People's Court of Thanh Hoa Province found Diep guilty of many charges, including his participation with the Twenty-first-century Democratic Party (Dang Dan Chu 21), an unsanctioned opposition party in Vietnam, in 2006. In the indictment, the Investigation Agency also cited his pro-democracy activism in Laos, which caused him to receive a sentence of 21-months in prison for "committing crimes against a neighboring country," according to Laos' criminal justice system. The court also accused Diep of using his Facebook accounts since 2010 to post and share articles and videos with content distorting state and party policy, defaming party leaders and state officers, and aiming to discredit the Party and the State's leadership among the people. In response, Diep admitted his activism, saying he was a critic of Marxism-Leninism and communism. Since Vietnam is under the one-party rule of the Communist Party, which imposes Marxism-Leninism as the national ideology, his political views and peaceful opinion expression became a crime in Vietnam.
Nguyen Chi Vung
Nguyen Chi Vung in his trial. Source: Cong An Newspaper
In a similar accusation, The People's Court of Bac Lieu Province imprisoned Nguyen Chi Vung for six years, along with two years of house arrest upon release, due to his online activities on Facebook. From May to August 2018, Vung was said to use two Facebook accounts to join a closed group to discuss protest plans and hold livestream sessions to "share distorted information" and "encourage people to participate in protests during national holidays." Vung, 38, a telephone repairman, often shares his concerns and views on the issues of human rights, corruption, and sovereignty. He participated in mass demonstrations against the draft laws on Cybersecurity and Special Economic Zones on June 10, 2018, and suffered one day in detention with maltreatment. In the same year, public security of Ho Chi Minh City, in an attempt to prevent a mass demonstration on the occasion of the National Independence Day on September 2, detained him for nine days. He was officially arrested at his residence by the public security of Bac Lieu province on April 23, 2019.  
At the trial, the public security forces of Bac Lieu province reportedly "proved" that Vung committed a long list of criminal acts, including: fabricating information in order to misrepresent and exaggerate problems and mistakes in the leadership of the Communist Party of Vietnam; propagating, defaming, attacking, distorting the Party's guidelines and policies; and inciting the masses to oppose the people's regime. The state's mouthpiece also emphasized that Vung admitted his crime before the Court, while also asking for the mercy of the law to once again become a "productive" member of society. 
This business-as-usual strategy often used by the regime cannot cover up the fact that this is just another violation of the right to freedom of expression. It is clear that Vung was detained for participating in the national June 10, 2018 protests and for expressing his views on national issues online. 
Vo Thuong Trung, Doan Viet Hoan, Ngo Xuan Thanh, and Nguyen Dinh Khue 
Four Dong Nai based activists at trial. Source: Nguoi Lao Dong Newspaper
In a third trial, the People's Court of Dong Nai Province sentenced Vo Thuong Trung (42 years old) and Doan Viet Hoan (35 years old) to three years in prison, while Ngo Xuan Thanh (49 years old) and Nguyen Dinh Khue (41 years old) each received a 28-month conviction. All were charged under Article 118 of the 2015 Criminal Code for "disturbing security." According to the indictment, they were accused of reading articles with anti-regime content on the Internet and planning demonstrations with various methods, including preparing explosions to go off on April 28, 2019. In the plan, Hoan was said to be a leader for a peaceful demonstration, with the duty of creating a "demonstration plan" and uploading 12 videos, with instructions on causing explosions, to social media. Trung was allegedly responsible for buying explosive chemicals, and along with Khue, finding a location for explosions. Thanh, with his knowledge of causing explosions, was allegedly in charge of gathering people for their so-called disruption plan. 
However, according to Khue's defense counsel, lawyer Nguyen Van Mieng, the court could not provide evidence to prove that they were planning to use explosive materials since police failed to find any material to make explosive devices and confiscated their phones instead. Mieng also claimed that four defendants only wanted to protest against a price hike in electricity and gas, as well as against the bill on Special Economic Zones, with the fear that Vietnam would be dependent on Chinese investment. Lawyer Mieng asserts that beside messages and their online communication concerning the demonstration, no evidence about the alleged bombing could be found. He notes that the men were arrested on April 25, only three days before the scheduled crime. If they had intended to do anything with bombing and destroying properties, the public security force would have at least found some evidence such as wire, explosive materials, and related devices. The fact that they could find nothing means that the accusation is very weak, if not unfounded. 
Many speculate that these convictions are for being used for scoring political gains before the power play begins at the outset of the National Congress of the Communist Party in 2020. However, it also shows the arbitrariness and lawlessness of the regime. These sentences against peaceful bloggers and activists are unlawful in light of the 2013 Constitution and international human rights standards. Article 25 of the country's 2013 Constitution ensures that "the citizen shall enjoy the right to freedom of opinion and speech, freedom of the press, to access information, to assemble, form associations and hold demonstrations. The practice of these rights shall be provided by the law." Meanwhile, the International Covenant on Civil and Political Rights, to which Vietnam became a State Party in 1982, also guarantees people's right to a fair trial in Article 14, the right to freedom of expression in Article 19, and the right of peaceful assembly in Article 21. All six bloggers and activists were merely exercising their human rights, which are protected by both domestic law and international treaties. Sentencing them for their online expression, critical views on politics, or even plans to hold a peaceful demonstration, hence, seriously violated human rights standards and broke Vietnam's commitment to human rights promotion and protection, as well as the prevention of rights violations. 
© 2019 The 88 Project
Sources:
Vietnam's Constitution, 2013
International Covenant on Civil and Political Rights, 1966
Profile: Pham Van Diep, The 88 Project
Profile: Nguyen Chi Vung, The 88 Project
Profile: Nguyen Dinh Khue, The 88 Project
"Chào mừng ngày giải phóng 30/4", Hà Nội tiếp tục đàn áp tôn giáo và bắt giữ người dân trái luật, Tieng Dan Newspaper, April 23, 2019
Bắt giữ đối tượng sử dụng mạng xã hội chống phá Đảng, Nhà nước, Nhan Dan Newspaper, June 29, 2019
Vietnam: Longtime Critic Facing Trial, Human Rights Watch, November 20, 2019
Sử dụng mạng xã hội để chống phá Đảng, Nhà nước, Bao Moi Newspaper, November 26, 2019
Tuyên truyền chống phá Nhà nước, Nguyễn Chí Vững lãnh 6 năm tù, Cong An Newspaper, November 26, 2019
4 đối tượng lên kế hoạch gây cháy, nổ ở Biên Hòa lãnh án, Nguoi Lao Dong Newspaper, November 26, 2019
https://the88project.org/wp-content/uploads/2019/11/Dong-Nai-trial-November-26-2019.png
384
512
Huong Nguyen
https://the88project.org/wp-content/uploads/2019/01/88project.png
Huong Nguyen
2019-11-28 03:35:40
2019-11-28 06:10:01
Six Activists Sentenced to a Combined 25 Years in Prison in One Day Ahead of Vietnam Communist Party's National Congress