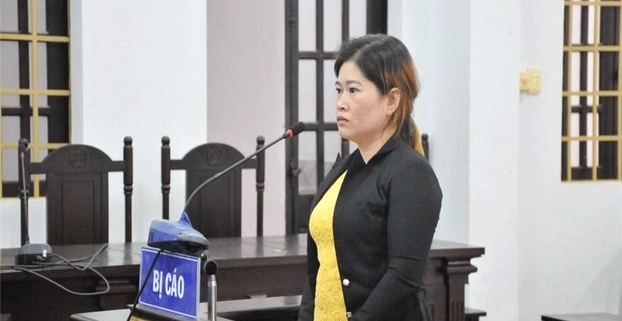 Vietnam Free Expression Newsletter No. 35/2019 – Week of August 26-September 1
Featured Image: Duong Thi Lanh at trial on August 23, 2019, Source: RFA Vietnamese
Greetings from The 88 Project! We are bringing you news, analysis, and actions regarding human rights and civil society in Vietnam during the week of August 26 – September 1, 2019. Facebooker Duong Thi Lanh was sentenced to eight years in prison this week for posting content deemed to be "anti-state," and authorities have announced official prosecution of Australian national Chau Van Kham under Art. 109 of the 2015 Criminal Code for subversion. Political prisoners Nguyen Van Tuc and Nguyen Trung Ton are in poor health behind bars. And police have ended their investigation into and recommended prosecution against blogger Truong Duy Nhat, who was kidnapped from Thailand while attempting to seek asylum there in January. In case you missed it, check out our latest interview in our series with Vietnamese female activists– an inspiring conversation with poet and social activist Chieu Anh Nguyen. She recently also wrote a story about fellow female activist Nguyen Dang Minh Man, who released from prison this month following completion of her eight-year sentence. And Pham Doan Trang, another well-known female activist, has been nominated for Reporters Without Border's Prize for Impact. In the news, read about the Montagnard people and their struggles during and after the Vietnam War. And please take action for imprisoned land rights activist Tran Thi Nga by signing Amnesty International Australia's petition for her release.
HUMAN RIGHTS & CIVIL SOCIETY
Prisoners of Conscience
Duong Thi Lanh at trial on August 23, 2019, Source: RFA Vietnamese
On August 23, 2019, 
Duong Thi Lanh
 was 
sentenced to eight years 
in prison and two years of probation by The People's Court of Dak Nong province for "making, storing, spreading information, materials, items for the purpose of opposing the State of Socialist Republic of Vietnam," under Article 117 of the 2015 Penal Code. According to the indictment, the investigation police stated that from June 2017 onward, Lanh had created and used 13 Facebook accounts to make over 300 postings with anti-state content. Lanh was arrested in January 2019, after having been fined for participating in the national June 2018 protests and called in for police questioning on her activities multiple times in September 2018.
On August 28, 2019, Bui Thi Re, wife of political prisoner Nguyen Van Tuc, and Tuc's brothers, went to visit Tuc in Prison 6, Nghe An province. They were only permitted to meet with him for 45 minutes. According to Re, Tuc was very weak, and he hasn't been able to sleep at night because of his cardiovascular disease. Tuc told his wife that he passed out the previous day for a few hours. His high blood pressure, vision issues, and hemorrhoids are also problematic. Tuc worries he will die in prison. He asked the prison manager to transfer him out of the cell because of problems with his cellmate harassing him. Nguyen Van Tuc is a member of the Brotherhood for Democracy serving a 13-year prison sentence; we remember him on the second anniversary of his arrest on September 1.
On August 29, 2019, Nguyen Thi Lanh, wife of political prisoner Nguyen Trung Ton, called Radio Free Asia regarding the current state of her husband, who is still suffering from an untreated leg injury from an attack by unknown thugs with special police equipment in 2017. Ton is a pastor who was sentenced to 12 years in prison for his democracy and religious freedom activism.
On August 28, 2019, lawyer Ngo Anh Tuan met (story in Vietnamese) with detained blogger Truong Duy Nhat at T16 detention prison  for the first time since Nhat's abduction from Thailand in January 2019 and subsequent arrest in Vietnam. Tuan told Radio Free Asia that he went to see Nhat on August 26 but the guards didn't allow the meeting to take place without the presence of investigation officers. Tuan returned on August 28 to meet Nhat under the presence of an investigation officer. Nhat was reported to be in good spirits, but the prison has been prohibiting the receipt of food from his family. Regarding the charge against him of "abusing position, authority while in office" (Art 356 of the 2015 Criminal Code) for his alleged involvement in a land fraud case, he said that the charges are unfounded and that he only followed authorization from others. Authorities have ended their investigation into Nhat and have recommended the case for prosecution. Nhat asked the authorities to return his personal assets, which were taken in Bangkok, Thailand. He asked Tuan to take pictures and save all the articles related to his case to read later and to bring him three law books.
This week, we remember the following political prisoners:

Activists at Risk
Nguyen Dang Minh Man
 is a former political prisoner, a Catholic activist, and photojournalist who just completed her eight-year prison sentence. 
This story
, written by poet 
Chieu Anh Nguyen
, shares aspects of Man's life and inspirations that have been little known thus far. When asked about her time in prison, Man responded: "Don't ask me whether I regret, because I'll answer only once: I never regret."
NEWS & ANALYSIS
Tough Fighters Hanging on in Vietnam
, Charles Dunst, The Los Angeles Review of Books, August 29, 2019: "State media does little to hide Hanoi's contempt, instead disseminating brazenly xenophobic reports accusing the Montagnards of religious 'evil ways' and politically 'autonomous thoughts,' both of which render them targets for official abuse. Some Montagnards allege even graver atrocities, including rape, assault, and purposeful HIV infection. Many, almost always unsuccessfully, continue to seek asylum in Cambodia and Thailand. 'They still watch me, seeing what I'm doing, trying to put me back in prison, because of my tribe, my religion, and being US military,' Uoh told me. I had to cut my interview with him short after a police confidant warned my local interlocutor that his law enforcement colleagues were 'looking for the foreigner' (i.e., me)."
The tiny islands that could explode the China-Vietnam relationship, Brad Lendon, CNN, August 30, 2019: "Leaders in Hanoi made their displeasure clear, with the Foreign Ministry on July 19 calling on all Chinese ships to leave Vietnamese waters. Analysts say China's actions are worrisome. 'Beijing is testing not only Vietnam, but also the United States and the international community,' Huong Le Thu, a senior analyst at the Australian Strategic Policy Institute, wrote in an analysis this month."
Asia's Disappearing Activists, Josef Benedict, The Diplomat, August 30, 2019: "Activists across the region are engaging with the UN Working Group on Enforced Disappearances and other UN bodies to pursue truth, justice and reparations. Nevertheless, attempts to reduce incidents of enforced disappearances remain a challenge, especially when activists are now being disappeared across borders. In January 2019, journalist Truong Duy Nhat was abducted in Bangkok with the possible involvement of Thai police officers who delivered him to a group of Vietnamese police officials. Nhat is now detained in Hanoi and is facing trial on corruption charges. This was followed by Vietnam's detention of three Thai dissidents — Siam Theerawut, Chucheep Chivasut, and Kritsana Thapthai — whose whereabouts remain unknown."
IN CASE YOU MISSED IT
Our latest video interview with Vietnamese female activists is with social activist and poet 
Chieu Anh Nguyen
, who, through different channels, hopes to plant seeds for social change. One of these channels is the foundation the "Green Kernel," which provides support for high-achieving students from poor regions of Vietnam. With education and kindness, she hopes to expand their viewpoints. 
Watch the full interview here!
 Chieu Anh also recently wrote a story about former political prisoner 
Nguyen Dang Minh Man
's background and inspirations for her activism, which you can read 
here.
TAKE ACTION

Take action with Amnesty International Australia for 
Tran Thi Nga
, a land and labor rights activist serving a nine-year prison sentence. 
Sign the petition
 calling for her immediate release from prison.
© 2019 The 88 Project
https://the88project.org/wp-content/uploads/2019/09/Duong-Thi-Lanh-at-trial-8.23.19_Source-RFA-Vietnamese.jpeg
459
622
kayleedolen
https://the88project.org/wp-content/uploads/2019/01/88project.png
kayleedolen
2019-09-02 13:39:39
2019-09-02 15:06:44
Vietnam Free Expression Newsletter No. 35/2019 – Week of August 26-September 1