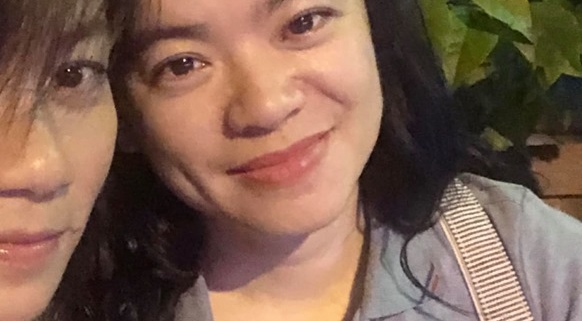 Eight Years in Exile, Eight Years in Prison: Story of Nguyen Dang Minh Man, by Chieu Anh Nguyen
Nguyen Dang Minh Man is a former political prisoner who just completed her eight-year prison sentence on August 2, 2019. The Catholic activist and photojournalist was arrested in 2011 for recording peaceful protests and sentenced for subversion. Behind bars, she endured difficult conditions, went on hunger strike, and was also placed in solitary confinement. This story, written by poet Chieu Anh Nguyen, shares with us aspects of Man's life that have been little known thus far: that, despite her young age, Man had already spent eight years as a refugee before returning to Vietnam at the age of 12, and how her life journey instilled in her a yearning for freedom. Upon her release from prison, Man still has to serve five years of probation, which puts her under administrative surveillance and restricts her freedom of movement. 
Featured image: Author Chieu Anh Nguyen (left) and Nguyen Dang Minh Man after Man's release, August 2019. Source: Facebook Chieu Anh Nguyen
oOo
Boat people!
She was a tiny boat person.
At the age of four, she, along with her family, went adrift at sea to find freedom. She has lived through four different refugee camps. Those early years of hardship already formed in her a consciousness of freedom, and more importantly, after eight years of being a refugee in Thailand, she found her belief and a reason to live. She asked to learn about the dogmas of the Church, to be baptized, and to follow God's footsteps. At the age of twelve, while her peers were still carefree, she encountered the very first shock of her life.
She and her family were forced to come back to Vietnam. When her family crossed the sea and came to the refugee camps, the time limit of receiving boat people was over, so her family was forced to go back to Vietnam without any personal papers.
She returned to Tra Vinh province to attend 4th grade. Her learning process was met with serious difficulties because of the regime's prejudices against "traitors." "The traitor" was the label that even the school's teachers readily assigned to her each time they mentioned her name. The head teacher of her middle school class told her: "Only traitors left to cross the border."
After completing a primary course on pharmacy, which she only attended to please her parents, she decided to drop out of school, knowing that even if she continued school, it would be impossible for her to rise in a narrow-minded society full of biased and heartless prejudices.
She comes from a South Republican family, so it is impossible for her to live and integrate with the current social attitudes, being surrounded by people who get paid to keep a close watch on her family.
The small town of Tra Vinh did not satisfy her keen awareness of freedom and her desire to enjoy the right of truly being human, which she has nurtured and developed from early years.
Every night, in addition to praying, tuning in to radio broadcast on international radio waves was also a joy and hope for the 24-year-old girl. She knew that outside, in the world of Vietnamese exiles, the love for the country was still smouldering. She learned more and became more aware of her own patriotism.
At the age of 25, she decided to leave Tra Vinh and go to Saigon to find like-minded people who shared her thoughts and awareness of patriotism and freedom. At the age of 25, she had to change her lodging constantly because of the harassment and pressure which police and security officers put on her and her family in her hometown.
The images of her in protests, with banners about the Spratly and Paracel Islands, filled up the police's dossier about "reactionaries" that got thicker and thicker, as her national spirit intensified. 
She was arrested at the airport with her mother and brother on a flight back to Vietnam after meeting with Vietnamese exiles around the world.
After the first instance trial and the appeal trial, she was sentenced to eight years of imprisonment for high treason and enticing accomplices (including her mother and brother).
Her mother was sentenced to three years, and her older brother, after nearly two years of detention, was released on a suspended sentence.
During her eight years in prison, the communist authorities asked her many times to compromise to get her sentence reduced. She refused, because she would never shake hands with or make any agreements with the communists.
After eight years, she walked out of the prison calmly and confidently. With her head high and a big smile, she replied as I asked her about her time in prison: "During those eight years, I was protected by Our Lady. I often dreamt that Our Lady gave me her hand to hold, and during all those times, I found myself strong enough. Don't ask me whether I regret, because I'll answer only once: I never regret."
Eight years of exile in Thailand through four refugee camps, and then another eight years of imprisonment in Vietnam, also through the four most horrendous prisons – sixteen years of her life have passed like that.
Does anyone feel too small before her like I do?
Chieu Anh Nguyen
Translation © 2019 The 88 Project
From Original story in Vietnamese
https://the88project.org/wp-content/uploads/2019/08/Nguyen-Dang-Minh-Man-and-Chieu-Anh-Nguyen-Source-FB-Chieu-Anh-Nguyen.jpg
960
582
Huong Nguyen
https://the88project.org/wp-content/uploads/2019/01/88project.png
Huong Nguyen
2019-08-29 02:27:26
2019-08-29 02:27:51
Eight Years in Exile, Eight Years in Prison: Story of Nguyen Dang Minh Man, by Chieu Anh Nguyen