Nguyen Dang Minh Man
Current Status: Released - at risk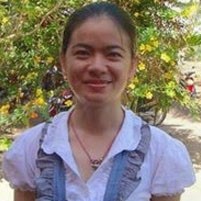 Other Names: Nguyễn Đặng Minh Mẫn
Date of Birth: January 10, 1985
Gender: F
Religion: Christian (Catholic)
Ethnicity: Kinh
Last Known Prison: Prison No. 5, Thanh Hoa province
Areas of Activism:
Anti-corruption
Democracy
Human rights
Sovereignty
Police Brutality
Highlighted Human Rights Concerns:
Former Political Prisoner
Harsh Physical and Administrative Conditions
August 2019:
Nguyen Dang Minh Man was released from prison on August 2, 2019 after completing her eight-year sentence. The Catholic activist and photojournalist was arrested in 2011 for recording peaceful protests. Behind bars, she endured difficult conditions, went on hunger strike, and was allegedly also placed in solitary confinement. She will now have to serve five years of house arrest. Upon her release, Minh Man remarked that she was tired but thanked her supporters. Her mother, Mrs. Dang Ngoc Minh, told the BBC that she didn't receive any information from the authorities about time and location of her daughter's release.
Normally, the local police of District 7, Ho Chi Minh city, would approve her leave for medical treatment, but when Man went to see a doctor from August 12, 2019 to August 14, 2019, the police asked for written acknowledgement of the doctor on the medical papers, even though all the necessary information about the date, location, name of doctor, name of hospital, etc. was already included. Authorities decided that these three days won't count towards the probation period Minh Man has to serve, meaning she'll have to serve three additional days to make up for them.
***
This story, written by poet Chieu Anh Nguyen, shares aspects of Man's life and inspirations that have been little known thus far. When asked about her time in prison, Man responded: "Don't ask me whether I regret, because I'll answer only once: I never regret."
Details - Background, History of Activism, Family Situation.
Minh Man is a Catholic activist from Nghe An province and has training as a beautician.
Minh Man began photographing protests in Vietnam and posting photos online when she was around 24. She photographed anti-China protests in Ho Chi Minh City on June 5, 2011.
The 88 Project's archives
Defend the Defender's archives
Activists Convicted in Vietnam Crackdown on Dissent, The New York Times, January 9, 2013 (PDF)
Jailed Female Photo Journalist on Hunger Strike in Vietnam, Global Voices Advox, December 11, 2014
Vietnamese Photojournalist Continues Hunger Strike After Four Years Behind Bars, Global Voices Advox, March 16, 2015
It's Time for the Obama Administration to Get Tough on Human Rights in Vietnam, The Diplomat, June 24, 2015
Eight Years in Exile, Eight Years in Prison: Story of Nguyen Dang Minh Man, by Chieu Anh Nguyen, The 88 Project, August 29, 2019
Arrested August 2, 2011. Sentenced to 8 years in prison under Art. 79 (1999 Code). Released August 2, 2019.
January 8, 2013
8 years in prison
August 2, 2019
August 2, 2019
Minh Man was arrested in August 2011 as part of a targeted crackdown on Vietnamese Catholic youth activists; her camera was confiscated. She was arrested along with her brother and mother and tried along with 13 others on January 8-9, 2013 in Nghe An. The trial of all activists lasted only two days and was highly secretive. In prison, Minh Man is subjected to heavy physical labor and ill-treatment.
November 2014:
Minh Man started a hunger strike over her poor treatment in prison. Earlier in November 2014, authorities placed her in what amounted to solitary confinement.
March 2015:
Reports came that Minh Man has been on hunger strike for several periods in recent months, which has taken a toll on her health.
May 2015:
Prisoner of conscience Pham Thi Loc reported that Minh Man's health has worsened.
December 2018:
Political prisoner Nguyen Dang Minh Man's mother visited her recently at Detention Center No. 5, Thanh Hoa Province. Man was said to be in good health and spirits. Since Nguyen Ngoc Nhu Quynh reported abroad about Man's case, Man received more encouragement and concern from people, which made her happier and more positive.
June 2019:
Nguyen Dang Minh Man will be released on August 2, 2019. Recently, Mrs. Dang Minh, Man's mother, went to visit her; she said Man was in good health and spirits.
July 2019:
Nguyen Dang Minh Man's family and supporters tried to visit her in Prison Camp No. 5 in Thanh Hoa province, a few weeks before the anticipated completion of her eight-year prison sentence. However, they were forced to stay outside; only two people were allowed in for the visit. Man has been only eating food sent by her family, as she is concerned about an attempted poisoning while still behind bars. Her expected release date is August 2, 2019.
Two fellow political prisoners, Nguyen Van Dien and Nguyen Trung Truc, were on hunger strike at Prison No. 5, protesting prison conditions there.
August 2019:
Nguyen Dang Minh Man was released from prison on August 2, 2019 after completing her eight-year sentence.
March 2015:
Recent periods of hunger strikes have left Minh Man weighing only 35 kg. She remains in solitary confinement and is unable to participate in exercise.
May 2015:
Prisoner of conscience Pham Thi Loc, arrested 2011, was released from prison, and reported back on the poor health of her cellmates, Ta Phong Tan, Can Thi Theu, and Nguyen Dang Minh Man, reporting all to be in worsened health since their arrests.
Minh Man has faced unknown amounts of time in solitary confinement.
March 2015:
Minh Man has not been allowed to socialize with non-political prisoners, and visits with her mother have been limited. She is often singled out for cruel treatment for being a political prisoner.
January 2013:
Article 19 and Human Rights Watch released statements condemning the arrests and trials of the 14 Catholic activists rounded up in a concerted crackdown.
Three UN Special Rapporteurs and the Chair-Rapporteur of the Working Group on Arbitrary Detention sent a letter to the Vietnamese government asking about the circumstances behind the detentions of several pro-democracy activists, including Nguyen Dang Minh Man. Of the 14 activsits mentioned in the letter, they said: "All have advocated for social justice, including by organizing peaceful demonstrations. The majority of them are Catholic, from the Catholic Diocese of Vinh City." They asked for more information about the cases and how the governments' actions were compatible with international law.
April 2013:
Human Rights Watch demanded the release of political prisoners ahead of bilateral human rights dialogues, highlighting especially the cases of those in poor health, including Minh Man.
June 2014:
Stakeholder groups submitted comments on recent arrests and trials ahead of Universal Periodic Review.
December 2014:
Law students in Croatia filed a petition to the UN Working Group on Arbitrary Detention on Minh Man's behalf.
August 2015:
An Australian Member of Parliament sent a letter to the Minister of Foreign Affairs asking her to raise the cases of Minh Man and two others in upcoming human rights meetings.
September 2015:
The UN Working Group on Arbitrary Detention deemed Minh Man's arrest and detention to be arbitrary.
Family Members Welcome Expected Release of Jailed Vietnamese Journalist, Radio Free Asia, July 11, 2019
Vietnam's Longest Serving Female Prisoner of Conscience Released from Prison., Radio Free Asia, August 2, 2019
Gia đình nóng lòng chờ tin Nguyễn Đặng Minh Mẫn trong ngày cô mãn hạn tù, BBC Vietnamese, August 2, 2019
Eight Years in Exile, Eight Years in Prison: Story of Nguyen Dang Minh Man, by Chieu Anh Nguyen, The 88 Project, August 29, 2019
Profile last updated: 2020-08-07 18:50:46