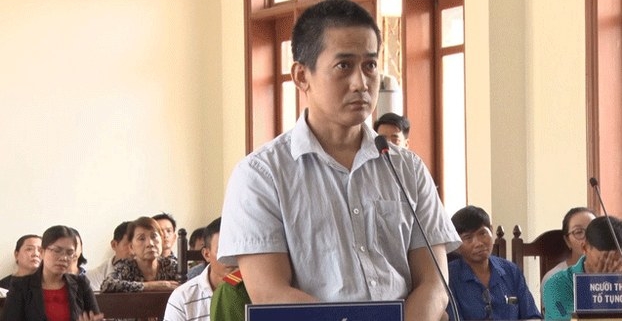 Vietnam Free Expression Newsletter No. 34/2019 – Week of August 19-25
Featured Image: Huynh Dac Tuy at trial
Greetings from The 88 Project! We are bringing you news, analysis, and actions regarding human rights and civil society in Vietnam during the week of August 19-25. Huynh Dac Tuy was sentenced to six years in prison for his Facebook posts that were deemed critical of the state. Political prisoner Luu Van Vinh was denied a visit from his family in prison. Five activists were briefly detained by police in two separate incidents this week, and activist Dinh Van Hai received a summons in regards to his Facebook activities. In case you missed it, dissident writer Pham Doan Trang has released a new book in English. And The 88 Project is looking for a volunteer graphic designer. In the news, read about the case of a Vietnamese asylum seeker, Ha Van Thanh, and US-Vietnamese relations in the face of Chinese influence. Please take action for Ha Van Thanh by sharing a letter from four US members of Congress asking for a re-evaluation of his asylum case.
HUMAN RIGHTS & CIVIL SOCIETY
Prisoners of Conscience
On August 21, 2019,
 Huynh Dac Tuy
, director of Tuy Nguyet construction company, was 
sentenced to six years in prison and three years of probation
 (story 
in Vietnamese
). He was charged with "producing, storing, disseminating and propagating information, documents against the Socialist Republic of Vietnam," in accordance with Article 117 of Vietnam's 2015 Criminal Code, for posting commentary on Facebook that was critical of the state. He is one in a string of 
people in recent months
 who have been interrogated, detained, and/or imprisoned for sharing their views online.
On July 20, 2019, Le Thi Thap, the wife of political prisoner Luu Van Vinh, went to Gia Trung prison, Gia Lai province, to visit him. She brought their daughter as well. However, when they arrived, the prison guards didn't allow Vinh to meet them. When she asked them why, they didn't give her a straight answer. This was the third time prison officials prohibited Vinh from meeting with his family. Vinh was sentenced to 15 years in prison on October 5, 2018, almost two years after his initial arrest, for protesting Chinese activity in the South China Sea and the toxic Formosa spill, as well as founding a civil society group called the Coalition for Self-Determination for Vietnamese People.
This week, we remember the following political prisoners:
Truong Minh Duc. Artwork by Dinh Truong Chinh for The 88 Project
Truong Minh Duc, journalist sentenced to 12 years in prison, featured in our portrait campaign of political prisoners, above

Trial of six protesters in Phan Rang-Thap Cham City, Ninh Thuan Province on August 22, 2018.
Activists at Risk
On August 18, 2019, 
four activists were detained
 (story 
in English
) for protesting alleged violations of Vietnamese sovereignty by Chinese naval vessels. Five activists went to Hon Chong cafe, where there are many Chinese tourists, to hold posters with written words such as "away with China", "China get out of Vietnam's EEZ", etc, however, the manager of the cafe didn't allow them to protest, tried to destroy their signs, and called the police. One activist escaped, but the other four were held and questioned before being released. They were detained from 11am to 3pm at the police station of Vinh Phuoc ward, Nha Trang city.
On August 22, 2019, 
Dang Vu Luong was arrested
 by Quang An ward's police and the Hanoi Police Department. He was then transferred to the investigation police department of Hanoi. The environmentalist group Green Trees, 
of which Luong is a member
, went to the investigation police department of Hanoi to ask for his release. However, Luong was detained until late at night before the police took him home. 
Dang Vu Luong
 is an engineer and amateur saxophonist. Since 2011, he has joined many protests against China and campaigning for environmental protections.
On August 23, 2019, activist 
Dinh Van Hai
 received a
 summons
 from the investigation department of the police of Lam Dong province to discuss the usage of his Facebook account. His Facebook account, however, has been blocked for six months. Thugs beat Dinh Van Hai after he expressed his concerns about society and protested during the Formosa environmental crisis.
Press Freedom
Dissident writer and journalist 
Pham Doan Trang
 has released a new book called "Politics of a Police State." The book is available in English, 
here
. Trang has long advocated for press freedom and multi-party democracy in Vietnam and has written extensively on the subjects despite state censorship and threats to her personal safety. Read more of her written works on her profile page in our Database of Persecuted Activists in Vietnam, 
here
.
NEWS & ANALYSIS
Vietnam edges towards a succession crisis
, David Hutt, The Asia Times, August 20, 2019: "But anti-China nationalism among the Vietnamese public, often sparked by sea disputes, could play a bigger role in Party affairs, especially if the current dominant clique centered around Party Secretary General Nguyen Phu Trong struggle to win the support for their China position among rising new generation Party cadres. The Party's legitimacy rests largely in a fast-accelerating economy – one of the fastest growing in Asia – and safeguarding that status-quo. But one way in which the Party could bolster its standing among the public, however, would be to take a harder line vis-a-vis China."
Trump administration might side with Vietnamese government on fate of protester, Roxana Kopetman, The OC Register, August 22, 2019: "'The United States has championed democracy and freedom around the world. Extending a helping hand to refugees escaping political violence is part of our nation's identity,' Correa added.'It is disappointing to see this president cast aside this value.' When Ha [Van Thanh] helped parishioners and priests of the Song Ngoc Parish, near the plant, he did so 'against the government's efforts to squash any dissent from the incident,' the legislators wrote in their letters. Fellow activists who protested in 2016 along with victims of the Formosa environmental disaster have received years-long prison sentences. Ha left Vietnam because he feared a similar fate."
How US-Vietnam alliance blossomed as rivalry between China and the West intensified, Richard Heydarian, South China Morning Post, August 24, 2019: "What has brought these two former arch-enemies together is a combination of greed, in the form of booming bilateral trade, and a shared fear of emerging threats in the post-American era, especially in Asia. And it's precisely China where these two impulses have intersected in a singular strategic focus."
Morrison urged to address human rights on Vietnam visit after calling nation 'free', Sarah Martin, The Guardian, August 22, 2019: "Scott Morrison has been urged to raise human rights concerns with the Vietnamese government when he makes his first official visit there this week, including the case of Australian citizen Chau Van Kham who has been detained since January. The prime minister travels to Hanoi on Thursday to discuss the strategic partnership signed by Australia and Vietnam in 2018 with Vietnam's prime minister, Nguyễn Xuân Phúc."
IN CASE YOU MISSED IT
We are looking for a volunteer graphic designer! Are you a passionate about human rights, and do you have some spare time? Please get in touch with us, 
here.
TAKE ACTION
Please share four US members of Congress's June letter to Chief Immigration Judge, MaryBeth Keller, to ask the judge to consider another review of Ha Van Thanh's case and for an "urgent approval" of Thanh's asylum request, given Thanh's history with local authorities. Thanh, an environmental activist, is at risk of deportation back to Vietnam; his court case in the US is the culmination of an attempted asylum process that has taken him to seven different countries, starting in May 2018, after fellow protesters such as Hoang Duc Binh and Nguyen Nam Phong were targeted by authorities in the wake of demonstrations against the Formosa company.
© 2019 The 88 Project
https://the88project.org/wp-content/uploads/2019/08/Huynh-Duy-Tac-at-trial_State-Media-via-RFA.jpeg
350
622
kayleedolen
https://the88project.org/wp-content/uploads/2019/01/88project.png
kayleedolen
2019-08-26 13:07:24
2019-08-26 13:07:24
Vietnam Free Expression Newsletter No. 34/2019 – Week of August 19-25