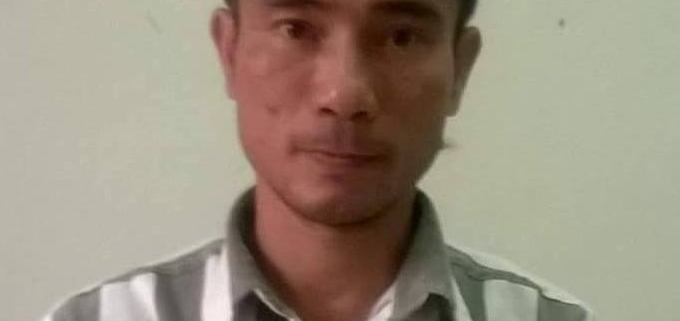 Vietnam Free Expression Newsletter No. 33/2019 – Week of August 12-18
Featured Image: Political prisoner Ho Duc Hoa
Greetings from The 88 Project! We are bringing you news, analysis, and actions regarding human rights and civil society in Vietnam during the week of August 12-18. Political prisoners Ho Duc Hoa, Tran Hoang Phuc, and Vuong Van Tha are suffering from difficult conditions in prison, including prolonged, untreated health issues and lack of adequate food. On August 9, a court in Gia Lai sentenced Rah Lan Hip to seven years in prison for "undermining the unity policy." And on August 11, authorities arrested Ho Ngoc Hue a day after he participated in a sovereignty protest outside of the Chinese consulate. This week, we remember the birthdays and arrest and trial anniversaries of Nguyen Bac Truyen, Le Dinh Luong, and A Dao. In the news, read about increased content restrictions on Facebook and the return of Chinese ships into Vietnamese waters. Read also Part 2 of our Vietnam UPR report, analyzing substantive commitments on freedom of expression. In case you missed it, check out the trailer of our interview with poet and activist Chieu Anh Nguyen. Take action for political prisoners and their families by donating to the Conscience Foundation.
HUMAN RIGHTS & CIVIL SOCIETY
Prisoners of Conscience

Ho Duc Hoa, a political prisoner in Nam Ha prison, sent a letter to his family to let them know about his health's deterioration. He told his family that over the past three months, he has felt ill and asked for the prison doctor's care. The doctor examined him but did not make any diagnosis. In a letter to family in July, Hoa admitted he was dealing with multiple issues, unknown to his family, including high blood pressure, stomach and abdominal pain, hemorrhoids, and numbness. These issues have persisted throughout his eight years in prison so far. And just this year, he has suffered from new symptoms of fatigue, weakness in the right arm, and liver and spinal pain. Hoa also claimed that the prison supervisor told political prisoners' families not to send them food, instead making the prisoners buy prison food, which many fear is unsafe. Hoa is a Catholic social activist, arrested in 2011, serving 13 years in prison.

On August 11, 2019, Huynh Thi Ut shared on Facebook about her visit to her son, political prisoner Tran Hoang Phuc, on August 5, 2019. Phuc asked his mother to send him food, seeds, and books on how to plant trees. She is worried because Phuc doesn't eat the food in prison. He told her that he had asked the prison to allow prisoners to watch more television channels and to cultivate vegetables to improve prison meals. Phuc is also learning how to take care of other cellmates who are sick. Phuc is a young activist who was sentenced to six years in prison for assisting two video bloggers in storing and posting video clips deemed to have "anti-state" content.

Vuong Van Tha's family shares with The 88 Project that they have not been able to see him or send him any supplies for over seven months. Tha does not eat the food from the prison, thus, he has only been able to use the money sent by his family seven months ago to buy food. His funds are running out, and he is only able to eat one package of dried noodles per day, resulting in significant weight loss. Prison authorities told the family that Tha did not want them to send supplies, which was false. To this day, the family is also unsure if Tha's appeal has been filed; the authorities refused to give them any information. Vuong Van Tha is a Hoa Hao Buddhist activist serving 12 years in prison.
On August 9, a court in Gia Lai province sentenced Rah Lan Hip, 38, of La Bang commune, Chu Prong district, to seven years in prison and three years of probation. He was convicted under Article 116 of the 2015 Criminal Code for "undermining the unity policy," a charge often used to sentence religious activists. Hip was accused of organizing in support of Dega Protestant, a Montagnard organization which aims to establish an independent Dega state. Hip also shared his views on The Gospel of Dega on his Facebook page.
Activists at Risk
This week, we remember the arrests, trials, and birthdays of the following political prisoners:
Nguyen Bac Truyen, birthday August 12, religious and democracy activist sentenced to 11 years
Le Dinh Luong, tried August 16, 2018, environmental and democracy activist, sentenced to 20 years
A Dao, arrested August 18, 2016, Montagnard religious leader, sentenced to five years
Community At Risk
Hundreds of 
locals in Quang Binh province have been protesting
 a proposed dam expansion project, which would increase the height of the dam, allowing for it to hold more water. The residents fear that the project will put them at an increased risk of flooding. The Catholic and non-Catholic communities in Quang Binh have come together to demonstrate against the project.
International Advocacy
Part 2 of our Vietnam UPR report is available. The report analyzes substantive commitments on freedom of expression, which include: freedom of opinion and freedom of expression, protecting journalists from discrimination and violence, regulations of civil society organizations, and abolishing prior censorship. 
Read the report, here
. And in case you missed it, Part 1 of our report, on the overview and legal environment assurances promises 
is available here
.
NEWS & ANALYSIS
EU-Vietnam trade deal shows EU will bend human rights standards if the price is right
, Skylar Lindsay, ASEAN Today, August 14, 2019: "As the EU moves to increase economic ties in ASEAN, the EVFTA has demonstrated that the EU leadership is willing to be flexible on human rights conditions for trade deals. But this trade-first, direct engagement strategy depends on the economic benefits that a free trade agreement offers the EU."
Vietnam says Facebook steps up local content restrictions, Reuters, August 15, 2019: "Google's YouTube now meets 80%-85% of the government's requests, up from 60% a year earlier, Hung told the meeting. He also said that Vietnam has built a center to monitor the content of news websites and social media platforms which can sort millions of data points into categories like 'positive' and 'negative'. 'The ratio of 'negative' information had been 30%, but now we've taken action that ratio has basically been brought to below 10%,' said Hung."
Vietnamese social media networks spring up to challenge Facebook, Tomoya Onishi, Nikkei Asian Review, August 14, 2019: "Two more social networks are set to take off in the second half, bringing the total number of new platforms developed by private investors to five this year, according to the ministry. Last year, the number was two, according to local reports. Industry observers say these moves could accelerate owing to a cybersecurity law that came into effect in January. The law requires companies engaged in telecommunications, online services and online content to locate offices and servers in Vietnam and store data within the country."
Vietnam demands Chinese ship leave disputed waters as end of fishing ban threatens to inflame tensions, Laura Zhou, South China Morning Post, August 17, 2019: "Its return to the waters around Vanguard bank on Thursday – following a brief departure for Chinese controlled waters – had already risked inflaming the situation. 'Vietnam has made contact with China to protest its repeated violations and demanded that China withdraw the vessel group from Vietnamese waters,' Le Thi Thu Hang, a spokeswoman for the country's foreign ministry, said on Friday. The decision on Friday to lift the annual fishing ban in parts of the South China Sea – which means hundreds of fishing vessels from southern China are likely to head for the Gulf of Tonkin and contested waters around the Paracel Islands and Scarborough Shoal – increases the risk of further confrontation."
IN CASE YOU MISSED IT
For 
Chieu Anh Nguyen
, poetry has been her way of expressing her feelings towards the Vietnamese regime and dealing with feelings of shame and torment for not being able to freely express oneself. We spoke to her about that struggle and much more. 
Watch the trailer, here
. Full interview coming soon!
© 2019 The 88 Project
https://the88project.org/wp-content/uploads/2018/12/Ho-Duc-Hoa_square.jpg
680
680
kayleedolen
https://the88project.org/wp-content/uploads/2019/01/88project.png
kayleedolen
2019-08-19 13:13:41
2019-08-19 13:13:41
Vietnam Free Expression Newsletter No. 33/2019 – Week of August 12-18