Tran Thi Nga
Current Status: Released - exiled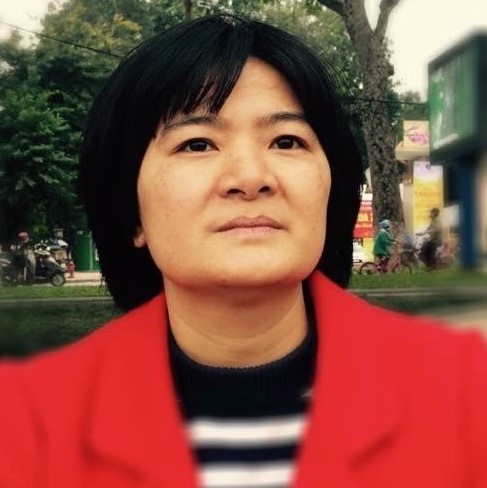 Other Names: Thuy Nga, Trần Thị Nga
Date of Birth: April 28, 1977
Gender: F
Ethnicity: Kinh
Occupation: Blogger
Last Known Prison: Gia Trung prison, Gia Lai province
Areas of Activism:
Anti-corruption
Environment
Human rights
Labor rights
Sovereignty
Police Brutality
Known Affiliations:
Highlighted Human Rights Concerns:
Torture
Former Political Prisoner
Denial of Family Visit/Punitive Prison Transfer
Infliction of Physical and Psychological Pain
July 2020:
The group Vietnamese Women for Human Rights (VWHR) was publicly denounced as a "reactionary force" by the Indoctrination Committee of the Communist Party of Vietnam (VCP) on state-run channel National Defense Television on July 4, 2020. Such actions typically signal impending crackdowns. Formed in 2013, founders of VWHR have been targeted for attacks and persecutions by police. One of its founders, Tran Thi Nga, was sentenced to nine years in prison but was released and exiled to the US earlier this year. Several other founding members have also been persecuted, like Pham Thi Hong, the wife of Pastor Nguyen Cong Chinh, and blogger Huynh Thuc Vy.
***
June 2020:
The 88 Project had the opportunity to interview former political prisoner Tran Thi Nga about her experience as a political prisoner and mother, the effects of her imprisonment on her family, and systemic issues for other imprisoned women and their children. Nga's youngest child was only four years old when he witnessed his mother being arrested by the police in their own home. When Nga's husband was detained for questioning, their six year-old was also detained and was even separated from his father. Watch the full interview, here.
Details - Background, History of Activism, Family Situation, Support the Family.
Nga is from Ha Nam province in northern Vietnam and worked as a domestic laborer while a migrant in Taiwan. She suffered a traffic accident in 2005 that led to much time spent in the hospital, as well as years of recovery; but it also opened her eyes to the injustices facing migrant laborers and the unsavory business practices used to control workers. She returned to Vietnam in the late 2000s and began her activist campaigning, at least partly inspired by the labor abuses she witnessed while a migrant laborer.
Read about her journey from being a migrant worker in Taiwan to a human rights defender back in Vietnam from The Vietnamese, here. "Like many other people around her, she never heard of things like human rights. Like them, she was too busy finding means to feed herself and her family. But less than two decades later, she became a person who not only knows about human rights but also makes it her life mission to defend them."
Following her return to Vietnam, Nga became an advocate for migrant laborer rights. She also became involved in land rights activism to protest land grabs by authorities in her community. She is also a supporter of multi-party democracy and women's rights. She has been beaten at least twice for her activism, once by pro-government thugs in May 2014, who broke her arm and leg, and once by police, who dragged her from a bus, in August 2015.
Contact us if you can assist.
The 88 Project's archives.
Defend the Defenders's archives.
Front Line Defender's profile.
Vietnam is imprisoning female bloggers over their Facebook posts, Quartz, July 26, 2017
Viet Nam: Three Human Rights Defenders Held Incommunicado, Amnesty International, February 15, 2017
Vietnam: Female activist sentenced to nine years in prison, Amnesty International Canada, July 31, 2017 (PDF)
Luật Khoa, Hiểu về Thúy Nga trong 5 phút
Arrested January 21, 2017. Sentenced to 9 years in prison under Art. 88 (1999 Code). Released January 10, 2020.
July 25, 2017
Ha Huy Son
9 years in prison
January, 2026
January 10, 2020
Action by Christians for the Abolition of Torture
Committee to Protect Journalists
US government
Amnesty International
One Free Press Coalition
Latest arrest:
Nga, 40, was arrested on January 21, 2017 in Ha Nam at her home for her online videos and writings deemed as "propaganda against the state." In the days leading up to the arrest, authorities had been ramping up their harassment of the family. Nga was held in incommunicado pre-trial detention in Ha Nam until her trial in July 2017. Her trial was one-day only, and her family and supporters were prohibited from entering the courtroom. Nga was sentenced to nine years in prison and five years of house arrest.
September 2017:
Nga has been unable to receive a family visit in prison, with prison authorities stating that she needs to gain Supreme Court approval for a visit.
November 2017:
The UN Working Group on Arbitrary Detention released an opinion deeming the arrest and detention of Tran Thi Nga as arbitrary. The opinion called for swift remedies of the alleged violations of international law in her case. The opinion condemned the harassment of Tran Thi Nga's young children.
December 2017:
Authorities announced that Nga's appeal trial will be held on December 22 by the High People's Court of Hanoi at the headquarters of the People's Court of Ha Nam province. Her appeal of her sentence was denied.
March 2018:
Tran Thi Nga was transferred to Gia Trung prison, over 1,000 km away from her home province. When her partner went to the prison, he was not permitted to see Nga, as it was reported that she "has not cooperated." Only a few weeks prior, Nga was also transferred to a new facility without notice. Transferring prisoners to remote prisons is a tactic often employed by the authorities in order to further isolate political prisoners from their families and networks of support.
May 2018:
Tran Thi Nga had still not been able to meet with her kids since her arrest 15 months ago. Her family believes this is because she has maintained her innocence while imprisoned. She was not being permitted phone calls home either, and a previous cellmate phoned the father of Nga's children this week to tell him that authorities were not granting family visits for Nga.
June 2018:
Political prisoner Tran Thi Nga was finally able to speak with her family after several months of limited communication. She spoke by phone with her husband and may be allowed to see her children in the near future.
August 2018:
Tran Thi Nga was facing unsafe conditions in prison. Her cellmate was physically attacking her and making death threats. The prison had not responded to her concerns, and Nga thought they have placed this cellmate with her in an attempt to get her to confess to alleged crimes. In response to these conditions in prison, her husband, Phan Van Phong, sent an appeal to the prison in Gia Trung. Former political prisoner Bui Thi Minh Hang also suffered from violence and death threats from being detained with the cellmate in question. Phong wrote in his letter that the actions against Nga were in violation of the UN Convention Against Torture and Other Cruel, Inhuman or Degrading Treatment or Punishment (UNCAT), which Vietnam has ratified.
October 2018:
In a phone call home on August 17, 2018, Tran Thi Nga revealed that she was harassed by her prison cellmate. She was beaten and even threatened to be killed. Her family has been concerned about her because they have not been able to meet with her since then. On August 22 and September 28, they came to her detention center, which is 1300 km away from their residence, but they were not allowed to meet with her her because authorities said that "Nga did not follow the regulations of detention center." It has now been two months since Nga's family has had any information about her situation in prison. Her husband sent a complaint to Nga's detention center and an urgent appeal for the second time. Amnesty International also sent an urgent appeal, calling on the new Vietnamese president Nguyen Phu Trong to release her.
November 2018:
On November 17, Tran Thi Nga's husband and her two children were able to meet with Nga at Gia Trung Detention Center, Gia Lai Province. Nga was in good health and spirits but thinner. Nga had become a vegetarian and told her husband to limit visits in order to spend the money on other items.
December 2018:
On December 15, Tran Thi Nga's family visited her at Gia Trung Detention Center, Gia Lai Province. They announced that she won a Human Rights Awards and received 3000 USD. When they asked her what she wanted to do with this money, she decided right away that 1000 USD should go towards her children, 1000 USD to share with other activists who are fighting for human rights, and the rest to help land petitioners in Ngo Thoi Nhiem. This was the first time Nga had been permitted a family visit in many months, after prison authorities said they would not allow the visits, allegedly because she had refused to admit guilt in prison. Phong reported that Nga was being treated better but suffering from spinal pain.

January 2020:
Tran Thi Nga was released from prison and sent immediately into exile in the United States. Nga was about three years into a nine-year prison sentence for her activism in land and labor rights. She is the fourth political prisoner in the past few years who was released early but had to go into exile in exchange for their freedom, following Nguyen Ngoc Nhu Quynh (October 2018), Nguyen Van Dai (June 2018), and Le Thu Ha (June 2018). She suffered from many types of harassment during her three years in prison, including being deprived from seeing her sons over 15 months and repeated physical attacks and death threats by cellmates in August-October 2018. According to Dan Lam Bao, who was among the first Vietnamese independent media to release the news about Nga's early release, the preparation for Nga's release had been taking place since the fall of 2019. After U.S. Defense Secretary Mark T. Esper visited Vietnam, the Vietnamese authorities agreed to issue travel documents for Nga and her family to leave the country.

The 88 Project team is happy that Tran Thi Nga is now free and reunited with her husband and young children. However, we would like to note that Nga's early release should not be seen as a sign of improvement in the human rights situation in Vietnam. Early releases in the past few years have been scarce, and political prisoners who were released early all had to leave the country. Those refusing to leave have to remain in prison and potentially face further harassment.
***
The Committee to Protect Journalists published an interview with former political prisoner Tran Thi Nga. In the interview, she details the torture she endured in prison, and how exile was a hard decision she had to make to protect herself and for the future of her children. About the treatment she received in prison, she said: "I endured so much. They tortured me so that I would plead guilty to the crimes of which they accused me, but I wouldn't do it. Police used guns to intimidate me, they used batons to beat me. They forcibly made me take off my clothes and then used violence, which they recorded on camcorders. They used violence to force me to put my fingerprints on documents they claimed was evidence that I admitted the accusations against me. They didn't let me see my children. They isolated me in prison and locked me in solitary confinement. They didn't allow me to buy food. They ordered other inmates to beat me and even threatened to kill me because I would not plead guilty to their accusations." Read the full interview, here.
Prior to arrest: Healthy, but underwent lengthy recovery from traffic accident
September 2017:
Nga has suffered complications in prison from a May 2014 injury sustained from being assaulted by thugs who targeted her for her activism. She suffers from knee pain as a result of the injury.
December 2017:
Nga was finally able to receive a family visit in prison, however she was separated from her children by a thick glass screen. Prior to this, prison authorities had been stating that she needed to gain Supreme Court approval for a visit. Her health is at risk, as she suffers from complications related to a 2014 assault. There is a report that she has been in solitary confinement.
Nga was in positive spirits before her trial in July 2017 but had only been able to see her children once in her entire time in custody up to that point (December 2017).
December 2017:
There was a report that Nga had been in solitary confinement.
February 2017:
Amnesty International issued an Urgent Action, calling on Vietnam to release Nga and two other human rights defenders, Nguyen Van Oai and Nguyen Van Hoa, unconditionally and immediately.
July 2017:
Amnesty International Canada issued an Urgent Action for Tran Thi Nga (see "Resources" section for the PDF).
October 2017:
Nga was one of the focus cases of the VOICE UPR campaign to hold Vietnam accountable to its human rights obligations.
November 2017:
Seventeen nongovernmental organizations released a letter ahead of the APEC Summit, calling on world leaders to raise the issue of human rights in host country Vietnam and press for the release of prisoners of conscience. The letter specifically raised the cases of female bloggers Tran Thi Nga and Nguyen Ngoc Nhu Quynh, as well as Catholic activist Nguyen Van Oai; all three were sentenced to multiple years in prison in 2017. A group of Western and Vietnamese scholars and experts on Vietnam also issued a joint statement condemning the imprisonment o Tran Thi Nga and Nguyen Ngoc Nhu Quynh. The statement's signatories include scholars from leading universities in Australia, Canada, France, The Netherlands, New Zealand, Singapore, the United Kingdom, and the United States. The signatories focused on the two imprisoned Vietnamese women because of "their lengthy sentences," their modest "offenses," and the fact that their young children "desperately need them at home."
December 2017:
A US Embassy spokesperson called for Tran Thi Nga's release after her appeal was denied. Human Rights Watch had also issued a statement supporting Nga ahead of the trial.
August 2018:
Amnesty International released an Urgent Action for Tran Thi Nga, who has endured beatings and death threats at the hands of her assigned cellmate as part of alleged retaliation from prison authorities. They called on the Vietnamese authorities to immediately ensure Nga's safety and to release her from prison.
September 2018:
ACAT-France released an action for Tran Thi Nga. Nga, who has been facing unsafe conditions in prison, having to live with a cellmate who verbally and physically assaults her.
Amnesty International released another Urgent Action for Tran Thi Nga. She has been facing harsh conditions in prison, including death threats at the hands of her cellmate.
October 2018:
Amnesty International sent yet another urgent appeal, calling on the new Vietnamese president Nguyen Phu Trong to release Nga and for the prison to allow her family to visit her. By the end of October 2018, she had been denied family visits for two months, and her family did not have any information about her condition in prison.
According to a press release from the Vietnam Human Rights Network on November 30, they will award three
Human Rights Awards in 2018
to the following activists: Hoang Duc Binh, Tran Thi Nga, and Pham Doan Trang. Binh is an environmental activist serving 14 years in prison, Nga is a land and labor rights activist serving nine years, and Trang is a dissident writer who promotes political participation and human rights in Vietnam.
In light of attacks on journalists and an ever-restrictive space for press freedom in many parts of the world, several media organizations, including TIME and Reuters, started a campaign for press freedom called the One Free Press Coalition. Tran Thi Nga was included on their recently-published
"10 Most Urgent" list
, updated monthly, which highlights the cases of 10 journalists who are facing significant hardship as they fight for press freedom.
A US diplomat told Radio Free Asia that the
US raised concerns about the crackdown
on dissent during the US-Vietnam Human Rights Dialogue in May. He expressed concerns that some activists were barred from meeting with the delegation for the dialogue. The delegation was able to meet with Tran Thi Nga. Read the letter in its entirety,
h
ere
.
**
Take action with Amnesty International Australia for Tran Thi Nga.
Sign the petition
calling for her immediate release from prison.
Action by Christians for the Abolition of Torture
presented the Engel Prize for Human Rights
to
Tran Thi Nga
on February 1. She was unable to receive the award in person due to being in poor health after her release from prison, where she was beaten and detained with an abusive cellmate.
The Committee to Protect Journalists featured Tran Thi Nga and
Huynh Thuc Vy
in their interactive feature on the 32 women journalists in prison worldwide. Check it out,
here
.
These Are the 10 Journalists Facing the 'Most Urgent' Threats to Press Freedom Around the World, TIME, March 15, 2019
US 'Very Concerned' Over Growing Crackdown in Vietnam: Diplomat, Radio Free Asia, May 30, 2019
Amnesty International Australia petition for Tran Thi Nga
Tran Thi Nga Released Early and Exiled to the US, Amidst Continued Crackdown Against Political Activists in Vietnam, The 88 Project, January 11, 2020
Former Vietnamese Political Prisoner to Receive Rights Award in Paris, Radio Free Asia, January 31, 2020
Freedom at a high cost for Vietnamese blogger Tran Thi Nga, The Committee to Protect Journalists, February 24, 2020
Interview with Former Political Prisoner Tran Thi Nga About Effects of Prison on Women and Children, The 88 Project, June 2020
Profile last updated: 2022-03-02 02:32:10