Huynh Thuc Vy
Current Status: Sentenced to prison
Other Names: Huỳnh Thục Vy, Jane Hoang (Facebook name)
Date of Birth: November 20, 1985
Gender: F
Religion: Christian (Catholic)
Ethnicity: Kinh
Occupation: Blogger
Areas of Activism:
Women's rights
Democracy
Human rights
Known Afilliations:
Vietnamese Women for Human Rights
May 2019:
On May 9, 2019, Huynh Thuc Vy received a summons from public security and the Investigation Security Agency of Dak Lak Province. In the order, they demanded that she works with them on some issues according to an authoritization by the Investigation Security Agency - Public Security of Ben Tre Province. And on May 14, Thuc Vy received an "invitation" from the People's Committee of Thong Nhat District, Buon Ho Town, Dak Lak Province. She was asked to work on issues related to her suspended prison sentence. Thuc Vy is now approaching her due date with her second child.
Details - Background, History of Activism, Family Situation.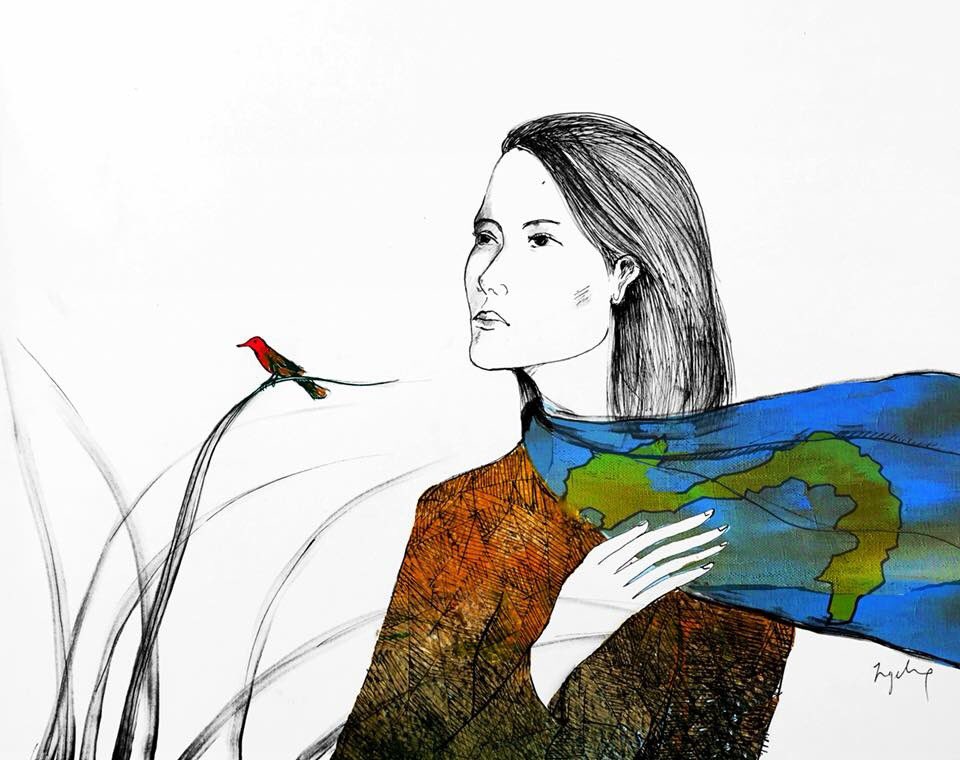 Huynh Thuc Vy portrait by Dinh Truong Chinh
Huynh Thuc Vy resides in Buon Ho, Dak Lak, with her husband and daughter.
The daughter of the former prisoner of conscience Huynh Ngoc Tuan, Huynh Thuc Vy suffered discrimination during her childhood.
In 2008, she started to post some writings on the Dan Chim Viet website, which were about political and social issues, called for youth concern for politics and society, and promoted a political system with democracy and pluralism.
Then, she became a dissident blogger on human rights issues, especially on women's rights and democracy.
She is also the author of the book "Nhận định Sự thật Tự do và Nhân quyền" ("Identifying the Truth, Freedom, and Human Rights"), which provided detailed information on human rights violations in Vietnam.
In 2012, Human Rights Watch gave Thuc Vy and four other bloggers the Hellman/Hammett Prize for their courage and consistency despite the severe political crackdown.
On November 25, 2013, Thuc Vy and eight other founders established the group Vietnamese Women for Human Rights, a non-political, non-profit and independent organization aiming to work on protecting women from the government's human rights violations, supporting them materially and emotionally to ensure their legal rights such as freedom of speech or freedom of assembly, and providing knowledge on human rights for members.
Arrested August 9, 2018. Sentenced to 2 years 9 months in prison under Art. 276 (1999 Code).
August 9, 2018
Buon Ho town public security, Dak Lak province
Buon Ho town, Dak Lak Province (
map
)
November 30, 2018
The People's Court of Buon Ho town, Dak Lak Province
2 years 9 months in prison
freedom from arbitrary arrest or detention
liberty and security of the person
freedom of expression
fair trial
Committee to Protect Journalists
August 2018:
According to Thuc Vy's husband, two commune police came to their house at 7 am on August 8 in Buon Ho town, Dak Lak Province to give Vy a sixth summons after she ignored five others.
Then, around 30 policemen, including commune, provincial police and plainclothes officers, surrounded their house and forcibly took her away.
Approximately one hour later, another group of 30-40 police officers came back again with an emergency search warrant. They searched their house during two to three hours, and seized Thuc Vy's laptop, camera, iPhone, books, tapes, and clothing, while her husband held and fed their daughter. After that, they surrounded their house without allowing others to come in or go out to isolate Duy and their daughter. In addition, they also demanded to search Duy's 80 year-old mother's house and waited for her return from a funeral to come in.
In the last update, Vy came home at 9:45 pm on August 9, 2018. According to her Facebook, she was detained and prosecuted under the Article 276 of Penal Code 1999 for "offending the national flag" on August 9, 2018 because she had sprayed paint on the national flag in 2017 as a sign of protest. Thuc Vy was also banned from leaving her residence and many of the confiscated items from her home remained in police custody.
October 2018:
On October 16, Huynh Thuc Vy had a working session with Buon Ho police.They gave back some of her confiscated items from her August detention, including her camera, iPad, printer, books, and a traditional outfit. Her laptop, two smart phones and three yellow-flag jackets were not returned. In addition, police said they were asking the Procuracy for prosecution against her for "offending the National Flag" under the Article 276 of the 1999 Penal Code.
November 2018:
On November 2, Huynh Thuc Vy went to the headquarters of the Procuracy of Buon Ho District to receive the indictment against her for "offending the national flag" under Article 276 of the 2015 Criminal Code. Her case was to be sent to the court to make a decision within 30 days in regards to holding a trial against her. At the time of writing, Vy and her husband's Facebook accounts were blocked for three days.
On November 8, The People's Court of Buon Ho Commune, Dak Lak Province issued the decision to try Huynh Thuc Vy under Article 276 of the 1999 Penal Code for "offending the national flag". Her first instance trial was to be held at 7:30 am on November 22, 2018 by the People's Court of Buon Ho Commune, Dak Lak Province. On November 2, 2018, the same court issued an order banning Huynh Thuc Vy from leaving her residence. She was put under supervision from November 6 to December 1, 2018.
The trial was later moved from November 22 to 30.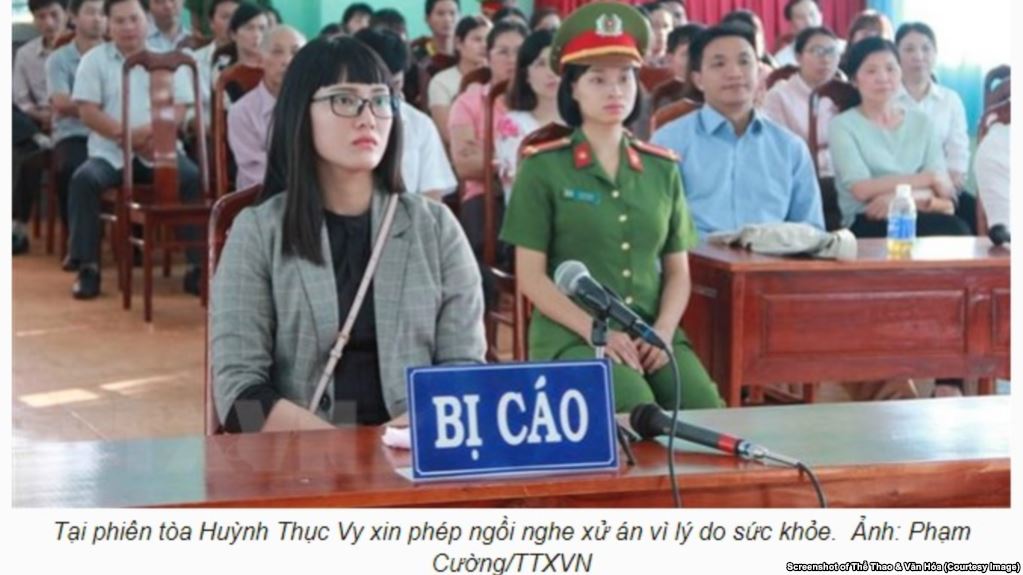 Huynh Thuc Vy at her November 30, 2018 trial. Source: VOA Tieng Viet
The People's Court of Buon Ho Commune, Dak Lak Province sentenced Huynh Thuc Vy to two years and nine months in prison on November 30. Vy was charged under Article 276 of the 1999 Penal Code for "offending the national flag" for spray-painting a flag in 2017 as a sign of protest. At the time of the trial, she had a toddler and was pregnant with her second child. As such, her sentence will be put on hold until the unborn child turns three, but she will still have to serve it out in its entirety. Thus, we have listed her status as "Sentenced to prison," even though she is not yet physically imprisoned. She believes the Court imposed the sentence as a means to get her to leave the country, which she refuses to do.
Lawyer Le Cong Dinh reported that lawyer Dang Dinh Manh was harassed after Huynh Thuc Vy's trial on November 30. After Dang Dinh Manh passed the Buon Ho toll station, traffic police stopped his car and asked for his documents. He did not give them the documents but asked the officers what law he had violated and why he had been stopped. They accused him of driving away after causing an accident. After Manh suggested they check his car's camera, police made a phone call and said that the accident might have happened in the tunnels where the camera would not have observed it. Manh argued that his car has a camera both in the front and back. Police again called someone and finally let him go, saying that "they might have misunderstood, so please go" without checking the camera as Manh had suggested. It was not the first time lawyer Manh was harassed after a dissident's trial. In May 2018, right after Manh left the court building, right in the area tightly surveilled by the police, he was coerced into a car and his work laptop was taken away by a group of unknown individuals.
January 2019:
On January 4, 2019, The People's Court of Buon Ho Town, Dak Lak Province, issued a decision on the judgment execution to Huynh Thuc Vy. They warned that if Vy did not write a request to delay the judgment execution, they would issue another order to force her to serve her sentence within seven days.
Profile last updated: 2019-05-19 23:36:37