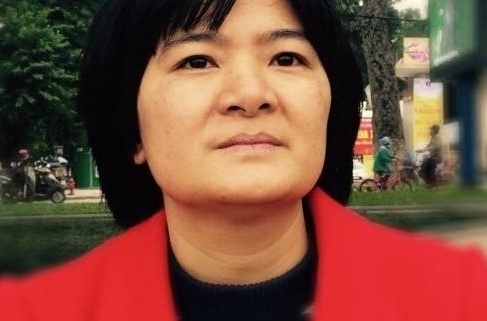 Tran Thi Nga Released Early and Exiled to the US, Amidst Continued Crackdown Against Political Activists in Vietnam
On January 10, 2020, after spending three years in prison under charges of "propaganda against the socialist state," Tran Thi Nga was released and sent directly to the United States. Nga and her family safely reached Atlanta, Georgia, at 7:00 pm local time on January 10. She is the fourth political prisoner in the past few years who was released early but had to go into exile in exchange for their freedom, following Nguyen Ngoc Nhu Quynh (October 2018), Nguyen Van Dai (June 2018), and Le Thu Ha (June 2018).
Tran Thi Nga, a well-known human rights activist, was arrested on January 21, 2017, at her home in Ha Nam for her online videos and writings deemed as "propaganda against the state" (Article 88 of the 1999 Criminal Code). She was sentenced to nine years in prison and five years of house arrest after a one-day trial in July 2017. This long sentence was upheld on appeal in December 2017.
Prior to her imprisonment, Nga had fought fiercely for the rights of workers and destitute citizens. She had participated in peaceful protests against Chinese encroachment, trees removal, and corporations responsible for the Formosa environmental disaster.
She suffered from many types of harassment during her three years in prison: deprived from seeing her sons over 15 months, deprived from phone communication with her family, and repeated physical attacks and death threats by cellmates in August-October 2018, during which time her family did not receive any news from her.
Nga's arbitrary arrest and detention have been subject to multiple actions by the international community. Amnesty International has issued multiple urgent appeals on her behalf during her time in prison. In November 2017, seventeen nongovernmental organizations released a letter ahead of the APEC Summit, calling on world leaders to raise the issue of human rights in host country Vietnam and press for the release of prisoners of conscience, specifically the cases of female bloggers Tran Thi Nga and Nguyen Ngoc Nhu Quynh, as well as Catholic activist Nguyen Van Oai. A group of Western and Vietnamese scholars and experts on Vietnam from leading universities around the world also issued a joint statement condemning the imprisonment of Tran Thi Nga and Nguyen Ngoc Nhu Quynh. In December 2017, a US Embassy spokesperson called for Tran Thi Nga's release after her appeal was denied. Human Rights Watch had also issued a statement supporting Nga ahead of the trial. In March 2019, the Committee to Protect Journalists released an infographic for International Women's Day showing the 32 of the reported 251 jailed journalists worldwide at the time who are female. Two of the 32 are Vietnamese women: Tran Thi Nga and Huynh Thuc Vy.
According to Dan Lam Bao, who was among the first Vietnamese independent media to release the news about Nga's early release, the preparation for Nga's release has been taking place since the fall of 2019. After U.S. Defense Secretary Mark T. Esper visited Vietnam, the Vietnamese authorities agreed to issue travel documents for Nga and her family to leave the country.
The 88 Project team is happy that Tran Thi Nga is now free and reunited with her husband and young children. However, we would like to note that Nga's early release should not be seen as a sign of improvement in the human rights situation in Vietnam. Early releases in the past few years have been scarce, and political prisoners who were released early all had to leave the country. Those refusing to leave have to remain in prison and potentially face further harassment. For example, while imprisoned entrepreneur and blogger Tran Huynh Duy Thuc has been offered early release in exchange for leaving the country, he refuses to be exiled from Vietnam, and he has possibly faced retaliation from prison authorities for this decision and for the continued assertion of his rights. Thuc suffered health issues from a possible poisoning on November 20, 2018, and since July 2019, he could no longer send letters to his family.
The occasional and conditional release of high profile cases should not eclipse the fact that the Vietnamese authorities have continuously intensified their crackdown against political activists, online commentators, ordinary concerned citizens, and independent publishers in 2019 and now in 2020. According to our Database of Persecuted Activists, 34 people were arrested and 52 people were tried in Vietnam in 2019; many were arrested or tried for "propaganda against the state" under Article 117 of the 2015 Criminal Code, the same charge for which Nga was sentenced 2.5 years ago. Other harassment against activists continued in 2019, with at least 73 people harassed in 79 incidents, including detentions, physical assaults in public spaces, and property confiscations. Next week, on January 14, the People's Court of Ho Chi Minh City will try eight activists simply because they were calling for peaceful demonstrations and asserting their rights in the Constitution.
We urge the international community to continue to pressure the Vietnamese government to release all political prisoners in Vietnam immediately and unconditionally, and respect all citizens' right to political participation.
 © 2020 The 88 Project
https://the88project.org/wp-content/uploads/2018/06/tran-thi-nga.jpg
488
487
Huong Nguyen
https://the88project.org/wp-content/uploads/2019/01/88project.png
Huong Nguyen
2020-01-11 03:07:46
2020-01-11 03:16:31
Tran Thi Nga Released Early and Exiled to the US, Amidst Continued Crackdown Against Political Activists in Vietnam