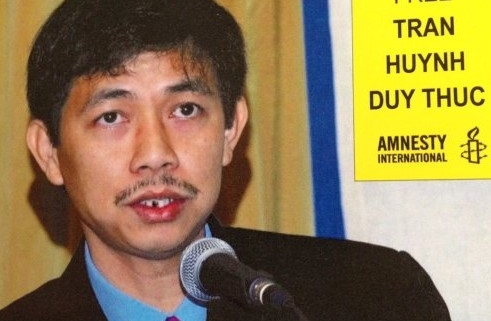 Update on Trần Huỳnh Duy Thức from Prison No.6, Nghệ An, October 29, 2017
The 88 Project, October 29, 2017: The family of prisoner of conscience Tran Huynh Duy Thuc shared that the authorities at the prison where he's being held have relaxed some of the harsh and cruel measures that had been applied to him, thanks to the unrelenting advocacy for Thuc from individuals and organizations inside and outside the country.
As we reported earlier in April, Thức is in good health but his eyes suffer from the lack of adequate light inside the prison cell. Thức's cell has some natural light during sunny days, but it's dark on cloudy days. Yet, since last summer, the prison authorities have cut off the electricity during the daytime, so Thuc has often had to endure a lack of light inside his cell. His family had tried to send him plastic battery-operated flashlights to use for reading and writing, but the prison authorities returned those items, saying they were "electronic devices."
This week, Thuc's brother, Mr. Tran Huynh Duy Tan, said the prison authorities have agreed to allow Thuc to receive a plastic battery-operated flashlight and several batteries, after "multiple struggles" with the family.
According to Tan, the last time the family visited Thuc was on October 22. Back in April, the family had said they would send a petition to President Tran Dai Quang to complain about the harsh treatment that Thuc had to endure in prison No. 6, Nghe An province.
As Thuc is imprisoned in a dark cell and the electricity is always off, his eyesight has significantly weakened and shows signs of glaucoma. When the family sends supplies to deal with the symptoms, the prison returns them.
Tan said, thanks to the flashlights, Thuc's eyes are getting better and serious issues previously encountered have now been improving.
There was also another unexpected change in the prison's policy: Thuc's poetry and music compositions are now sent to the family home via express mail.
Trần Huỳnh Duy Thức is currently serving his 16-yearsentence in Nghệ An prison in Central Vietnam, about 1500 km away from his family in Hồ Chí Minh city. He was arrested in May 2009 and sentenced to 16 years of imprisonment and 5 years of probation under Art. 79 of the Vietnamese Criminal Code for "attempting to overthrow the people's government" in January 2010. In August of 2012, the U.N. Working Group on Arbitrary Detention reported that Thức and his co-defendants' arrests and detentions were arbitrary and called for their release from prison.
See Thức's full profile here.
Adapted from SBTN's report in Vietnamese by The 88 Project
© 2017 The 88 Project
https://the88project.org/wp-content/uploads/2017/10/tran-huynh-duy-thuc-3.jpg
369
491
Huong Nguyen
https://the88project.org/wp-content/uploads/2019/01/88project.png
Huong Nguyen
2017-10-29 11:40:57
2019-04-30 15:59:07
Update on Trần Huỳnh Duy Thức from Prison No.6, Nghệ An, October 29, 2017