Nguyen Van Dai
Current Status: Released - exiled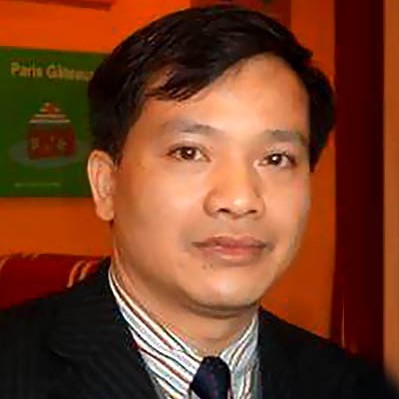 Other Names: Nguyễn Văn Đài
Date of Birth: May 6, 1969
Gender: M
Religion: Christian (Protestant)
Ethnicity: Kinh
Occupation: Lawyer
Areas of Activism:
Rule of law
Democracy
Freedom of expression
Human rights
Known Affiliations:
Highlighted Human Rights Concerns:
Former Political Prisoner
Denial of Adequate Medical Treatment or Supplies
Prolonged Incommunicado Detention
Harsh Physical and Administrative Conditions
June 2018:
Germany has confirmed that human rights lawyer Nguyen Van Dai and activist Le Thu Ha have arrived in the country after being released from prison and immediately forced into exile on June 7. They arrived along with Vu Minh Khanh, Dai's wife, and will now begin the asylum process.
Vu Minh Khanh, Nguyen Van Dai, and Le Thu Ha, Source: Vu Minh Khanh Facebook account
Details - Background, History of Activism, Family Situation, Support the Family.
Dai is from Hung Yen province, near Hanoi. He is a pro-democracy human rights lawyer who has advocated for the legal rights of vulnerable populations in Vietnam.
Dai founded the Committee for Human Rights in Viet Nam (now Vietnam Human Rights Centre) in 2006. He also co-founded the Brotherhood for Democracy in 2013 and is a signatory to Bloc 8406. Dai has been active in human rights promotion for more than a decade and was sentenced to four years in prison in 2007 for his activities.
In April 2017, Dai was awarded the 2017 Human Rights prize from the German Association of Judges. In 2018, The Vietnamese described Dai as "the type of lawyer who would defend those accused of the very same crime he is facing today: 'conducting activities to overthrow the people's government'."
Contact us if you can assist.
The 88 Project's archives
Defend the Defender's archives
Front Line Defender's profile
Detained Vietnamese Human Rights Attorney to Receive Award For His Work, Radio Free Asia, April 4, 2017
Obama Must Insist on Release of Vietnamese Political Prisoners, TIME, May 22, 2016
Six Vietnamese Activists Sentenced for 'Subversion' in Hanoi Trial, Radio Free Asia, April 5, 2018
From Nguyen Van Dai's April 5, 2018 Trial - What Constitutes "Overthrowing the People's Government" in Vietnam?, The Vietnamese, April 5, 2018
Vietnam expels dissident human-rights lawyer, Financial Times, June 7, 2018
Arrested March 5, 2007. Sentenced to 4 years in prison under Art. 88 (1999 Code). Released March 5, 2011.
May 11, 2007
Tran Lam
4 years in prison
March 5, 2011
Arrested December 16, 2015. Sentenced to 15 years in prison under Art. 79 (1999 Code). Released June 7, 2018.
April 5, 2018
Doan Thai Duyen Hai
Nguyen Van Mieng
15 years in prison
December 16, 2030
June 7, 2018
First arrest:
Dai was arrested in 2007 under Article 88 for "propaganda against the state," and was sentenced to five years in prison (reduced to four years on appeal) and four years probation.
Latest arrest:
Dai was arrested while attempting to meet with EU delegates for the annual EU-Vietnam Human Rights Dialogue in 2015. He was held in incommunicado for most of his time in pre-trial detention, and his pre-trial investigation period was extended several times, potentially prompting Dai to stage a hunger strike. On July 30, 2017, Dai was charged under Article 79 for subversion. Dissident journalist Pham Doan Trang shared on her page that Dai and Nguyen Huu Vinh (aka Anh Ba Sam) have refused to be exiled in order to be freed from prison. Dai's detention has been deemed arbitrary by the UN Working Group on Arbitrary Detention.
March 2018:
After 842 days - over two years and three months - in pre-trial detention, Nguyen Van Dai, as well as his colleague, Le Thu Ha, received a set trial date. They were charged under Article 79 for alleged subversive activities and were announced to be tried along with Pham Van Troi, Nguyen Trung Ton, Nguyen Bac Truyen, and Truong Minh Duc by the People's Court of Hanoi on April 5.
April 2018:
On April 5, in a one-day trial, six activists, whose backgrounds range from defending religious freedom, to environmental rights, to multi-party democracy, were sentenced to a combined 66 years in prison and 17 years of house arrest under Article 79 of the 1999 Criminal Code. Five of the activists are key members of the pro-democracy group, The Brotherhood for Democracy. All have been known to support political prisoners and their families and advocate for human rights. Human rights lawyer Nguyen Van Dai received the longest sentence: 15 years in prison and five years of house arrest, one of the longest sentences for an activist in recent years.
May 2018:
Several relatives of jailed members of the Brotherhood for Democracy were prohibited from meeting with foreign diplomats. Nguyen Van Dai and Pham Van Troi's wives were effectively placed under house arrest ahead of the meeting, and several other relatives of political prisoners were blocked from attending the meeting while in transit. A few relatives were able to meet with the diplomats and updated them on the prisoners. The meeting came just days before the bilateral US-Vietnam human rights dialogue on May 15.
Prior to arrest: Suffering from hepatistis B
December 2015:
Just days before his arrest, on December 6, 2015, Dai and several colleagues were attacked after delivering a human rights workshop. He still suffers from injuries sustained in that attack.
On January 29, Vu Minh Khanh, Nguyen Van Dai's wife, was able to briefly visit Dai in prison and speak with him through a glass screen. She
reported
back to Radio Free Asia that his resolve is strong, but his health is suffering in prison and he had not been allowed to secure his own lawyer at that point. "The prison is designed in an evil way to torture the prisoners. It is very cold in the winter and very hot in the summer. He always has to suffer from such extremes. Besides that, the prison is very close to the highway, so that every night he has a hard time trying to sleep because the passing trucks make the whole building rumble and shake. They also do things like cut off the water to add additional indirect distress. My husband also suffers from constant intestinal pain, and I am worried because his skin seems to be getting darker and darker."
May 2017:
As of May 2017, Dai had only met with his wife twice since his arrest, and he had not been allowed to meet with his lawyer.
U.S. Rep. Alan Lowenthal has adopted Nguyen Van Dai under the Defending Freedoms Project of the Tom Lantos Human Rights Commission.
January 2016:
Three UN Special Rapporteurs sent a letter to Vietnamese authorities asking for details regarding the nature of and reason behind the physical assaults of Nguyen Van Dai, Vu Van Minh, Ly Quang Son, and Le Manh Thang after putting on a human rights workshop in December 2016. Later in the month after the workshop, Nguyen Van Dai was arrested.
October 2016:
73 parliament members from 14 countries sent a letter to Vietnam's Prime Minister calling for Nguyen Van Dai and Le Thu Ha's release.
August 2017:
Activists honored Dai on his 600th day imprisoned on August 7 by staging protests of solidarity.
Dai's case has been taken on by several international human rights organizations and members of US and European governmental bodies.
April 2018:
Governments, advocacy groups, and individuals alike condemned the harsh sentences against Dai and his co-defendants. "The Vietnamese government should thank them for their efforts to improve the country instead of arresting and putting them on trial," said Human Rights Watch's Asia Director, Brad Adams, in a statement ahead of the trial. The Spokesperson of the EU External Action division noted in their statement that the rights exercised by the defendants are "guaranteed by the Vietnamese Constitution, the Universal Declaration of Human Rights, and the International Covenant on Civil and Political Rights." The United Kingdom's Foreign and Commonwealth Office Minister, Harriett Baldwin, agreed that peaceful expression of one's opinions should not be considered a crime. Heather Nauert, US State Department Spokesperson, also supported other governments and organizations in calling for the release of the prisoners and for Vietnam to uphold international obligations. "Individuals have the right to the fundamental freedoms of expression, association, and peaceful assembly, both online and offline," she said in her statement. Nauert also noted the two-year detentions of Le Thu Ha and Nguyen Van Dai.
Following the trial of Nguyen Van Dai and five other activists and the trial of Nguyen Van Tuc mere days later, a group of UN experts released a statement questioning the Vietnamese government's motives for jailing the activists, asking for clarifications regarding their detentions and trial, and urging the government to uphold international obligations to protect human rights and release political prisoners. "We are deeply concerned at the way these peaceful campaigners have been treated and in particular over the use of Article 79 of the 1999 penal code of Viet Nam to charge and convict dissenting voices, mainly human rights defenders, especially as Article 79 carries the possibility of the death sentence or life imprisonment," they said.
May 2018:
Several members of the US Congress joined together to pen a letter to the Vietnamese Prime Minister, calling on Vietnam to release its political prisoners. The effort was spearheaded by Congressional Caucus on Vietnam Co-Chair Congressman Alan Lowenthal and Congressman Lou Correa. The letter specifically brought attention to the cases of Nguyen Van Dai and other imprisoned members of the group he founded, the Brotherhood for Democracy, noting that "activities conducted by members of the BFD include trainings on civil society, human rights, democracy, and providing humanitarian aid to victims of natural disasters." Read the full letter, here.
Profile last updated: 2020-02-20 14:21:46