Nguyen Van Dai
Current Status: Released - exiled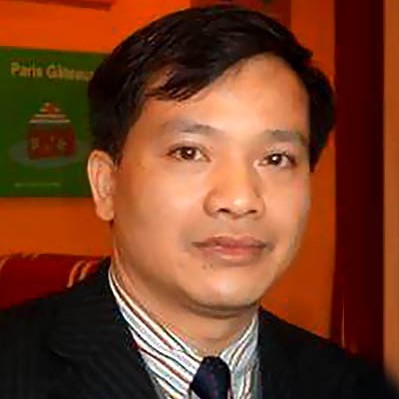 Other Names: Nguyễn Văn Đài
Date of Birth: May 6, 1969
Gender: M
Religion: Christian (Protestant)
Ethnicity: Kinh
Occupation: Lawyer
Areas of Activism:
Rule of law
Democracy
Freedom of expression
Human rights
Known Affiliations:
Highlighted Human Rights Concerns:
Former Political Prisoner
Denial of Adequate Medical Treatment or Supplies
Prolonged Incommunicado Detention
Harsh Physical and Administrative Conditions
June 2018:
Germany has confirmed that human rights lawyer Nguyen Van Dai and activist Le Thu Ha have arrived in the country after being released from prison and immediately forced into exile on June 7. They arrived along with Vu Minh Khanh, Dai's wife, and will now begin the asylum process.
Vu Minh Khanh, Nguyen Van Dai, and Le Thu Ha, Source: Vu Minh Khanh Facebook account
Details - Background, History of Activism, Family Situation, Support the Family.
Dai is from Hung Yen province, near Hanoi. He is a pro-democracy human rights lawyer who has advocated for the legal rights of vulnerable populations in Vietnam.
Dai founded the Committee for Human Rights in Viet Nam (now Vietnam Human Rights Centre) in 2006. He also co-founded the Brotherhood for Democracy in 2013 and is a signatory to Bloc 8406. Dai has been active in human rights promotion for more than a decade and was sentenced to four years in prison in 2007 for his activities.
In April 2017, Dai was awarded the 2017 Human Rights prize from the German Association of Judges. In 2018, The Vietnamese described Dai as "the type of lawyer who would defend those accused of the very same crime he is facing today: 'conducting activities to overthrow the people's government'."
Contact us if you can assist.
The 88 Project's archives
Defend the Defender's archives
Front Line Defender's profile
Detained Vietnamese Human Rights Attorney to Receive Award For His Work, Radio Free Asia, April 4, 2017
Obama Must Insist on Release of Vietnamese Political Prisoners, TIME, May 22, 2016
Six Vietnamese Activists Sentenced for 'Subversion' in Hanoi Trial, Radio Free Asia, April 5, 2018
From Nguyen Van Dai's April 5, 2018 Trial - What Constitutes "Overthrowing the People's Government" in Vietnam?, The Vietnamese, April 5, 2018
Vietnam expels dissident human-rights lawyer, Financial Times, June 7, 2018
Arrested March 5, 2007. Sentenced to 4 years in prison under Art. 88 (1999 Code). Released March 5, 2011.
May 11, 2007
Tran Lam
4 years in prison
March 5, 2011
Arrested December 16, 2015. Sentenced to 15 years in prison under Art. 79 (1999 Code). Released June 7, 2018.
April 5, 2018
Doan Thai Duyen Hai
Nguyen Van Mieng
15 years in prison
December 16, 2030
June 7, 2018
Profile last updated: 2020-02-20 14:21:46