Le Thu Ha
Current Status: Released - exiled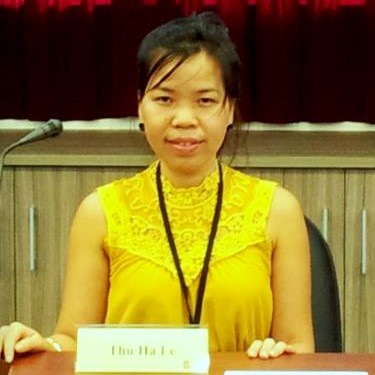 Other Names: Lê Thu Hà
Date of Birth: September 8, 1982
Gender: F
Ethnicity: Kinh
Occupation: Teaching professional
Areas of Activism:
Anti-corruption
Human rights
Press
Known Affiliations:
Highlighted Human Rights Concerns:
Former Political Prisoner
Prolonged Incommunicado Detention
Harsh Physical and Administrative Conditions
November 2018:
Le Thu Ha came back to Vietnam and landed at Noi Bai International Airport on November 20 after living in Germany for five months. In June, she was released from a nine-year prison sentence in exchange for exile from the country. This was the first time that a political prisoner returned to Vietnam by themselves after being released to live in a foreign country. At Noi Bai airport, Thu Ha messaged her mother, but she lost contact with her. On the morning of November 21, the security force of Quang Tri told her friends that Ha would not be allowed to enter Vietnam and would be sent back. Later in the day on November 21, the Brotherhood for Democracy reported that Ha was sent to Bangkok and was waiting to return to Germany. Le Thu Ha's mother, Hoang Thi Binh Minh, in an interview with BBC, said that Ha wanted to come back to Vietnam to take care of her mother. However, her family and friends tried to persuade her to stay in Germany. In the phone calls with her mother, Ha said that her life in Germany is lonely and her mother thinks she was homesick. Ha did return safely to Germany, her mother confirmed.
Details - Background, History of Activism, Family Situation, Support the Family.
Prior to 2011, Lê Thu Hà was an English language tutor in Hanoi. She is a lawyer by training.
In 2011, Ha began posting critical views of the government on social media and, in 2013, she joined the Brotherhood for Democracy, which is an online network of activists based in Vietnam that advocates for human rights as defined by the 2014 Constitution and international agreements, such as the Universal Declaration on Human Rights. She served as the secretary of the Brotherhood for Democracy. In 2014, Hà and fellow member of the Brotherhood, lawyer Nguyễn Văn Đài, began providing free English classes for students with an interest in making positive social and political change in Vietnam.
Ha also established Conscience TV in 2015, of which she was the Chief Editor for programming.
In May 2015, she was barred from travelling to Sweden for a conference, and her passport was confiscated. She was arrested and detained for one day in September 2015 along with five other activists for launching an independent human rights news television station linked to the Brotherhood for Democracy.
Hà has never participated in or supported any form of violent protest.
The Conscience Foundation requests monthly donations for the family to visit Le Thu Ha and look after her mother until the time of her release from prison. Please read the appeal for financial assistance here and donate via PayPal at quyluongtamvn@gmail.com.
Le Thu Ha's Facebook
Luong Tam (Conscience) TV YouTube channel
Dan Luan archives
The 88 Project's archives
Defend the Defenders's archives
VIETNAM: RELEASE LÊ THU HÀ (UA 297/15), Amnesty International, December 22, 2015 (PDF)
Six Vietnamese Activists Sentenced for 'Subversion' in Hanoi Trial, Radio Free Asia, April 5, 2018
Vietnam expels dissident human-rights lawyer, Financial Times, June 7, 2018
Vietnamese Dissident Turned Away in Attempt to Return Home From Exile, Radio Free Asia, November 21, 2018
Arrested December 16, 2015. Sentenced to 9 years in prison under Art. 79 (1999 Code). Released June 7, 2018.
April 5, 2018
9 years in prison
December 16, 2024
June 7, 2018
Latest arrest:
On December 16, 2015, Hà was arrested in her office at the Brotherhood for Democracy on 10 Đoàn Trần Nghiệp Street, Hanoi. The police arrested her after she refused to allow them to search the office. Some days afterwards, the police issued an arrest warrant for Hà on charges of "propaganda against the socialist state," under Article 88 of the 1999 Criminal Code.
July 2017:
Authorities charged Ha and Dai under Article 79, which made it unclear if their original charge under Article 88 still stands. They also extended both pre-trial detentions for up to 20 months more.
March 2018:
After 842 days - over two years and three months - in pre-trial detention, Le Thu Ha and her colleague Nguyen Van Dai had a trial date set. They were charged under Article 79 for alleged subversive activities and were to be tried along with Pham Van Troi, Nguyen Trung Ton, Nguyen Bac Truyen, and Truong Minh Duc by the People's Court of Hanoi on April 5.
In an interview with SBTN on March 30, 2018, Le Thu Ha's mother said that Ha refused to hire a lawyer to defend her. Ha said she had not done anything illegal, and will represent herself at the trial.
April 2018:
On April 5, in a one-day trial, six activists, whose backgrounds range from defending religious freedom, to environmental rights, to multi-party democracy, were sentenced to a combined 66 years in prison and 17 years of house arrest under Article 79 of the 1999 Criminal Code. Le Thu Ha was sentenced to 9 years in prison and two years of house arrest.
May 2018:
Le Thu Ha is not doing well in prison. She is very thin and weak and engaged in a hunger strike. In an interview with SBTN on March 30, 2018, prior to Ha's trial, her mother also shared that the last time she saw Ha on February 9, 2018, Ha appeared to be in a mental breakdown, but she continued to maintain her innocence and assured her family not to worry about her. Her family is struggling to support her, as her mother is the sole provider in the family.
June 2018:
Germany confirmed that human rights lawyer Nguyen Van Dai and activist Le Thu Ha arrived in the country after being released from prison and immediately forced into exile on June 7. They arrived along with Vu Minh Khanh, Dai's wife, and began the asylum process.
Vu Minh Khanh, Nguyen Van Dai, and Le Thu Ha, Source: Vu Minh Khanh Facebook account
Before the arrest: Healthy
After the arrest: In an interview with SBTN on March 30, 2018, Le Thu Ha's mother shared that the last time she saw Ha on February 9, 2018, Ha appeared to be in a mental breakdown, but she continued to maintain her innocence and assured her family not to worry about her.
December 2015:
Amnesty International released an Urgent Action, warning against possible ill treatment in prison.
October 2016:
73 parliament members from 14 countries sent a letter to Vietnam's Prime Minister calling for Nguyen Van Dai and Le Thu Ha's release.
July 2016:
A group of 26 international organizations called for Nguyen Van Dai and Le Thu Ha's release in a joint statement.
April 2018:
Governments, advocacy groups, and individuals alike have condemned the harsh sentences against Ton and his co-defendants. "The Vietnamese government should thank them for their efforts to improve the country instead of arresting and putting them on trial," said Human Rights Watch's Asia Director, Brad Adams, in a statement ahead of the trial. The Spokesperson of the EU External Action division noted in their statement that the rights exercised by the defendants are "guaranteed by the Vietnamese Constitution, the Universal Declaration of Human Rights, and the International Covenant on Civil and Political Rights." The United Kingdom's Foreign and Commonwealth Office Minister, Harriett Baldwin, agreed that peaceful expression of one's opinions should not be considered a crime. Heather Nauert, US State Department Spokesperson, also supported other governments and organizations in calling for the release of the prisoners and for Vietnam to uphold international obligations. "Individuals have the right to the fundamental freedoms of expression, association, and peaceful assembly, both online and offline," she said in her statement.
Profile last updated: 2020-02-20 14:21:37