Le Thu Ha
Current Status: Released - exiled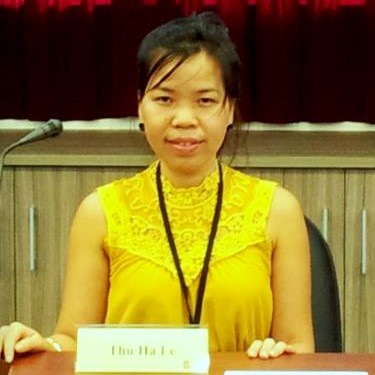 Other Names: Lê Thu Hà
Date of Birth: September 8, 1982
Gender: F
Ethnicity: Kinh
Occupation: Teaching professional
Areas of Activism:
Anti-corruption
Human rights
Press
Known Affiliations:
Highlighted Human Rights Concerns:
Former Political Prisoner
Prolonged Incommunicado Detention
Harsh Physical and Administrative Conditions
November 2018:
Le Thu Ha came back to Vietnam and landed at Noi Bai International Airport on November 20 after living in Germany for five months. In June, she was released from a nine-year prison sentence in exchange for exile from the country. This was the first time that a political prisoner returned to Vietnam by themselves after being released to live in a foreign country. At Noi Bai airport, Thu Ha messaged her mother, but she lost contact with her. On the morning of November 21, the security force of Quang Tri told her friends that Ha would not be allowed to enter Vietnam and would be sent back. Later in the day on November 21, the Brotherhood for Democracy reported that Ha was sent to Bangkok and was waiting to return to Germany. Le Thu Ha's mother, Hoang Thi Binh Minh, in an interview with BBC, said that Ha wanted to come back to Vietnam to take care of her mother. However, her family and friends tried to persuade her to stay in Germany. In the phone calls with her mother, Ha said that her life in Germany is lonely and her mother thinks she was homesick. Ha did return safely to Germany, her mother confirmed.
Details - Background, History of Activism, Family Situation, Support the Family.
Prior to 2011, Lê Thu Hà was an English language tutor in Hanoi. She is a lawyer by training.
In 2011, Ha began posting critical views of the government on social media and, in 2013, she joined the Brotherhood for Democracy, which is an online network of activists based in Vietnam that advocates for human rights as defined by the 2014 Constitution and international agreements, such as the Universal Declaration on Human Rights. She served as the secretary of the Brotherhood for Democracy. In 2014, Hà and fellow member of the Brotherhood, lawyer Nguyễn Văn Đài, began providing free English classes for students with an interest in making positive social and political change in Vietnam.
Ha also established Conscience TV in 2015, of which she was the Chief Editor for programming.
In May 2015, she was barred from travelling to Sweden for a conference, and her passport was confiscated. She was arrested and detained for one day in September 2015 along with five other activists for launching an independent human rights news television station linked to the Brotherhood for Democracy.
Hà has never participated in or supported any form of violent protest.
The Conscience Foundation requests monthly donations for the family to visit Le Thu Ha and look after her mother until the time of her release from prison. Please read the appeal for financial assistance here and donate via PayPal at quyluongtamvn@gmail.com.
Le Thu Ha's Facebook
Luong Tam (Conscience) TV YouTube channel
Dan Luan archives
The 88 Project's archives
Defend the Defenders's archives
VIETNAM: RELEASE LÊ THU HÀ (UA 297/15), Amnesty International, December 22, 2015 (PDF)
Six Vietnamese Activists Sentenced for 'Subversion' in Hanoi Trial, Radio Free Asia, April 5, 2018
Vietnam expels dissident human-rights lawyer, Financial Times, June 7, 2018
Vietnamese Dissident Turned Away in Attempt to Return Home From Exile, Radio Free Asia, November 21, 2018
Arrested December 16, 2015. Sentenced to 9 years in prison under Art. 79 (1999 Code). Released June 7, 2018.
April 5, 2018
9 years in prison
December 16, 2024
June 7, 2018
Profile last updated: 2020-02-20 14:21:37