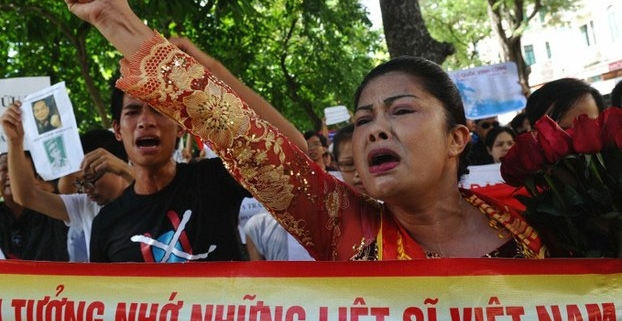 Profile of Bui Thi Minh Hang
Occupation: Blogger and activist
Arrest Date: February 11, 2014
Trial Date: August 26, 2014
Sentence: Three years
Bui Thi Minh Hang, mother, popular blogger, and champion of land and religious rights, is currently serving a three-year prison sentence in Vietnam. For years, Hang has been involved in activism regarding freedom of religion, land rights, and Vietnam's territorial disputes with China. In February of 2014, while visiting a former prisoner of conscience, Hang and her group were stopped by police. She and two others were arrested for a traffic violation under Article 245 of Vietnam's Penal Code for "causing public disorder." This charge was a guise used to find a reason to arrest the dissidents.
Hang and her co-defendants, Nguyen Van Minh and Nguyen Thi Thuy Quynh, subsequently went on trial in August of last year. Minh and Quynh received two and two and one half years in prison, respectively. Hang received three years. The three appealed their sentences, but the appeal was ultimately denied on December 12, 2014.
Hang was previously arrested in 2011 for participating in a protest regarding Vietnam-China disputes. She was sentenced to a re-education center for two years but was released in April 2012 with the help of international supporters. Following this experience, Hang wrote a memoir, speaking out about conditions in prison. In the spring of 2015, Hang went on hunger strike to protest her mistreatment in prison, which was egged on by the prison staff. Hang has also participated in other hunger strikes in the past.
Support Bui Thi Minh Hang and call for her release: share this profile, and contact key players below.
1) Tweet at the US State Department's Bureau of Democracy, Human Rights, and Labor.
Suggested message: @State_DRL #BuiThiMinhHang, #TranHuynhDuyThuc, #TaPhongTan & others unfairly imprisoned. Call on #Vietnam to release them.
2) Contact the United States Embassy in Vietnam and ask them to press for the release of prisoners of conscience:
+84-4-3850-5000, 7 Lang Ha Street, Hanoi, Vietnam.
Suggested message: "I am concerned about the imprisonment of peaceful political activists in Vietnam, including Bui Thi Minh Hang, Tran Huynh Duy Thuc, Ta Phong Tan, and others. Their imprisonment goes against international human rights agreements such as the International Covenant on Civil and Political Rights, as well as Vietnam's obligations as a member of the UN Human Rights Council. I urge you to press for the release of prisoners of conscience in Vietnam."
3) Contact the President of Vietnam and let him know that you oppose the cruel treatment of prisoners and the detention of peaceful activists:
President Truong Tan Sang, Office of the President, President's Residence, Ba Dinh District, Ha Noi, Viet Nam
https://the88project.org/wp-content/uploads/2015/06/bui-thi-minh-hang.jpeg
413
622
kayleedolen
https://the88project.org/wp-content/uploads/2019/01/88project.png
kayleedolen
2015-06-25 13:04:58
2019-04-30 17:07:09
Profile of Bui Thi Minh Hang