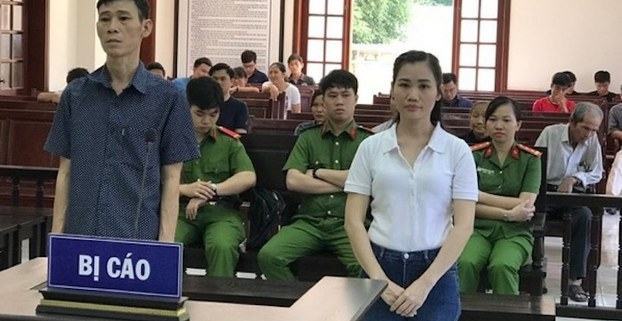 Two Siblings in Dong Nai Sentenced to Fourteen Years in Jail
Featured Image: Huynh Minh Tam and Huynh Thi To Nga at trial on November 28, 2019. Source: Dong Nai Newspaper
Two days after a trial against Vo Thuong Trung, Doan Viet Hoan, Ngo Xuan Thanh, and Nguyen Dinh Khue, also in Dong Nai province, The People's Court of Dong Nai Province held a trial against two other political dissidents on November 28, 2019. Defendants in the first instance trial were two siblings, Huynh Minh Tam (41 years old) and Huynh Thi To Nga (36 years old). They were both alleged of "making, storing, spreading information, materials, items for the purpose of opposing the State of the Socialist Republic of Vietnam," under Article 117 of the 2015 Criminal Code, and both were handed heavy prison sentences– nine years for Huynh Minh Tam and five years for Huynh Thi To Nga. 
Tam and Nga were arrested separately on January 26 and 28, 2019, respectively. Both were active Facebookers and sharp commentators on politics and national issues, mainly politics, national sovereignty, corruption, and economic mismanagement. Notably, Nga was allegedly kidnapped by plainclothes agents from the hospital where she works. She was missing for several weeks before being found in a detention center in Dong Nai Province. While working as a medical professional, Nga is a single mom of two children. People are worried about her children after the People's Court of Dong Nai Province sentenced both her and her older brother to such severe prison terms. Nga was arrested when one of her children was under 36 months old.
In the indictment, the authorities accused the two activists of using the Internet to read and share articles or websites of "reactionaries," a term that the government usually uses to name political opponents or critics. Both were said to use Facebook accounts to contact overseas "reactionaries" and post articles with anti-state content. In particular, Tam allegedly used two Facebook accounts, "Huỳnh Trí Tâm" and "Huỳnh Tâm," to post and call people to join a closed group, Republic Party (Dang Cong Hoa), which aims to encourage others to protest against the state. Meanwhile, Nga was also said to post many articles with content defaming the regime and distorting national issues and history through two Facebook accounts, "Selena Zen" and "Dieu Hang." The Court also accused her of participating in "unauthorized" demonstrations and inciting others to join protests for democracy. 
These accusations raise questions about the definition of an "authorized/lawful" demonstration in Vietnam, which is an authoritarian regime with no law on demonstration. Although Article 25 of the 2013 Constitution guarantees the right to peaceful assembly and many people have demanded a law, the National Assembly has continuously ignored the proposal of demonstration law. Many state-owned media companies even avoid the word "demonstration" and instead have described a mass demonstration on June 10, 2018, or anti-China protests as "crowded gatherings." Since there is no regulation to obtain permission for holding a demonstration, demonstrating is always an illegal act in the eyes of the Vietnamese judicial system, if it is deemed harmful to the Communist party's legitimacy. The 88 Project has recorded at least 198 people who faced harassment, detention, or imprisonment due partly or entirely to their participation in peaceful demonstrations. 
Finding Huynh Minh Tri and Huynh Thi To Nga guilty for sharing political content illustrates the restricted situation of press and expression in Vietnam. As noted in the assessment from Freedom House, criticism against the government is prohibited and can often result in intimidation and physical attacks on the person who is expressing their views. On November 21, one of the most prominent dissident journalists, Pham Chi Dung, was also arrested and prosecuted under the charge of Article 117 after writing articles about political issues, such as press freedom, corruption, and democracy. This week, The 88 Project also reported on another two cases of activists convicted for "making, storing, spreading information, materials, items for the purpose of opposing the State of the Socialist Republic of Vietnam," under Article 117 of the 2015 Criminal Code, due to their political views on Facebook. They are Pham Van Diep (sentenced to nine years in jail and five years of probation) and Nguyen Chi Vung (sentenced to six years in jail and two years of probation). Both were sentenced on November 26 in different trials in Thanh Hoa and Bac Lieu provinces, respectively. 
Meanwhile, in the national report submitted to Universal Periodic Review in 2019, Vietnamese authorities also affirmed the rights to freedom of expression, assembly, and press, as written in the 2013 Constitution, the 2015 Criminal Code, the 2016 Amended Press Law, and the 2012 Publication Law. The 2015 Criminal Code even regulated the penalties for offenders to "violate freedom of speech, freedom of the press, rights to information access and right to demonstration of citizens" (Article 167). However, the country's Criminal Code, in practice, has become an instrument of the Party and state to persecute anyone practicing their freedom of expression, of the press, or of peaceful assembly to express their views on national issues. Huynh Minh Tam, Huynh Thi To Nga, Pham Van Diep, and Nguyen Chi Vung are among the most recent victims of the 2015 Criminal Code. In addition, the 2016 Press Law, while claiming not to censor publications or media, restricts press through vague articles with a list of prohibited acts; for example: distorting history, negating revolutionary achievements, and offending the nation and national heroes. 
We urge Vietnam to release immediately Huynh Minh Tam and Huynh Thi To Nga, as well as the other 269 activists currently in prison in Vietnam. They were sentenced under broad and ill-defined provisions of the 2015 Penal Code due to their expression, peaceful protest, and political participation. It is also recommended that Vietnam enact a law on demonstration to facilitate people's exercise of their rights.
Sources:
Profile: Huynh Minh Tam, The 88 Project 
Profile: Huynh Thi To Nga, The 88 Project
Profile: Pham Chi Dung, The 88 Project
Profile: Pham Van Diep, The 88 Project
Profile: Nguyen Chi Vung, The 88 Project
Profile: Nguyen Dinh Khue, The 88 Project
The 88 Project's Database of Persecuted Activists in Vietnam 
Vietnam's Constitution, 2013
National report submitted to Human Rights Council, Office of High Commission on Human Rights, 21 January – 1 February 2019
Medical Worker Huynh Thi To Nga Still Missing After Being Kidnapped in Late January, Defend the Defenders, February 14, 2019
4 đối tượng lên kế hoạch gây cháy, nổ ở Biên Hòa lãnh án, Nguoi Lao Dong Newspaper, November 26, 2019
Six Activists Sentenced to a Combined 25 Years in Prison in One Day Ahead of Vietnam Communist Party's National Congress, The 88 Project, November 28, 2019
14 năm tù cho hai anh em về tội tuyên truyền chống Nhà nước, Dong Nai Newspaper, November 28, 2019
Tuyên truyền chống phá Nhà nước, hai anh em lãnh án, Tuoi Tre Newspaper, November 28, 2019
© 2019 The 88 Project
https://the88project.org/wp-content/uploads/2019/12/Huynh-Minh-Tam-and-Huynh-Thi-To-Nga-at-trial-11.28.19_Soruce-Dong-Nai-Newspaper.png
386
622
kayleedolen
https://the88project.org/wp-content/uploads/2019/01/88project.png
kayleedolen
2019-12-02 01:51:57
2019-12-02 01:51:57
Two Siblings in Dong Nai Sentenced to Fourteen Years in Jail