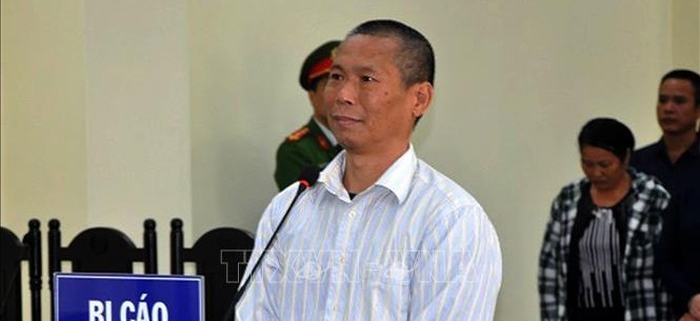 Vietnam Free Expression Newsletter No. 48/2019 – Week of November 25-December 1
Featured Image: Pham Van Diep at trial. Source: Bao Moi Newspaper
Greetings from The 88 Project! We are bringing you news, analysis, and actions regarding human rights and civil society in Vietnam during the week of November 25-December 1. Eight activists were sentenced to a combined 39 years in prison this week in four separate trials. Pham Van Diep and Nguyen Chi Vung were sentenced to nine and six years in prison, and four other activists were sentenced to up to three years for "disrupting security." And siblings Huynh Minh Tam and Huynh Thi To Nga were sentenced to nine and five years in prison, respectively, simply for sharing their opinions online. This week, we also bring you an interview with Tran Huynh Duy Thuc's daughter on the occasion of his eleventh birthday in prison, as well as a video interview with imprisoned blogger Phan Kim Khanh's family nearly three years into his prison sentence. Green Trees activists were barred from attending an environmentally-themed concert this week. In international advocacy, Member of the European Parliament Jude Kirton-Darling sent a letter to Vietnam's Ambassador to the EU about dissident journalist Pham Chi Dung's arrest. In the news, read about travel bans imposed on Vietnamese activists and new changes to the labor code.
Please consider taking action on Giving Tuesday and donating to The 88 Project via our Facebook fundraiser or PayPal in support of freedom of expression in Vietnam.
HUMAN RIGHTS & CIVIL SOCIETY
Political Prisoners
Six activists were 
sentenced to a combined 25 years in prison
 on November 26 in three separate trials. Those activists are Pham Van Diep from Thanh Hoa Province, Nguyen Chi Vung from Bac Lieu Province, and a group of four from Dong Nai Province – Vo Thuong Trung, Doan Viet Hoan, Ngo Xuan Thanh, and Nguyen Dinh Khue. Among the six, 
Pham Van Diep
 and 
Nguyen Chi Vung
 received the heaviest sentences: 
nine years
 and 
six years
, respectively. Both were accused of "making, storing, spreading information, materials, items for the purpose of opposing the State of the Socialist Republic of Vietnam," under Article 117 of the 2015 Criminal Code.
Four Dong Nai based activists at trial. Source: Nguoi Lao Dong Newspaper
The other four were sentenced to up to three years in prison each under Article 118 for "disrupting security," accused of plotting an attack with explosives. However, according to lawyer Nguyen Van Mieng, the court 
could not provide evidence
 to prove that they were planning to use explosive materials since police failed to find any material to make explosive devices and confiscated their phones instead. Mieng also claimed that the four defendants only wanted to protest against a price hike in electricity and gas, as well as against the bill on Special Economic Zones, with the fear that Vietnam would be dependent on Chinese investment. All six bloggers and activists were merely exercising their human rights, which are protected by both domestic law and international treaties.

Huynh Minh Tam and Huynh Thi To Nga at trial on November 28, 2019. Source: Dong Nai Newspaper
Two days later, on November 28, 2019, the People's Court of Dong Nai Province tried siblings Huynh Minh Tam and Huynh Thi To Nga under Article 117 of the 2015 Criminal Code for "making, storing, spreading information, materials, items for the purpose of opposing the State of the Socialist Republic of Vietnam." Both were handed heavy prison sentences– nine years for Tam and five years for Nga. Tam and Nga were arrested separately on January 26 and 28, 2019, respectively. Both were active Facebookers and sharp commentators on politics and national issues, including national sovereignty, corruption, and economic mismanagement. Notably, Nga was allegedly kidnapped by plainclothes agents from the hospital where she works. She was missing for several weeks before being found in a detention center in Dong Nai Province. Nga was arrested when one of her children was under 36 months old.
This week, we remember the arrest and trial anniversaries, as well as birthdays, of the following political prisoners:
Tran Huynh Duy Thuc, birthday November 29, blogger and entrepreneur sentenced to 16 years in prison
We interviewed Thuc's daughter,  Tram Tran, about her father's prison conditions — including denial of family communications — and his attempts to appeal his sentence under a new legal provision. Read the full interview, 
here
.
Nguyen Van Hoa, freelance journalist sentenced to seven years in prison on November 27, 2017
Huynh Thuc Vy, co-founder of Vietnamese Women for Human Rights, tried November 30, 2018, sentenced to almost three years in prison, which she will have to serve once her youngest child turns three years old
Nine June 2018 protesters tried on November 29, 2018 and sentenced for "disturbing public order"
Activists at Risk
Police 
barred environmental activists from the Green Trees group
 from attending a public event in Hanoi this week. Security officers prohibited the attendees from accessing the concert, which was environmentally-themed, and mistreated those who tried to pass. The Green Trees group has been subjected to a recent crackdown by the authorities, such as when 
Dang Vu Luong
 was kidnapped from home and detained for several hours.
Community at Risk
On the evening of November 25, 2019, 
a meeting between Dong Tam residents
 — who have been petitioning to save their land — and the leadership of Ha Noi city and several national agencies had an interesting development. The result of a state inspection asserts that there is no mistake or abuse of power in the case of "land recovery" in Dong Tam, and that the disputed area is rightly owned by the Ministry of National Defense. The results also emphasized that there has been no commercial development plan for the area. This is contradictory to the previous claims, and the very 
reason
 that the Dong Tam community had to fight against the land grabs there was because the authorities initially intended to give the land to Viettel, a state-owned conglomerate. As shown by this meeting, it is unlikely that Ha Noi authorities will back down, and with the popular propaganda already in place, the future of Dong Tam is very uncertain.
International Advocacy
Member of the European Parliament Jude Kirton-Darling sent a letter to Vietnam's Ambassador to the EU, Vu Anh Quang, about the arrest of journalist 
Pham Chi Dung
. Dung was arrested on November 21; he had recently written about his concerns regarding the proposed EU-Vietnam Free Trade Agreement. "His arrest sends a very alarming signal while the European Parliament is currently scrutinising the agreements with Vietnam," she wrote. Read the full letter, 
here
. Kirton-Darling also wrote an 
opinion piece
 this week in which she raises questions about the possibility of the trade agreement improving conditions for those living in Vietnam.
Amnesty International and Human Rights Watch released a joint statement in support of the Liberal Publishing House, an independent publisher that has been under pressure from authorities in recent months. The publishing house's staff, and book buyers themselves, have been subject to harassment from the authorities, including detention and interrogation. The statement calls on Vietnam to end the harassment and respect the right to freedom of expression.
NEWS & ANALYSIS
Vietnam and China promise to keep talking as they look to settle differences over South China Sea
, Laura Zhou, South China Morning Post, November 29 2019: "The two sides had agreed to 'further step up dialogue and consultations to properly manage disputes' in the South China Sea while pushing forward cooperation in areas such as maritime search and rescue, scientific research, environmental protection and law enforcement. The Vietnamese foreign ministry meanwhile said that the two sides had agreed to 'resolve conflicts in an appropriate and peaceful manner' but officials from both countries stopped short of saying that the tension has ended, according to VnExpress, a Vietnamese news portal."
Workers of Vietnam, Unite?, David Hutt, The Diplomat, November 29, 2019: "The civil society outside of the Party's control, by comparison, is small and fractious. But it is growing. And the revisions to the Labor Code will add a key element to it in the form of independent trade unions. Might this prompt a move by the Communist Party to formally acknowledge other non-party organizations? Maybe not, for now. But unofficial and 'illegal' organizations of journalists, intellectuals, writers, farmers, and women have sprouted in recent years – all designed to rival the Party's uncivil society organizations."
Vietnam's Travel Bans Infringe on Activists' Rights And Violate Own Constitution, Quynh-Vi Tran, The Vietnamese, November 30, 2019: "The case of Father Thuc again demonstrates how the Vietnamese government bans human rights activists from traveling in order to stop them from participating in international advocacy efforts. The Vietnamese authorities have confiscated the passports of more than 100 Vietnamese activists, banning them from traveling by citing the same legal section: Decree 136/2007/ND-CP. Activists are deemed by police as a threat to Vietnam's national security and public order when they go abroad. This incident also explains why we seldom see activists from Vietnam taking part in international advocacy for human rights in Vietnam. And even when activists do travel, they may not want to expose themselves publicly during advocacy events for Vietnam's human rights because they could lose their passports upon returning home."
IN CASE YOU MISSED IT
We interviewed blogger and student activist 
Phan Kim Khanh's
 mother, father, and sister, who remain steadfast in their commitment to Khanh and his innocence, now nearly three years into his prison sentence. The treatment of Khanh and his family by the authorities highlights the systematic efforts used to repress individual dissidents as well as their families, including such tactics as denying Khanh supplies and threatening him with retaliation for trying to appeal his sentence. Sharing their voices in this video, we hope to help Khanh's family in their quest to bring his story to more international audiences. If you can assist Khanh's family, please 
contact us
. 
Watch the full interview, here
.
TAKE ACTION

This Tuesday is Giving Tuesday, the global movement that encourages everyone to do good. 2019 has been another difficult year so far for protesters, religious communities, journalists, bloggers, and many other activists in Vietnam. We work every day to change this, and you can help too, by donating or sharing their stories. 
Go to our fundraiser, here
, or donate directly via 
PayPal
.
© 2019 The 88 Project
https://the88project.org/wp-content/uploads/2019/12/Pham-Van-Diep-in-his-trial-Source-Bao-Moi-Newspaper.jpg
399
700
kayleedolen
https://the88project.org/wp-content/uploads/2019/01/88project.png
kayleedolen
2019-12-02 14:23:11
2019-12-02 14:23:11
Vietnam Free Expression Newsletter No. 48/2019 – Week of November 25-December 1