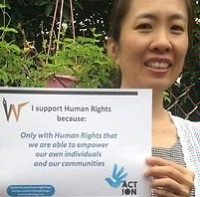 Update on the situation of blogger Nguyễn Ngọc Như Quỳnh, six months in incommunicado detention, April 2017
The 88 Project, April 20, 2017: It has been six months since blogger Nguyễn Ngọc Như Quỳnh – Mẹ Nấm was arrested. She has been held incommunicado at Sông Lô detention center in Khánh Hòa province. Her family and lawyers have not been able to see her. Her mother, Mrs. Nguyễn Tuyết Lan, has been in constant worry for her daughter's health and safety, since she has not received any news.
The official correspondence of two lawyers, Nguyễn Hà Luân and Lê Luân of Hưng Đạo Thăng Long law office, sent to the Public Security of Khánh Hòa province to request to represent Quỳnh shortly after her arrest, has gone unanswered. The Public Security agency only gave a verbal notice to Quỳnh's mother, saying they had sent a document to the lawyers to refuse their request to represent Quỳnh during the investigation period. The lawyers said they have not received any written document from the authorities concerning the case.
The prison authorities often do not allow Quỳnh's family to send her basic items needed for daily life, even though the rules do not prohibit those items. What Quỳnh writes to her family on the receipts of supplies is erased by white-out. Quỳnh's family cannot send notes to her either.
The last time Quỳnh's mother went to the detention center to send her food supplies was on April 17, 2017. The following day, two public security agents came to her house, telling her to come back to the detention center to take all the supplies she had sent to Quỳnh the previous day. Their reason was that Quỳnh cannot receive Vitamin C, which is considered by the prison authorities as a medicine. Yet Quỳnh insisted on either receiving everything her mother had sent her, or nothing at all. Thus the authorities asked Quỳnh's mother to come and take everything back. Mrs. Lan argued with them and asked why other prisoners held at the same detention center could receive Vitamin C, but not her daughter. The two public security agents only said they would talk to the detention center officials about that. Quỳnh's mother will not be able to send her more supplies for another three weeks. She wrote on her Facebook page after this incident: "I am very worried about my daughter's situation because I have not heard any news from her for more than six months. Now with this [refusal to receive food], I am worrying even more, and wondering whether this is the second time my daughter goes on a hunger strike to protest the unjust way in which the Khánh Hòa public security has treated her!?"
During the past six months, the public security agency of Khánh Hòa province seems to be aggressively, and rather desperately, investigating Quỳnh's "crimes." They repeatedly summon her friends and relatives for questioning. Friends who were summoned said the police tried to put words in their mouths, suggesting they say that they had participated in social activities because of Quỳnh's incitement. When no activists agreed to do that, the police continued on to summon Quỳnh's relatives. Two of her aunts, Ms. Nguyễn Thị Tuyết Huệ and Ms. Nguyễn Thị Minh Trang, were questioned about their complaints regarding the state's confiscation of their land in 2007, to see whether they had asked Quỳnh for help, or whether it was Quỳnh who had taken the initiative. It looked like the police were trying to find evidence that Quỳnh had instigated her family members into taking legal action, even though there is nothing wrong in helping one's family members take lawful action to protect their interests. All those questioning sessions have caused great distress for Quỳnh's family members who do not really follow politics.
Blogger Nguyễn Ngọc Như Quỳnh was arrested on October 10, 2016 under Art. 88. Her pre-trial detention was extended for three months in February, until May 7, without any written notice to her family. Under Art. 120 of the current Criminal Procedure Code, activists accused of "especially serious" national security crimes can be held up to 20 months in pre-trial detention, often without access to a lawyer and family during the prolonged investigation period.
© 2017 The 88 Project
Top of Form
https://the88project.org/wp-content/uploads/2017/04/ms_nguyen_ngoc_nhu_quynh_vietnam_200_2.jpg
197
200
Huong Nguyen
https://the88project.org/wp-content/uploads/2019/01/88project.png
Huong Nguyen
2017-04-20 00:26:21
2019-04-30 16:35:24
Update on the situation of blogger Nguyễn Ngọc Như Quỳnh, six months in incommunicado detention, April 2017