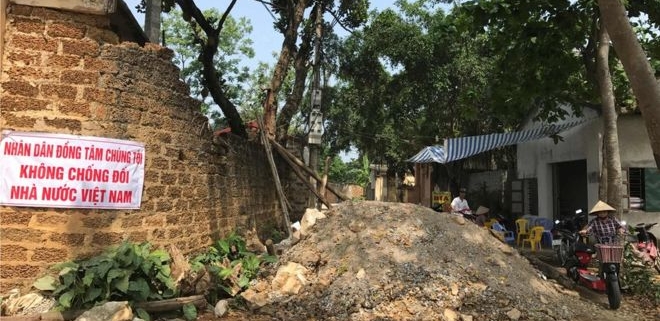 The sour fruit of the "public land ownership" regime: Violent confrontations over land seizure keep occurring all over Vietnam
The 88 Project, April 21, 2017: As we reported in the newsletter last week, the violent clash between local farmers and authorities in Hoành village, Đồng Tâm commune, Mỹ Đức district, Hà Nội, continued well into the week. It has received widespread coverage in both state-owned newspapers (e.g. VnExpress English) and international media (Foreign Policy, Time, Channel NewsAsia, Deutsche Welle, AP, AFP). Do check out these comprehensive reports by the BBC and the New York Times, as well as Radio Free Asia's  latest and related stories that follow the development of the incident.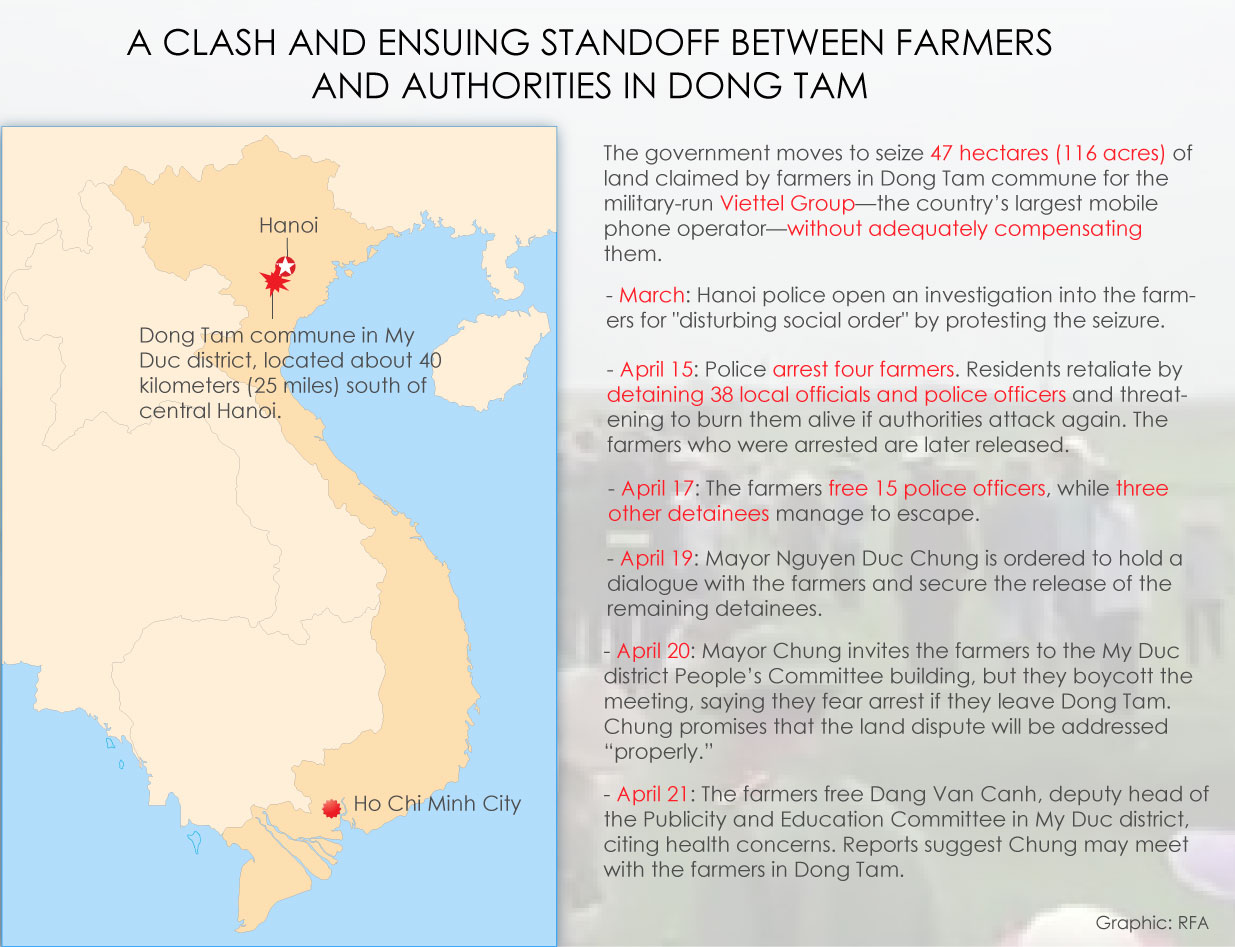 Note that the clash in Đồng Tâm is just one tip of the huge iceberg of land conflict in Việt Nam. Other violent clashes between local residents and public authorities occurred elsewhere last week.
On April 18, 12 residents of Đông Phong ward, Lai Châu city (Lai Châu province), were arrested under Art. 257 of the Criminal Code ("resisting persons acting in official duties") for using man-made weapon to resist police forces during a land seizure.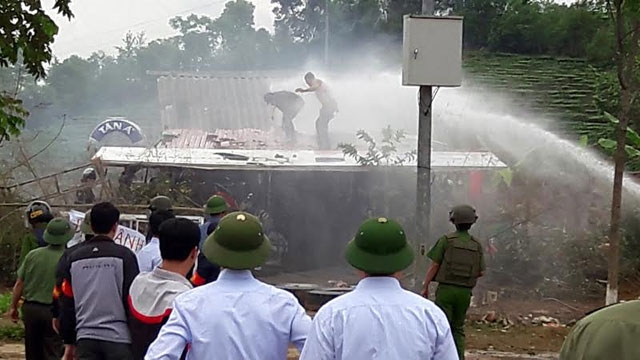 Lai Châu: Police's use of water cannon to control resisting local residents. Source: nhandan.com.vn
On April 20, 1000 policemen carrying riot shields and wearing helmets were mobilized to forcibly evict residents of Vọng Đông hamlet, Yên Trung village, in the northern province of Bắc Ninh's Yên Phong district. Several local residents were injured and some others were arrested for taking pictures and filming the confrontation. Photos and videos are available in this report by RFA Vietnamese.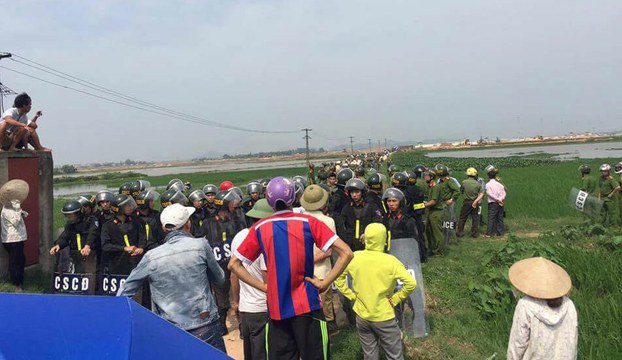 Forced eviction in Bắc Ninh on April 20. Source: RFA
Meanwhile, in the Southern part of Vietnam, on April 20, 100 forced eviction officials in Phú Quốc, Kiên Giang, were met with gas bombs thrown at them by the family whose land was being seized to develop an ecotourism project without fair compensation.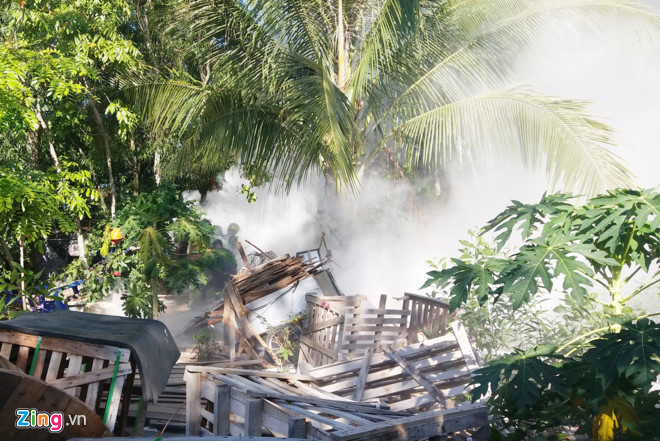 Kiên Giang: Firefighters worked to control the fire caused by the gas bombs. Source: Zing.vn
Yes, land dispute in Vietnam is a mess. The main reason: farmers only have "land use" rights, not "land ownership" rights, and the public authorities can take away their land for socio-economic development purposes anytime, often without fair (or any) compensation and adequate resettlement plans. Corruption, decentralization, and competition between provinces to attract foreign investment (thus putting foreign investors above local residents) are other factors that contribute to the widespread land seizure practice all over the country. This practice has created a new class of landless farmers – Dân Oan ("victims of injustice") who are left to fight for their interests on their own, often in vain, against the far more powerful coercive apparatus of the Party-state. At least 10 current prisoners of conscience were arrested and convicted because of their land rights activism. This has been, and will continue to be, a major story.
In case you missed it, check out this bilingual video, "Bleeding Lands," produced by artist Kim Chi, Hélèna Lee, and friends, to understand more about the complicated land grabbing situation and the resulting social unrest in Vietnam.
© 2017 The 88 Project                    
https://the88project.org/wp-content/uploads/2017/04/dong-tam-banner-april-21-2017.jpg
371
660
Huong Nguyen
https://the88project.org/wp-content/uploads/2019/01/88project.png
Huong Nguyen
2017-04-22 03:51:36
2019-04-30 16:35:09
The sour fruit of the "public land ownership" regime: Violent confrontations over land seizure keep occurring all over Vietnam