Nguyen Van Tuc
Current Status: Sentenced to prison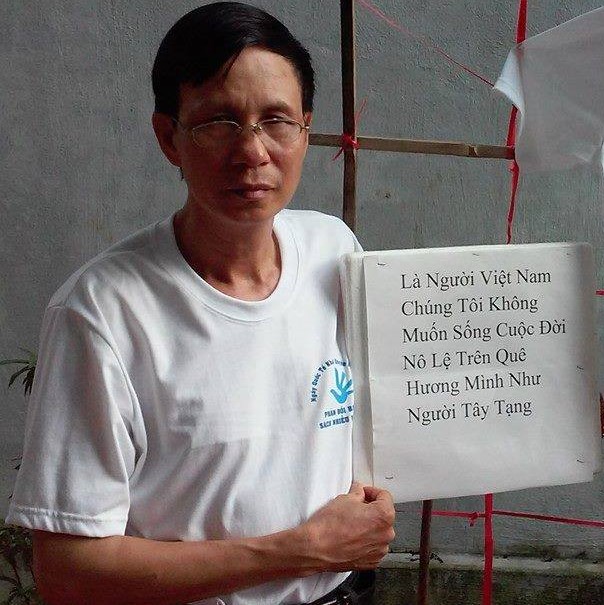 Other Names: Nguyễn Văn Túc
Date of Birth: May 28, 1964
Gender: M
Religion: Buddhist
Ethnicity: Kinh
Current Prison: Prison No. 6, Nghe An province
Areas of Activism:
Democracy
Human rights
Land rights
Sovereignty
Known Afilliations:
Bloc 8406
Brotherhood for Democracy
March 2019:
On March 13, 2018, Nguyen Van Tuc's wife, Bui Thi Re visited him and received a letter writing about his health situation. He has been suffering from many serious diseases, including hemorrhoids, a degenerative spine issue, chronic keratitis of the eye, and coronary artery disease. In addition, he also has lost weight because of his insomnia. He has been in a dangerous situation because of both health problems and inhumane treatment in prison.
Tuc is enduring mistreatment at the notorious Prison No. 6 in Nghe An province. He has been placed in a cell with a cellmate who allegedly beats Tuc in exchange for leniency from authorities. Prison authorities are also allegedly withholding food sent by Tuc's family.
Details - History of Activism.
He has been active in human rights, pro-democracy, and maritime sovereignty activism.
Nguyen Van Tuc's profile from Front Line Defenders
Arrested September, 2008. Sentenced to 4 years in prison under Art. 88 (1999 Code). Released September 10, 2012.
October, 2009
4 years in prison
September, 2012
September 10, 2012
Arrested September 1, 2017. Sentenced to 13 years in prison under Art. 79 (1999 Code). Expected Release is September 1, 2030.
April 10, 2018
Ngo Anh Tuan
13 years in prison
September 1, 2030
Profile last updated: 2019-04-24 04:13:48