Tran Phi Dung
Current Status: Sentenced to prison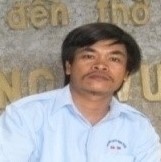 Other Names: Trần Phi Dung
Date of Birth: 1966
Gender: M
Religion: Buddhist (An Đàn Đại Đạo)
Ethnicity: Kinh
Last Known Prison: Prison No. 6, Nghe An province
Areas of Activism:
Highlighted Human Rights Concerns:
Harsh Physical and Administrative Conditions
Details - Background, History of Activism.
Tran Phi Dung is a member of An Dan Dai Dao, a Buddhist sect founded in 1969 but outlawed after the Communist regime took over South Vietnam in April 1975.
The religious group ran an eco-tourist company at the Da Bia Tourist Resort in Phu Yen Province. They signed a contract with the local authorities to engage in protecting the forest and environment. The group believed in the prophecies of Nguyen Binh Khiem, a 16th century oracle or Vietnamese equivalent of Nostradamus, and dreamed of building a new "Utopia" in which science, nature and humankind would be harmoniously balanced. They organized conferences and produced leaflets to disseminate their beliefs. According to reports in the state-run media, the group had several hundred members and sections in several central and southern provinces.
Arrested February 10, 2012. Sentenced to 13 years in prison under Art. 79 (1999 Code). Expected Release is February 10, 2025.
January, 2013
13 years in prison
February 10, 2025
He is one of 22 members of An Dan Dai Dao Buddhist sect arrested in February 2012 under Art. 258 and tried under Art. 79 of the 1999 Penal Code by Phú Yên People's Court in January 2013, in what is called the "Council for the Laws and Public Affairs of Bia Son" affair. The group was charged with subversion and accused of writing documents critical of the government, setting up two companies and investing in an eco-tourism park as a cover for recruiting supporters. However, those affiliated with the group maintained that the activities of the group were purely religious and that the authorities interpreted their religious teaching in political terms. Human rights groups and supporters consider the arrests a repression by the State of the peaceful religious group.
Arrested on February 10, 2012, he was sentenced to 13 years in prison and 5 years of probation pursuant to Article 79 of the penal code. He was held in Prison Z30A, Section 2, in Xuan Loc District, Dong Nai Province. On September 27, 2015, he was transferred to Prison #6, Thanh Chuong, Nghe An Province.
July 2019:
July 14 marked the 34th day since prisoners of conscience at Camp 6 in Nghe An province went on hunger strike in objection to the Prison Camp authorities' removal of all the electric fans despite the severe heat wave. This incident has angered many people inside and outside of Vietnam. An urgent appeal petition has received over 1200 signatures from civil society groups and supporters. The updated list of signatories and related public actions for prisoners on hunger strike is available on the Facebook group Tuyet Thuc Vi Tu Nhan Luong Tam ("Hunger Strike for Prisoners of Conscience"), run by the drafters of the Urgent Appeal.
On July 9, 2019, Nguyen Kim Thanh, wife of political prisoner Truong Minh Duc, flew from Binh Duong Province to Hanoi to meet representatives of the embassies of the US, Australia, and the EU. Thanh underwent uterine fibroids surgery on June 28, 2019 and her health remained unstable. Her husband and three other political prisoners, including Dao Quang Thuc, Nguyen Van Tuc, and Tran Phi Dung were on hunger strike since June 10, 2019. On July 11, UCA News reported that "the diplomats are said to have accepted that the situation is a matter of urgency and also expressed a willingness to raise with the Vietnamese government wider issues relating to prison conditions."
**
Systematic efforts seem to have been going on to isolate political prisoners who were on hunger strike in Prison Camp 6, Nghe An province, from the outside world. On July 12, 2019, a group of 20 family members and supporters was physically attacked by thugs who they believe to be plain-clothing prison officers and public security officers. Activist Trinh Ba Phuong, son of former political prisoner Can Thi Theu, told VOA Vietnamese that the group was on its way to Camp 6 with some posters solely to visit and support prisoners such as Truong Minh Duc. When the visitors group tried to approach Camp 6 by car, a truck seemed to purposely park to block the road, so they decided to walk the rest of the way. This is where the attack took place. Activists were physically assaulted and their belongings, including money, phones, and personal documents, were taken by the attackers. Read the detailed report on Defend the Defenders here. Some footage of the attacked can be seen on Trinh Ba Phuong's Facebook.
February 2013:
The Chair-Rapporteur of the Working Group on Arbitrary Detention and three UN Special Rapporteurs sent a letter to the Vietnamese government regarding the case of the 22 members of the Bia Son Council for Public Law and Affairs, expressing their concerns regarding the fairness of their trial and the motivations behind their arrests. They asked for further information about the case and how the arrests are compatible with international law.
Profile last updated: 2019-11-24 19:36:04