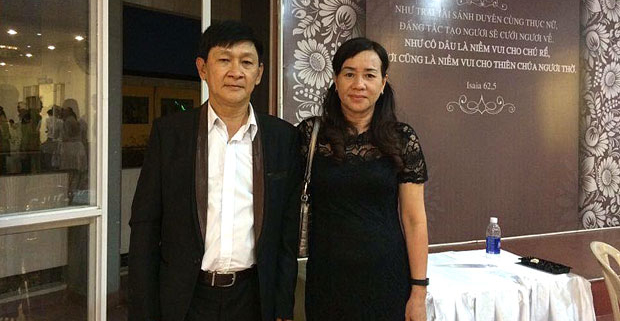 Prisoners Go on Collective Hunger Strike to Protest Abusive Conditions in Prison Camp No. 6, Nghe An
The political prisoners in prison camp # 6, Thanh Chuong, Nghe An are on their 16th day of hunger strike. They are striking to protest the abusive conditions in the prison camp.
On June 20, Mrs. Nguyen Kim Thanh, wife of prisoner of conscience Truong Minh Duc, went to visit him at prison camp # 6 in Thanh Chuong district, Nghe An. Mr. Duc was a member of the Brotherhood for Democracy and Viet Labor groups. He was arrested on July 30, 2017, was tried for subversion under Article 79 on April 05, 2018 and sentenced to 12 years imprisonment.
When Mrs. Thanh saw her husband come out from his cell, he was very unsteady and he couldn't even walk straight. His head kept drooping down, and he was looking very fatigued. She asked him what happened; he said the temperature is extremely hot in the prison cells, but the prison didn't provide fans and he felt anyone could have a stroke in this extreme heat.
Mrs. Thanh said that the temperature outside was over 40° C, so it must be over 50° C inside. Mr. Duc told her there is no fan, the ceiling is very low and the roof was built with corrugated sheet roofing; therefore, it is extremely hot. Mr. Duc said there were fans before, but they had all been removed. Mrs. Thanh asked the prison guards about the fans. She was told that all the fans were broken so the authorities removed them.
Mr. Duc said many prisoners got together and filed a request to demand new fans, but the prison authorities gave them different excuses and no fans. Mr. Duc also said the inmates were willing to pay for the electric bill just to have the fans put back in. Mrs. Thanh told the prison guard that the family would buy a fan, but at that point the guard stopped her from discussing the problem further.
Mrs. Thanh then filed a formal complaint against the board of supervisors of prison camp # 6, filed with the police minister To Lam, People's Procuratorate of Nghe An province and prison supervisory board. Her complaint stated that dismantling the fans in the summer weather conditions in the Central region with temperatures higher than 40 degrees Celsius is a form of harsh treatment to prisoners. She asked Minister To Lam and the authorities of Nghe An to solve the problem and install electric fans for the inmates at prison camp # 6. Mrs. Thanh said that her complaint has been ignored by the authorities.
Mr. Duc said for that reason, many of the prisoners of conscience started a hunger strike to demand better conditions in the prison facility. The prisoners of conscience in camp # 6 are determined to continue the hunger strike to ask the prison to settle their complaints and end the persecution.
According to a statement by Mrs. Thanh, in the Law on Criminal Judgment Execution, prisoners are entitled to have electric fans and TVs in their cells; this is the commitment of Vietnam to its people. She also stated that this is the commitment of Vietnam to the world. Vietnam has signed the International Convention Against Torture since 2013.
In another example of abuse of political prisoners, on June 26, 2019, Mrs. Bui Thi Re, Mr. Nguyen Van Tuc's wife, went to visit him at prison camp # 6. When Mrs. Re arrived at the prison camp, she was threatened by prison officials that she only could talk about her family's affairs in general, and nothing else. Despite being threatened, Mr. Tuc was still able to inform his wife that all prisoners of conscience are still on their hunger strikes and today is the 16th day. Mrs. Re said she could hardly hold back her tears because her husband was so thin, tired and sick.
The persecution of political prisoners does not only happen in prison camp # 6; it takes place in many prisons at the same time all over Vietnam.  For example, Nguyen Viet Dung and, Phan Kim Khanh, Le Dinh Luong are all being harshly disciplined in Nam Ha prison.
For observers like former political prisoner Nguyen Van Hai, this can be seen as a campaign that the communist authorities are using in many different prisons to oppress political prisoners.  Therefore, it is best to look at it as a whole and respond in a coordinated way to these kinds of cruel treatments and persecution that are happening in many different prisons.
At this time, the prisoners of conscience believe that hunger strike is the only weapon available to them. They have tried talking to the authorities, having family members talk to the authorities, and even filing formal complaints. None of these actions have been taken seriously by the prison authorities or other government officials in Vietnam.
Now in camp # 6, Truong Minh Duc, Dao Quang Thuc and Nguyen Van Tuc are going on a hunger strike. In addition to the hunger strikes at prison camp # 6, at the An Diem camp in Quang Nam, Nguyen Bac Truyen and Hoang Duc Binh went on a hunger strike due to the cruel treatment towards prisoner of conscience Nguyen Van Hoa.
Mrs. Thanh reported that her husband Truong Minh Duc asked everyone to speak up against the cruel treatment by the authorities in prison camp # 6. Mr. Duc also asked all embassies, human rights organizations, overseas and inside Vietnam to speak up to improve the conditions in all the prisons in order to save these prisoners of conscience's lives.
© 2019 The 88 Project
Source:
Mrs. Nguyen Kim Thanh's statement after visiting her husband Truong Minh Duc in Prison Camp No. 6, Nghe An province, Vo Hong Ly Facebook, June 20, 2019
Mrs. Nguyen Kim Thanh's formal complaint, June 23, 2019, Facebook Nguyen Van Hai
Mrs. Bui Thi Re's statement after visiting her husband Nguyen Van Thuc in Prison Camp No. 6, Nghe An province, Bui Thi Re's Facebook, June 27, 2019
Vietnamese Prisoner's Wife Petitions Authorities Over Hunger Strike, RFA, June 25, 2019
https://the88project.org/wp-content/uploads/2019/06/Truong-Minh-Duc-anh-his-wife-Nguyen-Thi-Kim-Thanh-Source-RFA.jpg
349
620
Huong Nguyen
https://the88project.org/wp-content/uploads/2019/01/88project.png
Huong Nguyen
2019-06-27 19:14:39
2019-06-27 19:16:32
Prisoners Go on Collective Hunger Strike to Protest Abusive Conditions in Prison Camp No. 6, Nghe An