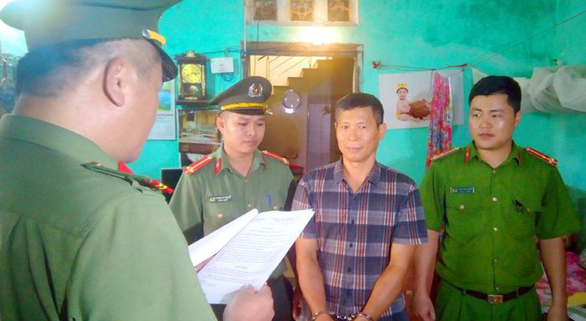 Activist Arrested in Thanh Hoa Province for Online Political Commentaries and Supporting Local Demonstrations
On June 29, The Public Security of Thanh Hoa Province prosecuted Mr. Pham Van Diep, a 54 years-old Vietnamese Russian residing in Sam Son City, for "producing, storing, disseminating and propagating information, documents against the Socialist Republic of Vietnam" in accordance with Article 117 of Vietnam's 2015 Criminal Code. Diep was arrested at his home and will be detained for four months for further investigation. 
State-owned newspaper reported that Mr. Diep studied in Russia before involving in "anti-State activities." They also say that he already served 21 months in Laotian prison for "using Laos territory to conspire against neighbouring countries (Vietnam)." Back in Vietnam after serving the sentence in Laos, he continued to share his political views on Facebook and participated in protests against Formosa in 2016 and against the draft bills on Cybersecurity and Special Economic Zones in 2018. 
Which of Diep's particular actions or political activities the authorities considered to be "criminal conduct" in Vietnam remain unclear. Generic accusations such as using Facebook to post information criticizing the State, or to defame the Communist Party and its leadership are utilised instead. 
On Diep's personal facebook page named Phạm Văn Điệp, most of the public posts are his comments (or critiques) on a particular subject of governance or public policy that should be acceptable in any democratic republic, while the cited sources come from licenced newspapers in Vietnam. None of them incites violence or calls for a popular revolt to overthrow the current "people's administration."  
State-owned newspaper also mentioned that Mr. Diep has published and shared many videos and posts that specifically support demonstrations of local residents against a mega-construction project in Sam Son beach, thus "complicating the local public security and order." Thus, economic interest may play a role in the arrest.
© 2019 The 88 Project
https://the88project.org/wp-content/uploads/2019/07/Pham-Van-Diep-Arrest-in-thanh-hoa_June-29-2019_Source-Tuoi-Tre.jpg
346
586
Huong Nguyen
https://the88project.org/wp-content/uploads/2019/01/88project.png
Huong Nguyen
2019-07-02 19:05:01
2019-07-02 19:05:01
Activist Arrested in Thanh Hoa Province for Online Political Commentaries and Supporting Local Demonstrations