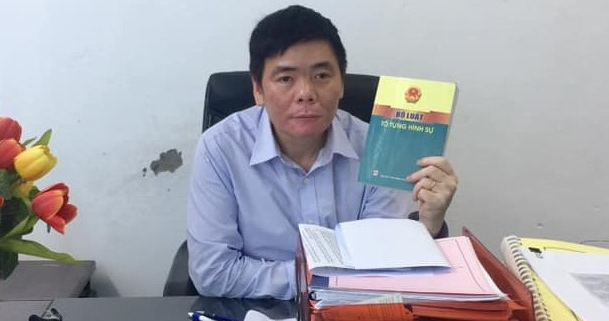 Vietnam Prominent Lawyer Tran Vu Hai Under Investigation for Alleged Tax Evasion
On July 2, the Investigative police division of the Public Security Department of Khanh Hoa Province charged attorney Tran Vu Hai, a prominent lawyer in Vietnam, with "tax evasion". His wife – Ms. Ngo Tuyet Phuong, is also confirmed to be considered an accomplice in the same case. No arrest was made, but a search warrant was issued and police carried out a search at his office in Dong Da District, Hanoi. According to state-owned media, the prosecution process has been initiated to investigate possible tax evasion in a real estate deal in Nha Trang, Khanh Hoa province on August 10, 2016.  
In a press release issued after the search by attorney Ngo Anh Tuan, Tran Vu Hai's lawyer, attorney Tuan stated that the search was carried out without the presence of Hai's lawyer, despite Hai's request. During the search, attorney Hai also requested that the authorities only seize documents directly related to the affair under investigation. However, the police took away a large amount of materials not related to the case, including the dossiers of multiple important cases, such as the case of Truong Duy Nhat, a well-known official-turned-dissident recently deported by Thai authorities back to Vietnam while seeking political asylum there and currently held in T16 prison, Ha Noi. Attorney Hai has been trying for three months to obtain a defense lawyer certificate to represent Mr. Nhat, but his request has not yet been accepted. 
This is also not the first time attorney Hai has been accused of unlawful non-political conduct. In November 2015, the lawyer was briefly "summoned" (or "kidnapped" in his words) by local police to explain accusations of fraudulent appropriation. Hai was released without charge later the same day. 
Attorney Tran Vu Hai is a member of Hanoi Bar Association. He is known as an outspoken critic of local and central governments in Vietnam. Besides his online posts, Hai has been actively represented political activists, including the high-profile case of Cu Huy Ha Vu in 2011. He is also acting on behalf of Thu Thiem's residents in a national high-profile case concerning wrongful eviction in Ho Chi Minh City.
© 2019 The 88 Project 
https://the88project.org/wp-content/uploads/2019/07/Tran-Vu-Hai-Source-Facebook-Tran-Vu-Hai-1.jpg
380
609
Huong Nguyen
https://the88project.org/wp-content/uploads/2019/01/88project.png
Huong Nguyen
2019-07-02 19:57:11
2019-07-08 02:47:56
Vietnam Prominent Lawyer Tran Vu Hai Under Investigation for Alleged Tax Evasion