Vietnam Free Expression Newsletter No. 34/2022 – Week of September 5-11
Greetings from The 88 Project. A noodle seller, a music teacher, and a wildly popular YouTuber were arrested and charged with conducting anti-state propaganda. More Facebook users were fined for making commentaries that displease the Party. A political prisoner was put on trial without notice and without a lawyer. The 88 Project posed a question to an absent Vietnam at a formal event for UN Human Rights Council candidates. A former death row inmate became head of the non-state sanctioned Buddhist Church. Foreign businesses raise concerns about new laws regarding local data servers. The order forcing an artist to destroy his own paintings was reversed. A man's family demanded answers for his death in police custody last year. Mai Khoi prepares to unveil a new creative venture.
HUMAN RIGHTS & CIVIL SOCIETY
Political Prisoners
Da Nang noodle shop owner Bui Tuan Lam, aka Peter Lam Bui, was arrested on September 7 and charged with spreading "anti-state propaganda." Lam has been an activist since at least 2013 and often posted videos that criticized or made fun of government officials. Although Lam has been relatively inactive since starting a family (he has three daughters) and focusing on his restaurant business, in 2021 he was summoned by the police for making a video mocking the Minister of Public Security by imitating famous chef Salt Bae. It's not yet clear what led to Lam's arrest this week. Lam's wife, Le Thanh Lam, said she has been able to send him some food and money but has not been allowed to see her husband.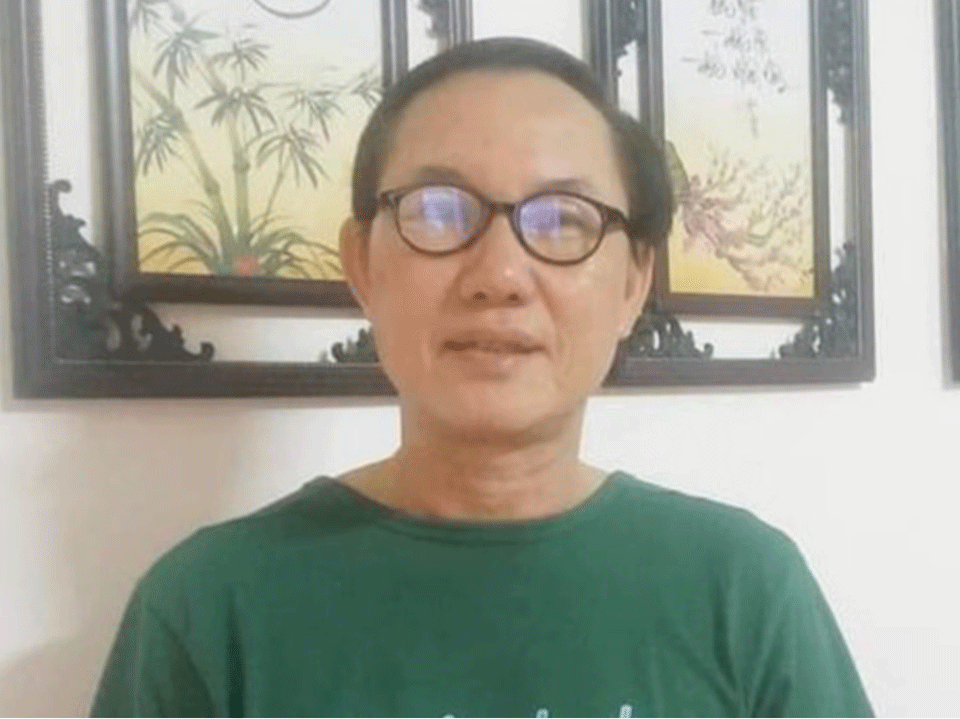 Dang Dang Phuoc, Source: Facebook via RFA
Dang Dang Phuoc, a 59-year-old music teacher at the Teachers College in Dak Lak Province, was arrested on September 8 for spreading "anti-state propaganda." According to a close friend, Phuoc was arrested at 6 am while exercising near his home. The police took him back to his house and searched it "for several hours." Though not a self-identified activist, Phuoc often posts commentaries about education, corruption, human rights abuses, and other issues. In the latest post before his arrest, which got at least 6,000 views, Phuoc discusses the arrest of noodle seller Bui Tuan Lam. It's not known whether the two incidents are related.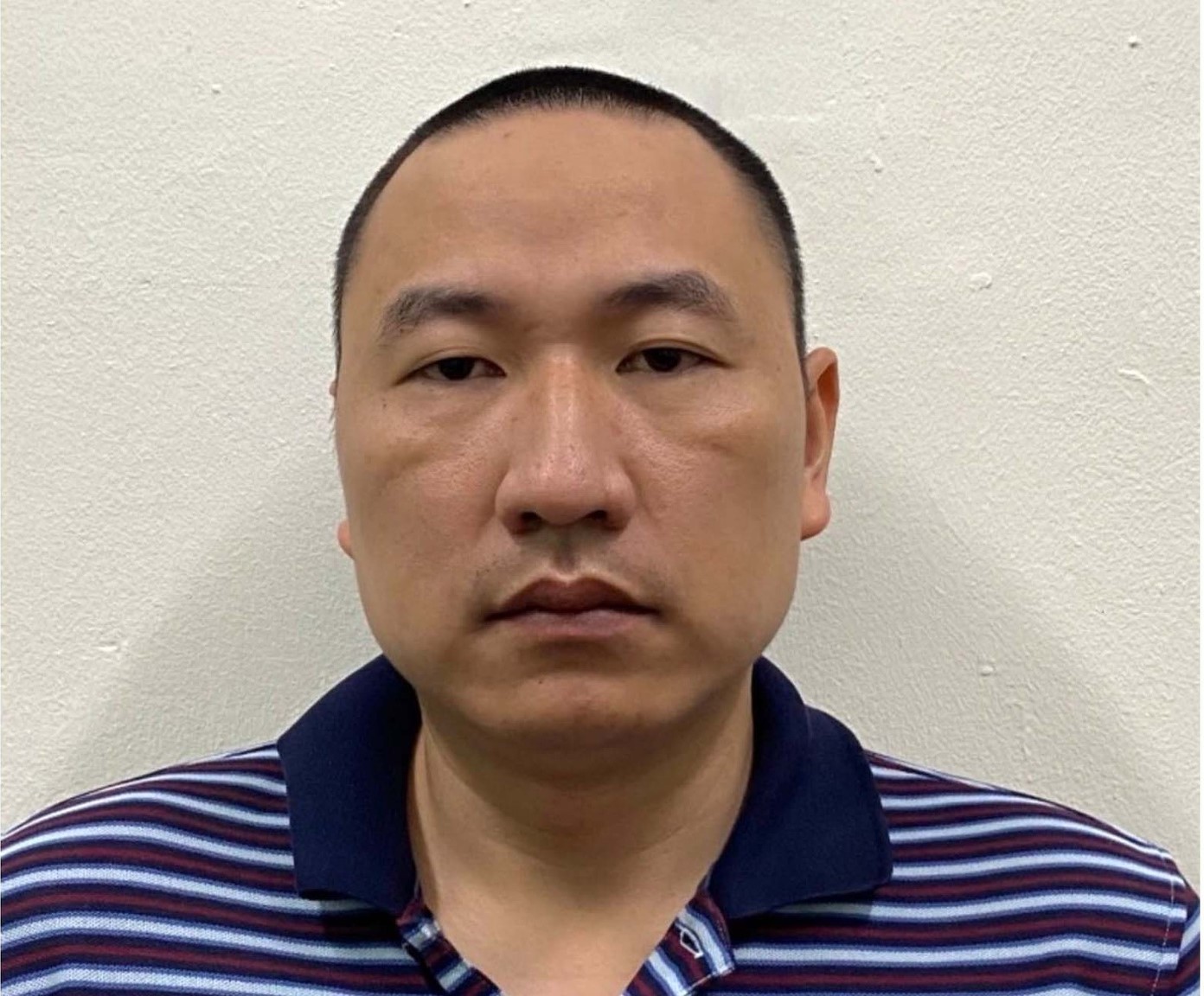 Phan Son Tung, Source: Thanh Nien
Phan Son Tung, a YouTuber with hundreds of thousands of subscribers, was arrested on September 8 and charged with spreading "anti-state propaganda." On one of his channels named "Vì Việt Nam Thịnh Vượng" (For a Prosperous Vietnam), which has more than 80,000 subscribers, Tung recently called for the formation of a new political party with the same name. It appears he was in the process of launching it at the time of his arrest. All of Tung's videos on that channel and another channel he calls "Diễn Đàn Cánh Hữu Việt Nam" (Right Wing Forum of Vietnam), which has more than 300,000 subscribers, have disappeared. Former political prisoner Nguyen Van Dai, living in exile in Germany since 2018, noted in his show that Tung had stopped posting his daily videos nine days before the police announced his arrest, leading Dai to believe that Tung must have been taken into custody sometime in late August.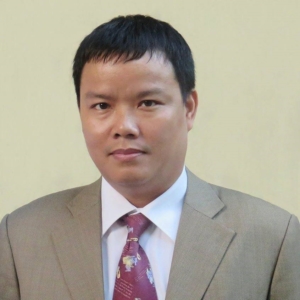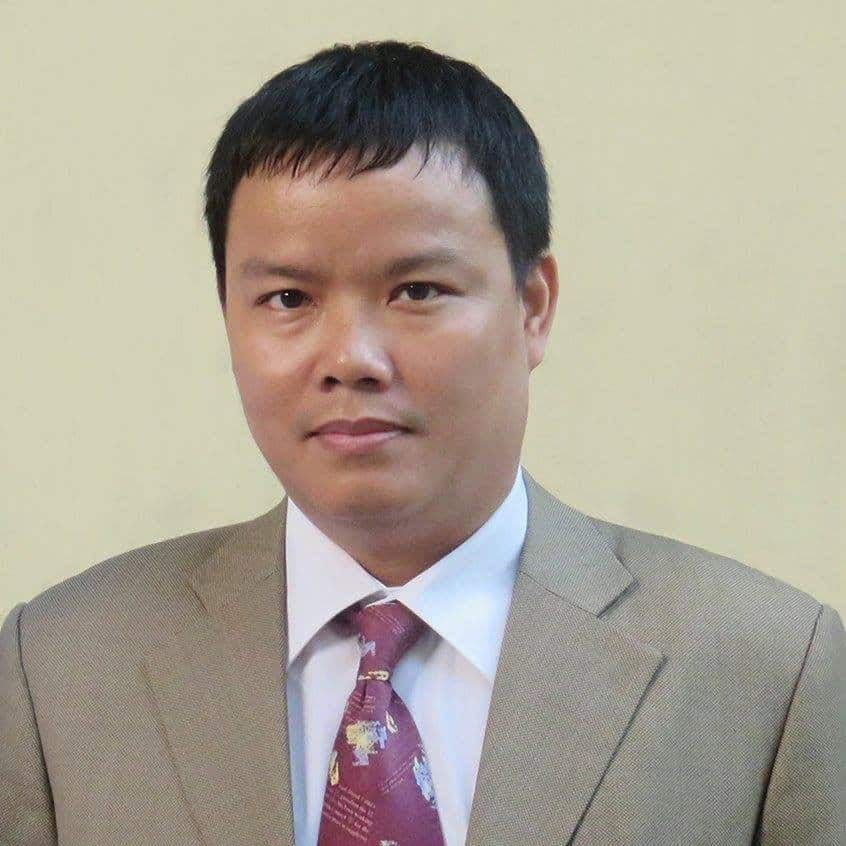 Le Anh Hung
Journalist Le Anh Hung was tried in secret on August 30 and sentenced to five years in prison without the knowledge of either his lawyers or his family. It wasn't until his mother, Tran Thi Niem, called the investigators last week that she learned of the trial. Hung was arrested in 2018 on charges of "abusing democratic freedom." For reasons that aren't clear, he has spent the last three years, from April 2019 to May 2022, in a psychiatric hospital, which, according to the investigators his mother talked to, will count toward his prison time. During his unusually long pre-trial detention period, Hung has often alleged physical and psychological abuse and has had to go on several hunger strikes in protest.
This week, we think of the birthdays and arrest anniversaries of the following political prisoners: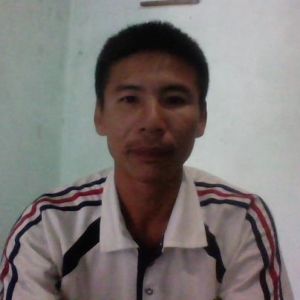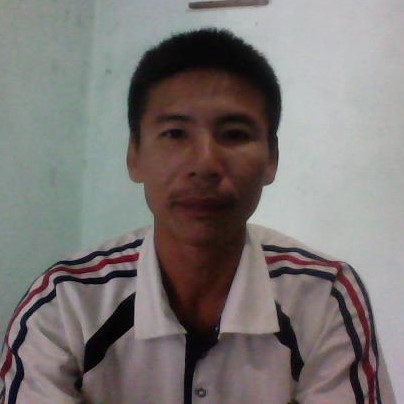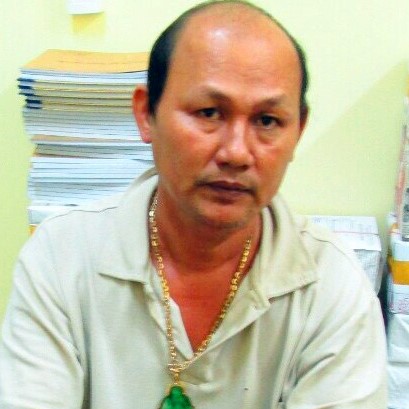 Nguyen Trung Truc and Nguyen Van Cong Em
At Risk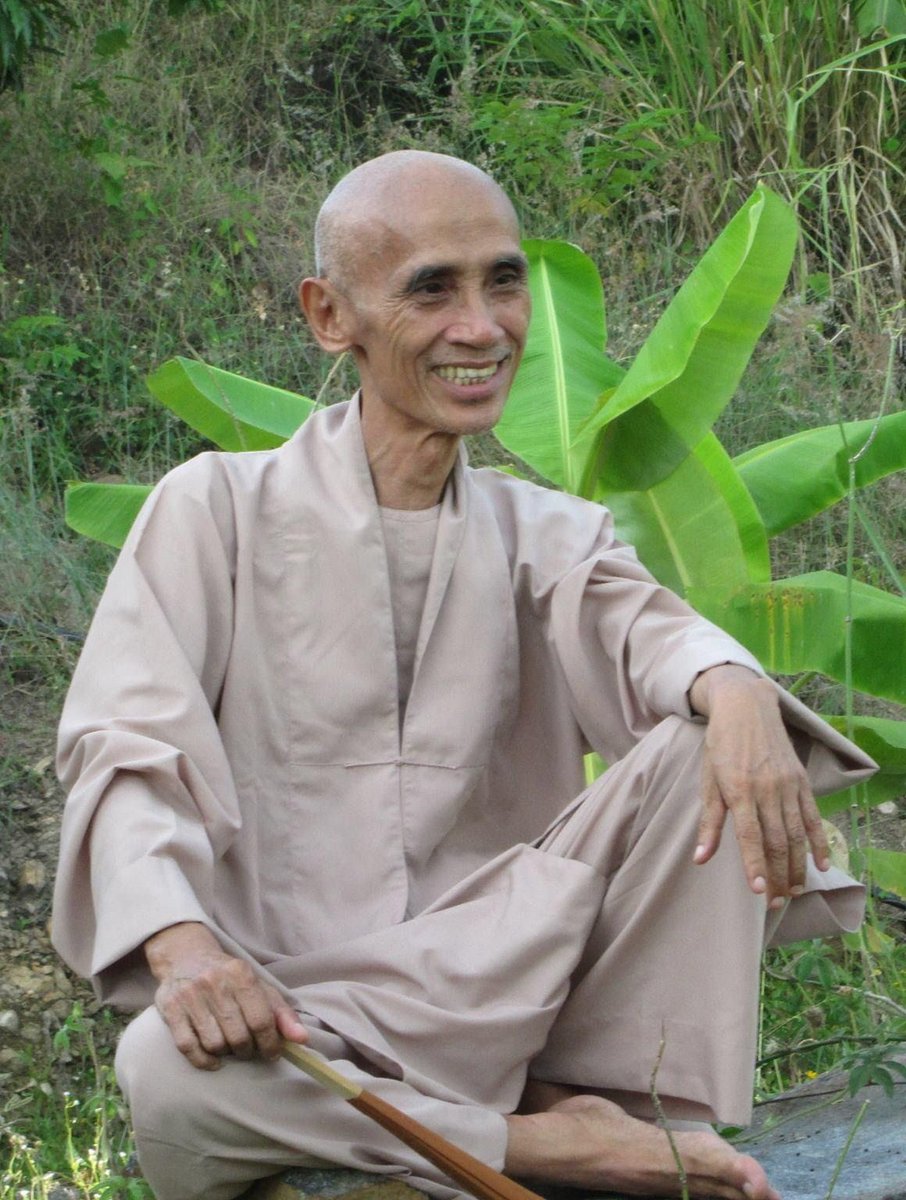 Thich Tue Sy, Source: Nga Pham Twitter
State media has avoided reporting the news that the independent Unified Buddhist Church of Vietnam, which is not under state control, has elected Thich Tue Sy to be its new leader. A prominent Buddhist scholar and a noted poet, Thich Tue Sy was sentenced to death in the late 1980's for "activities aimed at overthrowing the government of Vietnam." Under intense pressure from the international community, he was released in 1998 and put under house arrest for several years. For the past two decades, Tue Sy has mostly kept a low profile. However, before the former head of the UBC, Thich Quang Do, passed away in 2020, he made it known that he wanted Tue Sy to become his successor.
In a sign of acquiescence to public pressure, the order to destroy 29 paintings by poet/artist Bui Chat for "holding an art exhibit without permission" was rescinded by Ho Chi Minh City authorities. However, the "administrative fine" of 25 million dong  (US$1,062) was kept.
A Facebooker from Phan Thiet Province with the account name Nguyen Hoang Nam was fined  VND 7.5 million (US$318) for "defaming the reputation" of Vo Van Thuong, former head of the Central Bureau of Propaganda and a current member of the Politburo.
A Facebooker named Dinh Quang Duc from Quang Ninh Province was fined an undisclosed amount for commenting negatively against a development project near Ha Long Bay that's been the subject of public ridicule for destroying the natural beauty of the area.
Facebooker Milona from Thai Binh Province was fined 10 million dong (US$425) for asking on her popular livestream channel whether men could become bald, like President Nguyen Xuan Phuc, if they watched too much pornography.
Internet Freedom
U.S. businesses, including Google and Facebook, say Vietnam's new rules on data localization represent a significant burden for doing business in the country.
International Advocacy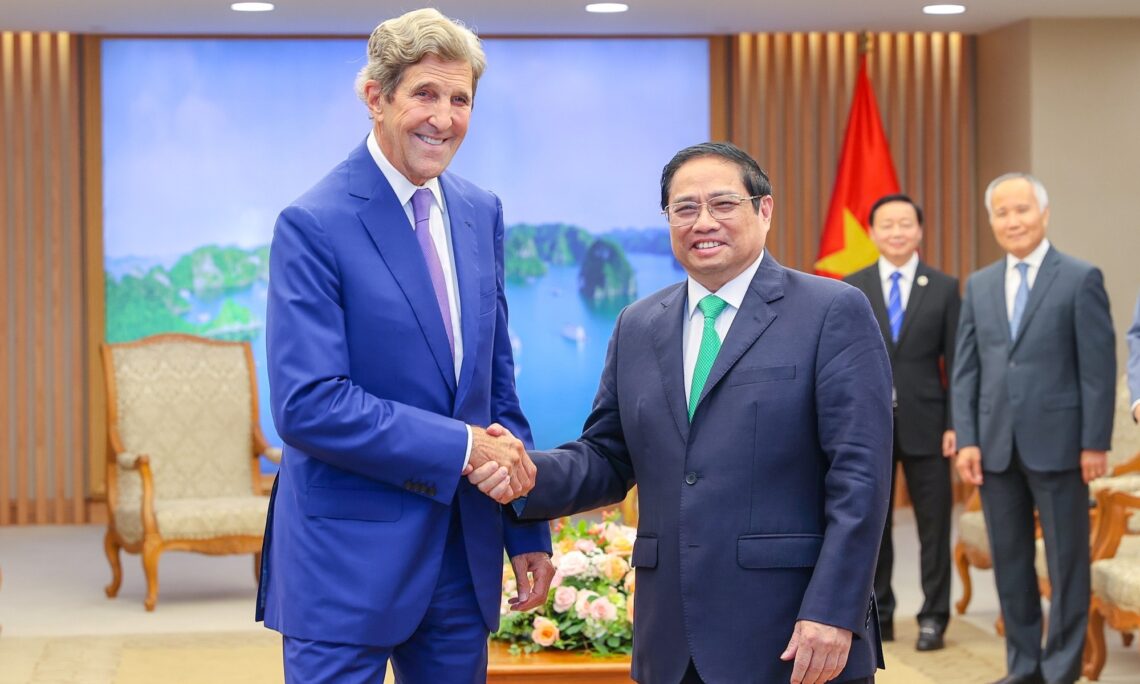 Secretary Kerry and Prime Minister Phạm Minh Chinh, Source: US Embassy and Consulate in Vietnam
U.S. Special Envoy for Climate John Kerry concluded a five-day trip to Vietnam to discuss issues related to a transition to clean energy.
Ahead of the upcoming elections to the Human Rights Council, The 88 Project submitted a question that was posed to Vietnam at the Pledging Event for candidate States on September 7. Vietnam was not present at the online event. The question was: "In its note verbale, Vietnam pledged to 'engag[e] responsibly in the work UNHRC and promoting the role and the efficiency of the Council, with particular attention to the rights of vulnerable groups and the impacts of climate change on  the enjoyment of human rights.' Yet in 2021-2022, the government arrested and imprisoned four prominent climate activists (Nguy Thi Khanh, Đặng Đình Bách, Mai Phan Lợi and Bạch Hùng Dương]. Will the Government of Vietnam commit to not arresting any more climate and environmental activists if it is elected to the Human Rights Council? Yes or no?"
NEWS & ANALYSIS
Nguyen Van Kha's family waiting for an explanation for December death in custody. Radio Free Asia; September 9, 2022: The family of a man who died in police custody in Vietnam's southern An Giang province say they have heard nothing from authorities since his death in December last year. Nguyen Van Kha, 56, died after being taken to the local police headquarters on the night of Dec. 28. The local police said he died of a heart condition, but the family continues to claim his death was the result of a beating.
Lori Jakiela and Mai Khoi: Speak, sing, scream. Lori Jakiela and Mai Khoi, Pittsburgh Post-Gazette; September 10, 2022: When I perform "Bad Activist," I want to raise awareness about human rights in Vietnam and around the world. I hope it will encourage people to support one another and fight together, because democracy everywhere is under attack. The situation is so serious. Just a few weeks ago, Salman Rushdie, a very famous writer, was stabbed on stage while speaking out for freedom of expression. This happened here in the United States. In the United States.
Vietnam's 'unjust' energy transition. Bobby Peek, Al Jazeera; September 9, 2022: Charging these particular individuals with tax-related crimes appears to be aimed at silencing members of Vietnam's civil society who are pressuring the government to further strengthen their climate and environmental commitments, keeping the country's people at the centre.
TAKE ACTION

Do Cong Duong
Please share the open letter from families of political prisoners calling for improved prison conditions in light of blogger Do Cong Duong's death in prison in August.
© 2022 The 88 Project
https://the88project.org/wp-content/uploads/2022/09/Phan-Song-Tung_Thanh-Nien.jpg
1152
1392
kayleedolen
https://the88project.org/wp-content/uploads/2019/01/88project.png
kayleedolen
2022-09-12 17:19:31
2022-09-12 17:19:31
Vietnam Free Expression Newsletter No. 34/2022 – Week of September 5-11