Vietnam Free Expression Newsletter No. 17/2023 – Week of April 25-May 1
Greetings from The 88 Project. We bring you news, analysis, and actions regarding human rights and civil society in Vietnam during the week of April 25-May 1. The disappearance of an asylum seeker in Thailand looks increasingly like another kidnapping of a Vietnamese dissenter on foreign soil. A father seeking answers for his son's suspicious death in a police station was himself arrested. A former political prisoner describes the terrible conditions she and others had to endure. Police attacked villagers belonging to the Ede ethnic group. California's legislature has designated a day in May to be Vietnam Human Rights Day. Did you read our report detailing the irregularities in the prosecution of four climate activists jailed for tax evasion? Please share the report and consider donating to sustain our work.

HUMAN RIGHTS & CIVIL SOCIETY
Political Prisoners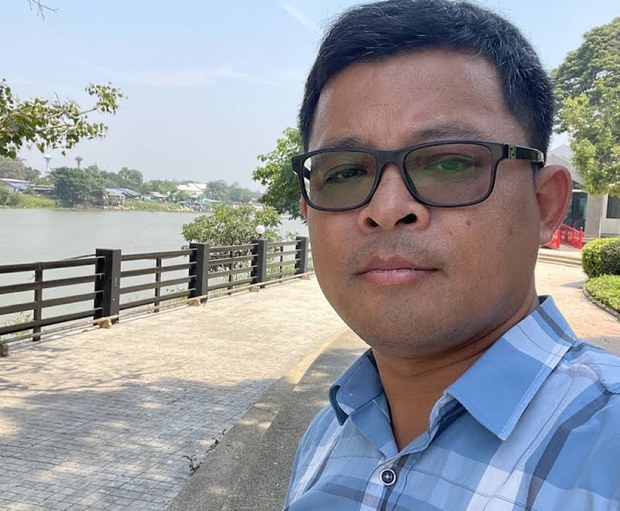 Thai Van Duong, Source: YouTube screenshot via RFA
Security camera footage has emerged showing that YouTuber Thai Van Duong, a political asylum seeker in Thailand, likely was abducted by Vietnamese secret agents in Bangkok. If true, this is a blatant violation of Thailand's sovereignty. Duong was a member of the outlawed Independent Journalists Association of Vietnam when he left for Thailand in 2019 after receiving threats to his safety. In Bangkok, Duong continued to broadcast news and commentaries about political issues in Vietnam on his YouTube channel, which has over 100,000 subscribers.
A friend of Duong's told reporters that only a few days before he disappeared, Duong had met with UN officials to discuss his resettlement goals and that he had no reason to re-enter Vietnam illegally, as the government has claimed. It has been more than nine days since he was detained, but the Vietnamese police have yet to provide any information regarding his temporary detention as required by Vietnamese law, which also requires that the detainee's family must be notified within 24 hours of a person's arrest. At the time of this writing, Duong's mother has still not received any news about her son from the police.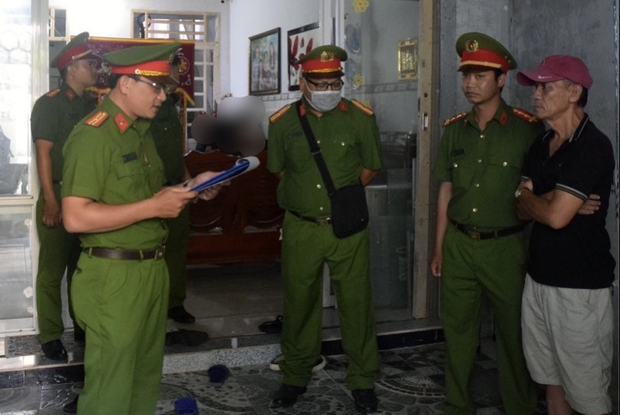 Dao Ba Cuong during arrest, Source: Tuy-Hoa Phu Yen police via RFA 
Dao Ba Cuong was arrested by Phu Yen provincial police and charged with "abusing democratic freedoms" under article 331 of the Criminal Code for relentlessly demanding the truth regarding his son's death while in police custody in October last year. Cuong's son, Dao Ba Phi, was found hanged inside his cell two days after his arrest for alleged theft. The police refused to release Phi's body to the family, triggering concerns that foul play might have been involved. Phi's sister said the police had told her they would reveal the location of his burial only if the family agreed in writing to not exhume the body after 36 months.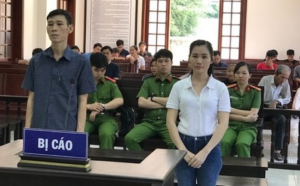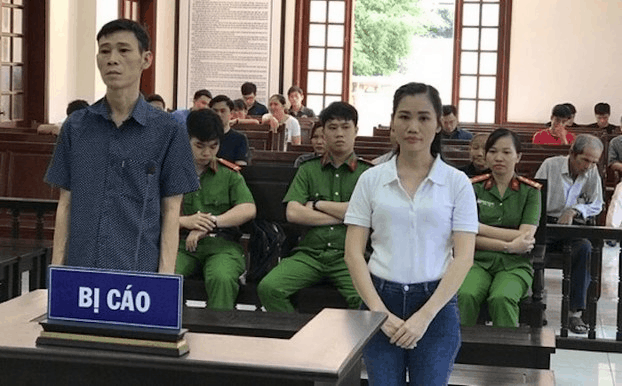 Huynh Thi To Nga (R) and her brother Huynh Thi Tam at trial in November 2019, Source: Dong Nai Newspaper
Recently released political prisoner Huynh Thi To Nga described to Project 88 the horrendous conditions inside An Phuoc prison camp. Nga said she was released 10 months early for good behavior and for doing prison labor without pay making joss sticks. Nga said the prison food was so poor and lacking in nutrition that she had to stage protests to demand better food. Her health also suffered and her eyesight deteriorated due to being kept inside too long.
International Advocacy
PEN International has listed Vietnam in its Top 10 Countries of Concern. Read its report here.
The UN Working Group on Arbitrary Detention (WGAD) released its preliminary opinion on the case of Do Nam Trung, noting that the government of Vietnam was very late in responding to its request for more information.
NEWS & ANALYSIS
Baton-wielding Vietnamese police crush protest against drainage project. RFA Vietnamese; 2023.04.25: Swinging batons and bashing villagers, Vietnamese police dispersed dozens of members of the Ede ethnic group who were attempting to interfere with a drainage project they fear will discharge wastewater into a lake they depend on, sources told Radio Free Asia. Three villagers were hospitalized and 12 were arrested, they said. "They hit us, injuring seven people of whom three had to be hospitalized due to the injuries on their heads, mouths, ears and shoulders," said a protester who requested anonymity for security reasons.
What Vietnam Needs from America: Lessons from a Past Alliance. Khang Vu, The Diplomat; 2023.04.28: When China-Vietnam relations have been good or stable, Vietnam has preferred to bandwagon with China. This is because it is in Vietnam's interest to avoid having to fight an unnecessary and costly war with its much larger northern neighbor. Vietnam will thus refrain from accepting other extra-regional great powers' nudges to upgrade security cooperation in order to maintain its good relationship with Beijing. When China-Vietnam relations have been bad, Vietnam has attempted to balance against China. Vietnam understands that if its deference could not change Chinese behavior, balancing can allow Hanoi to better defend and deter Chinese aggression. In these circumstances, Vietnam has been open to an alliance with another great power, even if that violated Hanoi's preference for strategic autonomy.
California Legislature designates Vietnam Human Rights Day in May. Kaitlyn Schallhorn, Orange County Register; 2023.04.28: The California Legislature has designated May 11 as Vietnam Human Rights Day. Championed by Assembly member Tri Ta, R-Westminster, legislators passed a resolution Thursday to commemorate the day "in support of efforts to achieve freedom and human rights for the people of Vietnam." The measure encourages Californians to mark May 11 with activities such as ceremonies, discussions or rallies. It also "recognizes the need for a democratic government," according to Ta's office.
Thayer, Vietnam United States Relations, 2023: A Reader, Carlyle Thayer; 2023.04.21: This Reader brings together Background Briefs covering Vietnam-United States relations during the first quarter of President Biden's third term in office. 2023 marks the tenth anniversary of the Vietnam-United States Comprehensive Partnership.
IN CASE YOU MISSED IT
48 years after fall of Saigon, Vietnamese voices crucial to understanding Vietnam War's impact. USA Today; 2023.04.30: To challenge the institutional racism embedded in the publishing industry, the Diasporic Vietnamese Artists Network (DVAN), co-founded by professor Isabelle Thuy Pelaud and Pulitzer Prize winner Viet Thanh Nguyen, formed a unique partnership with Texas Tech University Press (TTUP) and their Editor-in-Chief Travis Snyder. Together, they created the Diasporic Vietnamese Artists Network Series imprint, providing a platform for publishing and promoting works by diasporic Vietnamese writers – and planting new roots for retelling Vietnamese stories.
TAKE ACTION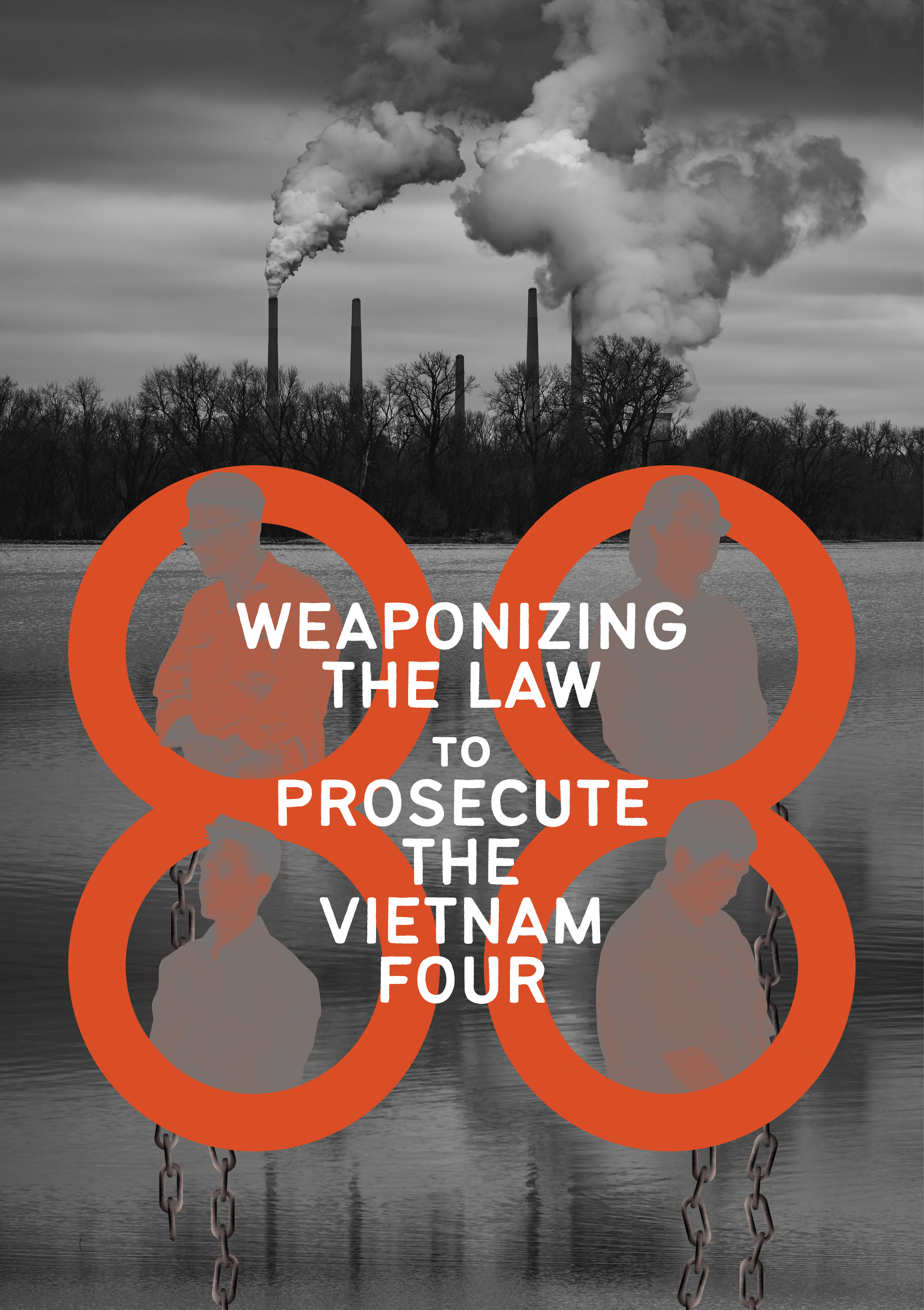 In Vietnam, climate activists are being punished with lengthy prison sentences. Our latest report (pictured above) documents in detail evidence of political interference in the criminal prosecution of these activists, as well as the multiple ways in which their rights were violated during arrest, detention, and trial. Please share the report and consider donating to Project 88 to sustain our ground-breaking research. You can donate directly, here, or consider supporting us via your online purchases with the Amazon Smile program. 
© 2023 The 88 Project
https://the88project.org/wp-content/uploads/2023/05/Dao-Ba-Cuong-arrest_Source-Tuy-Hoa-Phu-Yen-police-via-RFA.png
415
620
kayleedolen
https://the88project.org/wp-content/uploads/2019/01/88project.png
kayleedolen
2023-05-02 20:19:45
2023-05-02 20:19:45
Vietnam Free Expression Newsletter No. 17/2023 – Week of April 25-May 1