Dang Dinh Bach
Current Status: Sentenced to prison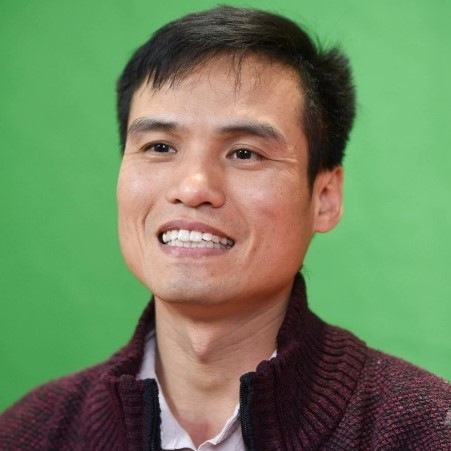 Other Names: Đặng Đình Bách
Date of Birth: September 12, 1978
Gender: M
Ethnicity: Kinh
Occupation: NGO worker
Last Known Prison: Prison No. 6, Nghe An province
Areas of Activism:
Rule of law
Anti-corruption
Environment
Highlighted Human Rights Concerns:
Denial of Adequate Medical Treatment or Supplies
Denial of Family Visit/Punitive Prison Transfer
February 2023:
Tran Phuong Thao, Dang Dinh Bach's wife, visited Bach in prison on Feb. 16, 2023. Bach told her that his 2022 Lunar New Year was harsh as he lived in a wet prison cell with many rats. He also told Thao he was taken to the emergency room, but when Bach tried to tell Thao why he was taken to the hospital, the prison guards stopped him. "I guess it could be because of his 24-day hunger strike," Thao said. On Jan. 18, 2023, an officer from the Department of Civil Judgment Enforcement of Hanoi called Thao and told her to pay the alleged tax amount owed of VND 1,381,093,134 ($58,059). He said if the money was not paid, the department would confiscate property belonging to the family. Thao told The 88 Project that she had no intention of paying the money, as Bach continues to maintain his innocence.

***
Dang Dinh Bach's case was one of several featured in an opinion article by the Washington Post about a recent wave of arrests of globally-minded, social media savvy political prisoners.
January 2023:
On his one-year trial anniversary, an international coalition of environmental and human rights organizations called for Dang Dinh Bach's release from prison with the #StandWithBach campaign. They are "also demanding that G7 nations providing multi-billion dollar funding for Vietnam's just energy transition support this call since it will be impossible to successfully implement the transition while environmental and climate leaders such as Bach are in jail."
See what you can do to support Bach, here.
Bach's wife, Tran Phuong Thao, spoke about the anniversary of his trial in this piece for Fair Planet, "This Lunar New Year, I Want My Husband Home." Of his critical work on clean energy and environmental protection, Thao wrote, "This work will benefit generations to come, including our son."
***
Dang Dinh Bach is an environmental advocate sentenced to prison for five years for "tax evasion." Many suspect that the charge brought against him is politically motivated. Watch our translation of a recent speech in this video, "Dang Dinh Bach in his own words: how I became an environmental advocate," with English subtitles and also with Vietnamese subtitles.
Also watch our interview with his wife, Tran Phuong Thao, filmed two months after Bach's trial, to learn more about the family's story and Bach's contribution to the environmental movement in Vietnam.
Interview with Dang Dinh Bach's wife with English subtitles
Interview with Vietnamese subtitles
Details - Background, History of Activism, Family Situation.
Bach lives and works in Hanoi. He is currently the Director of the non-profit Law & Policy of Sustainable Development (LPSD).
LPSD is a member of the Vietnam Environmental Network (VEN), Vietnam Sustainable Energy Alliance (VSEA), and the Vietnam Non-Communicable Diseases Prevention and Control Alliance (NCDs-VN).
Bach, 43, is known for his ability to mobilize young people to volunteer for charitable projects such as helping victims of storms and disasters, especially those impacted by global warming and environmental catastrophes. Bach has created many competitions and awards for innovation in the field of sustainable living which attracted the participation of many young Vietnamese. LPSD has also been a strong supporter of the government's fight against the spread of COVID-19.
According to Bach's curriculum vitae shared by Bach's wife, Tran Phuong Thao; Bach is also a member of the World Commission on Environmental Law (IUCN), member of the Environmental Law Alliance Worldwide (ELAW.) Moreover, he is the Vietnamese member in Mekong Legal Network which is currently facilitated by Earth Rights International, the US NGO working on protecting human rights and environment at national, regional and international levels.
Profile picture: Dang Dinh Bach. Source: Thiennhien.net
Bach was not known for his role in political activism.
Arrested June 24, 2021. Sentenced to 5 years in prison under Art. 200 (2015 Code). Expected Release is June 24, 2026.
June 24, 2021
Hanoi city public security, Hanoi
January 24, 2022
The People's Court of Hanoi, Hanoi
Nguyen Van Hung
Nguyen Thi Huong
5 years in prison
June 24, 2026
freedom from arbitrary arrest or detention
liberty and security of the person
freedom of expression
fair trial
International professionals
FIDH
The 88 Project
Vietnamese civil society groups
Bach's arrest and charge were announced on July 2, the same day as Mai Phan Loi's. He was charged under Article 200 for "tax evasion."
On June 24, 2021, Bach was detained by the police in Hanoi for questioning, along with the LSPD accountant on vaguely formulated charges of "tax evasion." There was not any arrest warrant shown at the time of his arrest. The accountant was released after the investigation. According to the court indictment issued on November 29, 2021, both Bach's house and his workplace were searched and items confiscated.
Both places were examined by police at the same time, at 10 am on June 24, 2021, his wife, Thao said. There was not any search warrant presented. The police and law enforcement did not give any specific reasons for holding Bach other than a generic statement saying that he had violated Article 200 of the 2015 Criminal Code, which was sent to the family one day later, on June 25, 2021.
His wife received the court announcement document on July 5, 2021 by post, three days after its issued date. Thao shared that on July 10, 2021, she was called by a Hanoi Court investigator and handed Bach's letter from the detention center. In his letter, written on July 8, 2021, Bach insisted that he was innocent. He is a victim, and he was targeted because he was involved in the Son La Hydroelectric plant. He collected complaint documents of the Son La victims and submitted them on their behalf to relevant stakeholders; that might be also another reason he was jailed, his wife said.
It is also argued that allegations against Bach and Loi are a response to their attempts to build up a connection of NGOs under the regulation of EVFTA. These organizations could play an important role in monitoring Vietnam's obligations under EVFTA. Read our analysis here.
January 2022:
On January 24, Bach was sentenced to five years in prison and no probation. He did not know of his trial date until his lawyers visited him on January 14. His family was not allowed to attend. He was also ordered to pay a fine of VND 1,381,093,134 (~ US$ 60,922).
The family has not been allowed to see him. They said because Bach is a vegan, he has been eating very little while in prison. His lawyer said Bach has gone on a hunger strike since January 10 to protest against his prolonged detention and not being allowed family visits. Bach has also demanded to be released on bail.
On January 18, 2022, Thao and attorney Huong went to the Hanoi Court to submit a document saying that Bach's family would pay compensation (on the accusation of tax evasion) before the trial, amounting to VND 500,000,000 (~US$ 22,000). However, they were told that they need to ask for the judge's signature to be allowed to do so. As of the time of this writing, the family still had not received the approval needed to pay the fine. The family was advised by their attorneys that they should propose again at trial to pay the compensation with the hope that Bach will receive a minor sentence. It is refundable if Bach is proven innocent.
February 2022:
Bach's lawyers and the family have still not been allowed to see him since the trial. Also, they have not been informed by the authorities if Bach was transferred to another prison. They have no updates on Bach's current physical and mental health situation. Bach's request to appeal his conviction was approved on February 14, 2022 but his lawyers, Nguyen Van Hung and Nguyen Thi Huong, did not receive the court's notice until February 21.
August 2022:
Dang Dinh Bach's wife, Phuong Thao, told The 88 Project she was able to see her husband on August 31 for about 20 minutes, their first meeting since his arrest. Bach said he was being held in a cell with 20 other people, and that he needed some books to read. Their conversation was cut off when Bach tried to tell Thao that he was innocent and needed the international community to help exonerate him. After a warning from the prison police, they were allowed to resume their conversation.
Earlier in the month, a court upheld the five-year sentence against Bach. Thao said she was not allowed into the courtroom, but caught a glimpse of her husband. She told The 88 Project Bach had been on a 24-day hunger strike to protest the incommunicado detention and that he looked like he'd lost 10 kgs. Bach's lawyer told Thao that before the trial someone from the court whispered in his ear that he should stop defending Bach because "everyone knows it's not about tax evasion."
Bach's appeal trial was originally scheduled for May 2022 but postponed.
October 2022:
Dang Dinh Bach's wife, Tran Phuong Thao, updated The 88 Project on his prison conditions after a recent visit. Read the update here.
November 2022:
Dang Dinh Bach was moved to a new prison without the family's knowledge. Bach's wife only found out when she went to visit him at Detention Center 1 in Hanoi, where he had been held since his arrest in June 2021.
January 2022:
His family can send him food (which is bought at the detention center) twice per month. Bach is a vegan. The family is concerned that Bach can not maintain his physical and mental health if he follows the vegan diet, due to the poor nutritional value of food in the detention center. As a result, they have sent him non-vegan food. Nevertheless, he has given it all away to his fellow inmates. Bach follows a meager diet of rice, sesame, and salt. The family worries for him because he has lost a lot of weight since his arrest. He was in good health before the arrest, his wife reported.
March 2022:
Dang Dinh Bach's wife urged Brussels to "take responsibility to intervene in my husband's release immediately," as Bach was scrutinizing Vietnam's trade deal with the EU prior to his arrest.
April 2022:
The International Federation on Human Rights (FIDH) published a briefing ahead of the EU-Vietnam human rights dialogue listing Vietnam's persistent violations of its obligations under the EVFTA. Among the many cases highlighted, of particular concern is that of Dang Dinh Bach, an environmentalist and steering member of VNGO-EVFTA.
August 2022:
The International Federation for Human Rights (FIDH) urges international rights groups to oppose the arrest and conviction of environmental NGO leaders using vague "tax evasion" charges. The FIDH "strongly condemns the unfair convictions, ongoing arbitrary detention and judicial harassment of Dang Dinh Bach, Mai Phan Loi, Bach Hung Duong and Nguy Thi Khanh, as it seems to be only aimed at punishing them for their legitimate environmental and human rights activities."
Appeal hearing verdict, Vietnamese
Appeal hearing verdict, English
First instance trial verdict, Vietnamese
VN: Ông Mai Phan Lợi bị khởi tố, bắt tạm giam về tội 'trốn thuế', BBC Vietnamese, July 2, 2021
Một giám đốc Trung tâm nghiên cứu bị bắt về tội trốn thuế, Nguoi Lao Dong, July 3, 2021
Khởi tố đối tượng Đặng Đình Bách về tội trốn thuế, Cong an Nhan dan, July 2, 2021
Khởi tố Giám đốc Trung tâm nghiên cứu pháp luật và chính sách phát triển bền vững, Voice of Vietnam, July 3, 2021
Vietnam arrests CSO leaders and blocks civil society participation in scrutiny of EU-Vietnam Free Trade Agreement, Que Me, July 8, 2021
July Arrests Mark Turn for The Worse, The 88 Project, July 10, 2021
Environmental leader Dang Dinh Bach, accused of "tax evasion," faces trial, The 88 Project, January 23, 2022
Vietnam: Ongoing arbitrary detention and judicial harassment against four environmental rights defenders, FIDH, August 17, 2022
Update on Political Prisoner Dang Dinh Bach from his Wife, Tran Phuong Thao: November 2022
This Lunar New Year, I want my husband home, Fair Planet, January 22, 2023
Washington Post Opinion Board article, February 2023
Profile last updated: 2023-03-03 04:43:58