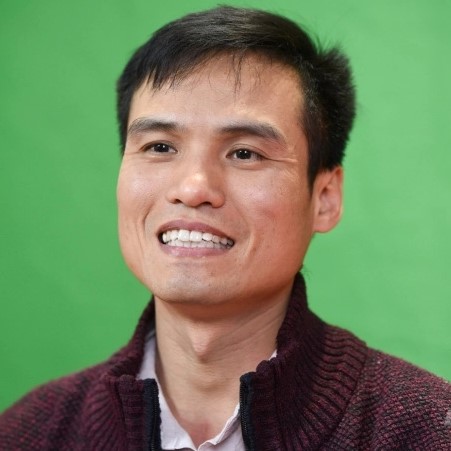 Dang Dinh Bach Vows to "Accept the Consequences" as He Begins Full Hunger Strike
The text that follows is an update from June 9, 2023 from Dang Dinh Bach, paraphrased by his wife, Tran Phuong Thao, after visiting with him on June 11.
An NGO leader and climate activist, Bach is currently serving five years in prison on charges of tax evasion, which we have argued are politically-motivated. 
Take action with the Stand With Bach campaign to amplify Bach's message and call for his release.
***
June 9, 2023
I refuse the entire prison rations. I refuse all medical visits; I refuse to sign any documents; I condemn the violation of my personal rights. The prison has arbitrarily filmed me and may try to use my pictures and post personal information related to me for any purpose and without my consent.
My wife tried to send me a notebook of poems I composed and poems that my friends wrote for me, but I did not receive it, and the prison even refused to return it to the family. I consider this an act of intimidation.
Regarding my decision to go on a hunger strike:
I want to raise awareness about social issues with my message "Environment – Justice – Climate," wishing that we can all unite to solve global problems.
I will go on hunger strike completely starting from June 9. I accept the consequences, even if I lose my life. I affirm this action as non-combatant, non-violent, and free from internal and external conflicts.
My wish: My colleagues and partners will protect the victims in the cases I have been working on, including:
– The victims in Thanh Hoa province in the case of burying pesticides and poisoning the living environment of 20,000 households by Nicotex Thanh Thai company;
– Victims of Nghi Son 2 Thermal Power Plant;
– Hai Phong coal-fired power plant;
– Vinh Tan Thermal Power Plant;
– and Mekong mainstream hydropower.
Over the past 14 years, my domestic and international colleagues and I have spent a lot of effort and money to provide information and warnings about the risks of landslides, salinization, and depletion of the Mekong Delta by the Mekong mainstream hydropower dam system from upstream China and Laos and to urge Vietnam to have a clear, effective, and practical view to protect the survival of the ecosystem and the life of more than 20 million Vietnamese people.
Strangely, in 2015, a project using 2 million USD from the state budget concluded that hydroelectric dams on the Mekong mainstream have a negligible impact on the Mekong Delta.
On May 30, 2023, the news program at 19:00 reported: The Mekong Delta suffered from landslides at 555 points with hundreds of serious landslides due to a shortage of hundreds of millions of tons of silt blocked in lakes every year and hydroelectricity upstream, robbing the land, livelihood, and peaceful life of thousands of households.
Nhan Dan Newspaper on June 10, 2023 reported: People were afraid due to the impact of serious landslides.
The People's newspaper on June 10, 2023 reported: Large-scale landslides in the riverbanks and southwest coast were seriously affecting the lives of thousands of people…
I think that the Vietnamese Communist government must be held responsible for national security and for the miserable lives of millions of compatriots who are living in fear.
***
© 2023 The 88 Project
https://the88project.org/wp-content/uploads/2021/07/DangDinhBach_Source-Thiennhien.net_.jpg
451
451
kayleedolen
https://the88project.org/wp-content/uploads/2019/01/88project.png
kayleedolen
2023-06-13 05:33:17
2023-06-13 05:33:17
Dang Dinh Bach Vows to "Accept the Consequences" as He Begins Full Hunger Strike