Vietnam Free Expression Newsletter No. 34/2023 – Week of September 5-11
Greetings from The 88 Project. We bring you news, analysis, and actions regarding human rights and civil society in Vietnam during the week of September 5-11.
The big news this week is the visit by President Joe Biden to Hanoi and the upgrade of the relationship between the United States and Vietnam to the highest level. What that means for the human rights situation moving forward remains to be seen, but there is certainly no shortage of analyses going around.
Two prisoners were released early from their sentences last week.
Project 88's Ben Swanton speaks about deepened US-Vietnam ties amid a disturbing crackdown on environmental activism.

HUMAN RIGHTS & CIVIL SOCIETY
Political Prisoners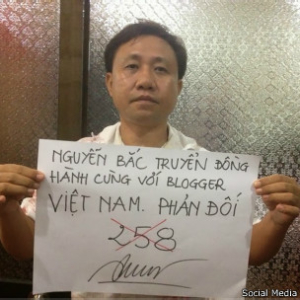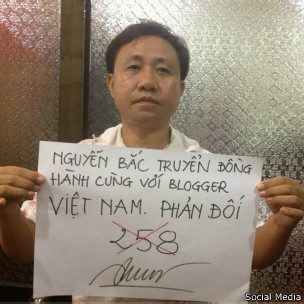 Nguyen Bac Truyen
Nguyen Bac Truyen has been freed early from his 11-year prison sentence and has gone into exile with his wife to Germany. On her Facebook page, Bui Kim Phuong announced that she and her husband arrived in Berlin on Sept. 8. She thanked the German government and its representatives at the embassy in Hanoi for their assistance and advocacy. Phuong also asked for some private time to recuperate and resettle. Truyen ran the Vietnamese Political and Religious Prisoners Friendship Association; he also provided free legal advice to those affected by land grabs and advocated for the release of political prisoners.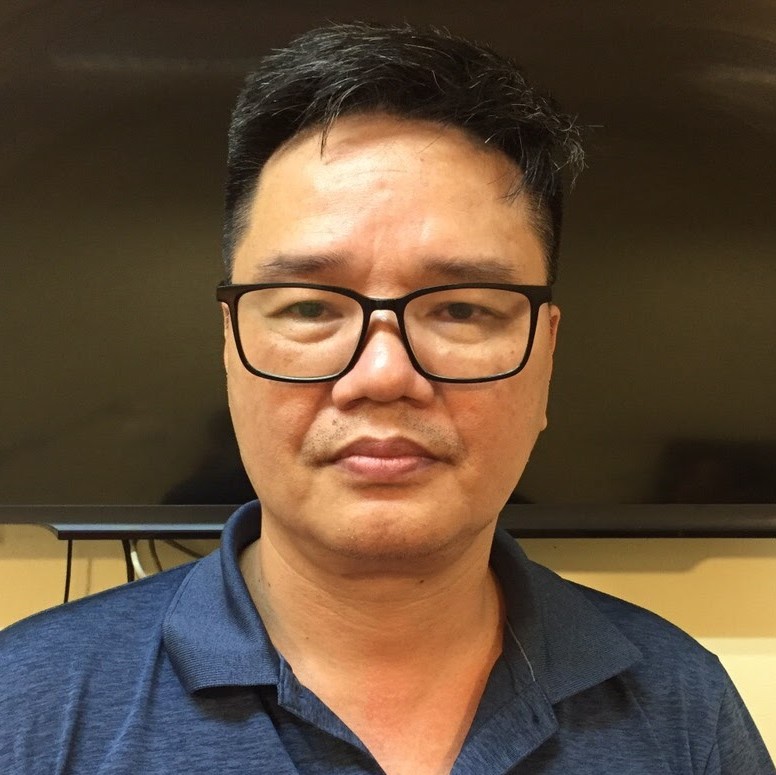 Mai Phan Loi
Journalist and climate leader Mai Phan Loi has also been freed early from his prison sentence and allowed to return home. His release followed an in-depth investigation by Project 88 into his political prosecution on charges of "tax evasion" and an ensuing intensive advocacy and media campaign.
Le Quy Loc has finished his prison sentence and was released on Sept. 9. A taxi driver, Loc was a member of the now-defunct Constitution Group (Hien Phap), which advocated for democratic changes. Arrested in September 2018, Loc was not allowed to see a lawyer until November 2019. He was eventually convicted of creating a "public disturbance" (Article 118) and sentenced to five years in prison plus three years of probation; however, Loc's wife told Project 88 that his probation period is now only two years.
The family of death row inmate Nguyen Van Chuong reported that they were able to visit him on Sept. 11. They said that he looked and seemed "in better health and spirits" than at the previous visit, perhaps due to "somehow learning that his case is being followed by many people."
As we reported last week, Le Trong Hung has begun his hunger strike to demand that the government respect the country's Constitution and the law.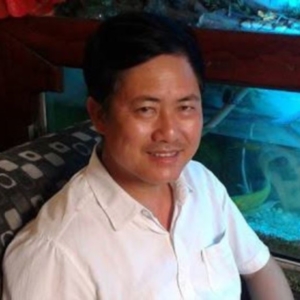 Luu Van Vinh
Le Thi Thap, the wife of Luu Van Vinh, told Project 88 that she was summoned by police from Binh Tan District in HCMC to appear for questioning on Sept. 8.. When she appeared, she was advised to persuade her husband to plead guilty in order for him to be released early. Then they asked her whether any representatives from the U.S. consulate had visited her husband and if she had signed any petition letter to the president of the United States. She answered that since her husband was in jail, they should know whether or not anyone had visited him. They also told her that if her family had a desire to emigrate to the United States, they would help her fill out the paperwork. She just told them to give her the forms. After that, she was allowed to go home safely. Vinh was arrested in 2016 and is serving a 15-year sentence for "attempted subversion" for belonging to the group Vietnam National Self-Determination Coalition.
International Advocacy
From the official White House statement on the new U.S.-Vietnam comprehensive strategic partnership:
"The U.S.-Vietnam Human Rights Dialogue is an important mechanism to discuss a wide range of human and labor rights-related issues including: freedoms of expression and association; freedom of religion or belief; rule of law and legal reform; and the rights of members of marginalized populations, including women and girls, ethnic minority groups, LGBTQI+ persons, and persons with disabilities, as well as individual cases of concern."
In a Sept. 8 letter led by the Vietnam Caucus and informed by Project 88's special investigation into the arrest of climate activists for "tax evasion," members of US Congress called on President Joe Biden to use his visit to Vietnam to address human rights abuses.
Project 88's Ben Swanton was a special guest on the podcast Drilled discussing the imprisonment of environmental activists in Vietnam and the lack of pressure from JETP leaders to free them.
President Biden Should Not Overlook Vietnam's Rights Crisis. Carolyn Nash, The Diplomat. The White House hopes to advance several priorities by establishing closer ties: the growth of a technology-focused Vietnamese economy, expanded education exchanges, and mitigation of the climate crisis among them. But substantive progress on these shared objectives will be impossible without systemic reforms that address the human rights failures of both administrations.
NEWS
US, Vietnam Highlight Elevated Relationship. VOA; September 10, 2023: Biden earlier met with Prime Minister Pham Minh Chinh and the two attended a business forum where Biden discussed deepening collaboration with Vietnam on cloud computing, semiconductors and artificial intelligence. .. Attendees at the meeting included executives from the top U.S. and Vietnamese semiconductor, tech and aviation firms. …Monday's talks came a day after the United States and Vietnam elevated their relationship to a "comprehensive strategic partnership" – a move the White House described as "unprecedented and momentous," and that brings the U.S. level with its main adversary, China, which has the same upper-tier diplomatic status with Vietnam.
Ahead of Biden visit, US watchdog says Vietnam backsliding on religious freedoms. Reuters; September 5, 2023: In a report on Tuesday, the U.S. Commission on International Religious Freedom (USCIRF) said that since Washington dropped Vietnam from a list of "countries of particular concern" (CPC) over religious freedom in 2006, the Hanoi government had created "more space in some areas" for expressions of belief. However, a "recent crackdown on civil society, increased pressure on independent religious communities, alarming reports of forced renunciations of faith, and other growing religious freedom violations add up to a clear reversal in that once-positive trajectory," it said.
Vietnam Air, Boeing near $7.5 billion deal for 50 737 max planes. Reuters; September 10, 2023: Vietnam Airlines (HVN.HM) is expected to sign an initial agreement to buy about 50 Boeing (BA.N)737 Max jets in a deal valued at about $7.5 billion, a person familiar with the talks told Reuters on Sunday. Wording of the impending deal, which confirms a Reuters report from last week, comes as U.S. President Joe Biden visits Hanoi to boost ties with the former foe.
Vietnam Chases Secret Russian Arms Deal, Even as It Deepens U.S. Ties. New York Times; September 9, 2023: But even as the United States and Vietnam have nurtured their relationship over recent months, Hanoi is making clandestine plans to buy an arsenal of weapons from Russia in contravention of American sanctions, an internal Vietnamese government document shows. The Ministry of Finance document, which is dated March 2023 and whose contents have been verified by former and current Vietnamese officials, lays out how Vietnam proposes to modernize its military by secretly paying for defense purchases through transfers at a joint Vietnamese and Russian oil venture in Siberia. Signed by a Vietnamese deputy finance minister, the document notes that Vietnam is negotiating a new arms deal with Russia that would "strengthen strategic trust" at a time when "Russia is being embargoed by Western countries in all aspects."
In Vietnamese
Movements of several activists and family members of political prisoners were closely monitored by police ahead of and during President Biden's visit. RFA.
President Biden makes a toast and quotes Vietnamese poet Nguyen Du at the state dinner honoring him. VOA.
ANALYSIS
The coming upgrade of the bilateral relationship between Washington and Hanoi is a milestone for the region – and the world. A New Era Is Dawning in US-Vietnam Relations. Jonathan London. The Diplomat; September 9, 2023.
Vietnam can come out of this complicated diplomatic competition a clear winner by centering the U.S.-Vietnam collaboration on the Mekong. Biden's Vietnam Deals Should Center on the Mekong. Brian Eyler, Foreign Policy; September 8, 2023.
In Vietnamese
The US wants to work with Vietnam on climate change initiatives, but is Hanoi sincere about it? Ben Swanton of Project 88 weighs in. BBC.
IN CASE YOU MISSED IT
Vietnam's state media cut out portions of President Biden's public statement relating to human rights. VOA.
https://the88project.org/wp-content/uploads/2022/08/Mai-Phan-Loi.jpg
775
776
kayleedolen
https://the88project.org/wp-content/uploads/2019/01/88project.png
kayleedolen
2023-09-13 04:09:21
2023-09-13 04:09:21
Vietnam Free Expression Newsletter No. 34/2023 – Week of September 5-11