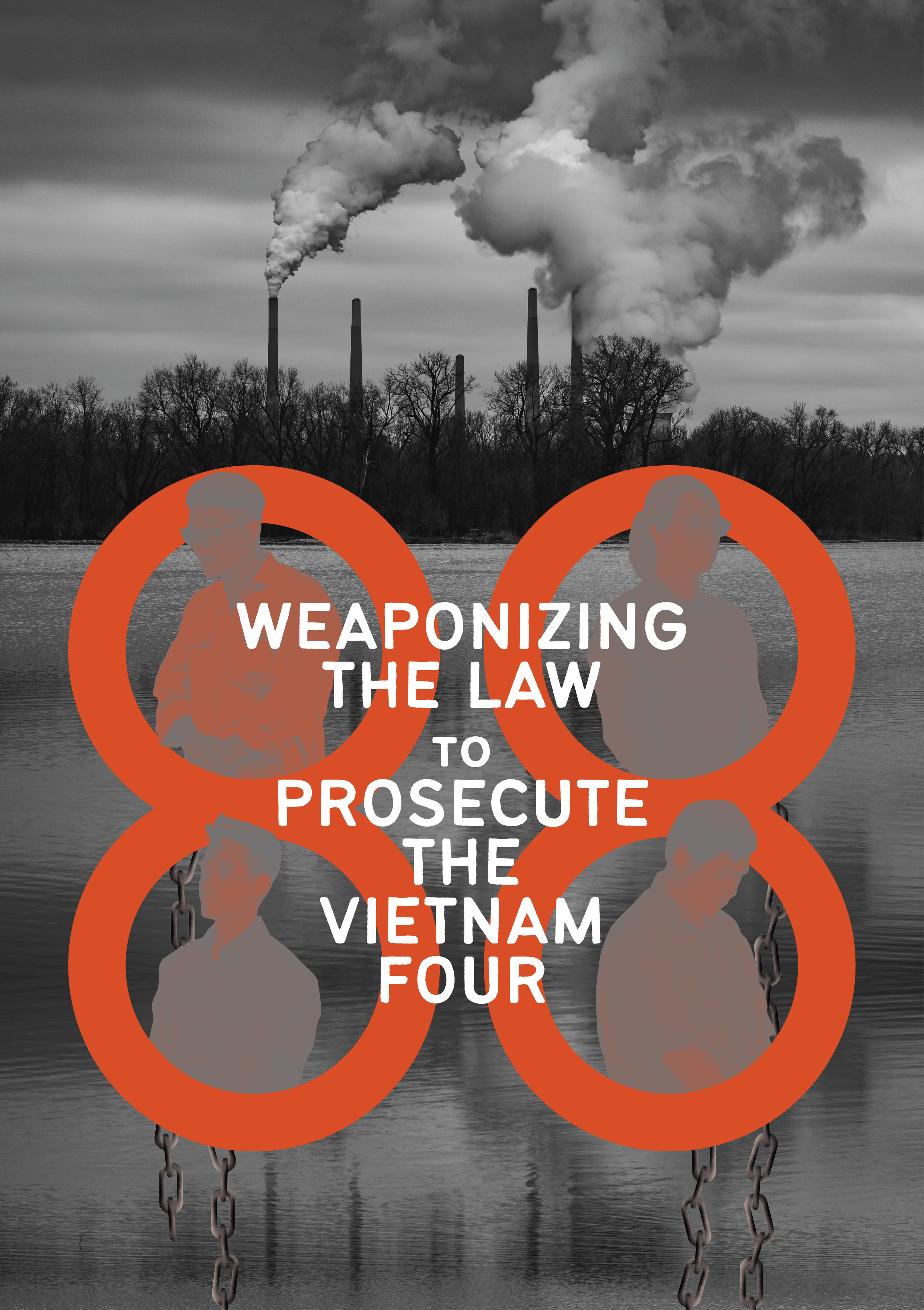 Report: Weaponizing the Law to Prosecute the Vietnam Four
Vietnam: Law Weaponized to Prosecute Climate Activists
G7 must demand no more arrests under energy transition deal
(Bangkok, April 21, 2023) – The Vietnamese government arbitrarily applied criminal law to prosecute the country's leading climate activists for tax evasion, Project 88 said in a report released today. The activists- Dang Dinh Bach, Nguy Thi Khanh, Mai Phan Loi, and Bach Hung Duong- pushed the government to commit to a policy of net zero carbon emissions by 2050, thereby paving the way for a $15 billion energy transition deal between the G7 and Vietnam. "Vietnam should immediately release Dang Dinh Bach and other activists who are being arbitrarily detained, and the G7 should condition financial aid for Vietnam's energy transition on the government not arresting any more activists", said Ben Swanton, Co-Director of Project 88.
The 88-page report "Weaponizing the law to prosecute the Vietnam Four" documents in granular detail evidence of political interference in the criminal prosecution of the activists, as well as the multiple ways in which their rights were violated. It also highlights how the activists' efforts to organize non-profits into powerful advocacy coalitions and promote a civil society movement brought them into conflict with a one-party state that, since General Secretary of the Communist Party of Vietnam Nguyen Phu Trong came to power in 2016, has enacted a spate of legal and extralegal measures designed to limit the autonomy and impact of civil society organizations.
"It's completely outrageous that the Vietnamese government is arbitrarily using criminal law to persecute the people leading the fight to save the planet," said Swanton. "It's also outrageous that the G7 is rewarding the government with a $15 billion energy transition deal that makes no concrete human rights demands."
Project 88 reviewed close to 90 court verdicts of individuals who were convicted of tax evasion between 2017-2022. It then compared the criminal procedures and sentences applied to these individuals with those applied to the four activists. On almost every indicator, Project 88 found serious irregularities. "The atypical prosecution of these four leaders shows that Vietnam's repression of dissent has not slowed down, only evolved," said Kaylee Uland, Co-Director of Project 88.
These irregularities include the decision to criminally prosecute Nguy Thi Khanh (when it is extremely rare for individuals who fail to pay tax on personal income to be criminally prosecuted); the decision to hold the Vietnam Four in pre-trial detention (when almost nobody convicted of tax evasion in Vietnam is held in pre-trial detention); the decision to apply prison sentences to the Vietnam Four as punishment (when, by our estimates, over 81% of people convicted of tax evasion do not serve prison time); and the application of disproportionate prison sentences. Dang Dinh Bach received one of the heaviest sentences ever for someone convicted of tax evasion, despite having been alleged to evade well below the mean amount of money in tax evasion cases.
Further, Bach, Loi, and Duong were charged with evading taxes on corporate income. Vietnamese law, however, is ambiguous about whether local NGOs have to pay corporate income tax and, at the time of the arrests, it was common practice for NGOs to not pay tax on funds received from foreign donors for international development projects, even if these projects had not received formal government approval.
These irregularities are strong evidence to suggest abuse of process and arbitrary application of the law. They also indicate that the charges, detention, and punishment of the Vietnam Four were neither necessary nor proportionate (insofar as they responded to a need to punish criminal conduct), but rather appear to have been designed to silence these individuals and remove them from society, thereby violating their right to freedom of expression and right to participate in public affairs.
Moreover, there is evidence to suggest that the prosecutions of Khanh and Bach were politically directed. The criminal investigations of Bach and Khanh were led by a division of the MPS, the Hanoi Security Investigation Agency. The Law on the Organization of Criminal Investigation Bodies, however, clearly stipulates that the Security Investigation Agency only has the authority to investigate "national security crimes, war crimes, and serious crimes," categories of crimes that do not include tax evasion. According to the law, this agency can only investigate other crimes if the minister of public security authorizes an exception, meaning that it is highly likely that Minister of Public Security To Lam initiated these proceedings himself.
All four individuals were also tried in closed hearings that lasted less than a day, indicating that the outcomes of these trials had been decided in advance. While only 1% of those convicted of tax evasion generally are held in detention until trial, all four individuals in these cases were kept in pre-trial custody.
Dang Dinh Bach was held completely incommunicado and was only allowed to meet with his lawyers once before his trial, 10 days before it was due to begin. Similarly, after he appealed his sentence, he was only allowed to meet with his lawyers once before his appeal hearing. These pre-trial restrictions parallel tactics employed by the authorities in other political prosecutions to isolate, discredit, and pressure defendants to plead guilty.
"The Vietnamese government apparently considers it a crime to organize for a clean environment and promote civil society independent from its one-party state," said Swanton.
Project 88's report dismantles the official government narrative that the Vietnam Four were targeted solely for tax evasion, meticulously establishing that the government had an ulterior motive for prosecuting them. Not only were the Vietnam Four close associates, they were also cooperating on a policy activism campaign that threatened entrenched interests and the party state's monopoly on policymaking.
The prosecutions of Bach, Khanh, Loi, and Duong are emblematic of a new wave of repression in Vietnam. Unlike anti state activists who are routinely prosecuted for "national security crimes," the Vietnam Four are members of a community of NGO professionals that adhered to state policy priorities and did not question the legitimacy of one-party rule. Project 88's contacts believe that without concerted interventions by the international community, this trend is likely to continue.
The report ends with recommendations to the international community for protecting the Vietnam Four and other civil society efforts in the country. "Releasing Dang Dinh Bach and other civil society leaders should be the bare minimum requirement for JTEP climate change engagement with Vietnam moving forward," said Uland. "The EU should also hold Vietnam to account for its violations of human rights monitoring under the EU-Vietnam Free Trade Agreement, since its Domestic Advisory Group has been effected by the prosecution of Dang Dinh Bach."
The report also calls for an independent investigation into the prosecutions, and specifically into the role of Minister To Lam in prosecuting Khanh and Bach, and provides suggestions as to how other civil society actors and international funders can support Vietnam's civil society movement.  For more Project 88 reporting, please visit:
For more information, please contact:
Ben Swanton (English, Vietnamese), ben@the88project.org
© 2023 The 88 Project
https://the88project.org/wp-content/uploads/2023/04/Artwork-05.png
3517
2481
kayleedolen
https://the88project.org/wp-content/uploads/2019/01/88project.png
kayleedolen
2023-04-21 03:29:20
2023-05-30 18:57:07
Report: Weaponizing the Law to Prosecute the Vietnam Four