Vietnam Free Expression Newsletter No. 15/2023 – Week of April 11-17
Greetings from The 88 Project. We bring you news, analysis, and actions regarding human rights and civil society in Vietnam during the week of April 11-17. This week's Vietnam news is dominated by two major events: a visit by U.S. Secretary of State Antony Blinken and the severe prison sentence handed down to an activist from a prominent family of intellectuals. The international community is raising serious concerns over his imprisonment and is calling on the United States and the EU to put pressure on the Vietnamese government to play by the rules. Also, a couple of former political prisoners were allowed to emigrate to the United States hours before Blinken's arrival in Hanoi. Last but not least, we have an update on the status of a prominent NGO leader accused of "tax evasion," who's been on a hunger strike for weeks.
Ahead of Earth Day, we will release our new report, "Weaponizing the Law to Prosecute Climate Activists in Vietnam." Stay tuned for publication later this week.
HUMAN RIGHTS & CIVIL SOCIETY
Political Prisoners
Nguyen Lan Thang
In a secret trial that lasted only a few hours, a court in Hanoi convicted Nguyen Lan Thang of distributing "anti-state propaganda" and sentenced the engineer-turned-activist to six years of imprisonment plus two years of supervised release. It is not known whether Thang's wife, Le Thi Bich Vuong, was allowed to attend the trial.
Just before Blinken's arrival in Vietnam, the U.S. State Department condemned the verdict against Thang, saying: "We urge the Vietnamese government to immediately release and drop all charges against Nguyen Lan Thang and other individuals who remain in detention for peacefully exercising and promoting human rights."
Luan Le, one of Thang's lawyers, said his client's indictment is based on 12 interviews with BBC Vietnamese between 2017 and 2020, during one of which Thang commented that the revolutionary heroine Vo Thi Sau "was suspected by many of suffering from mental illness." This was the only evidence that was admissible in court to accuse Thang of violating Article 117, according to a Facebook posting by Luan Le.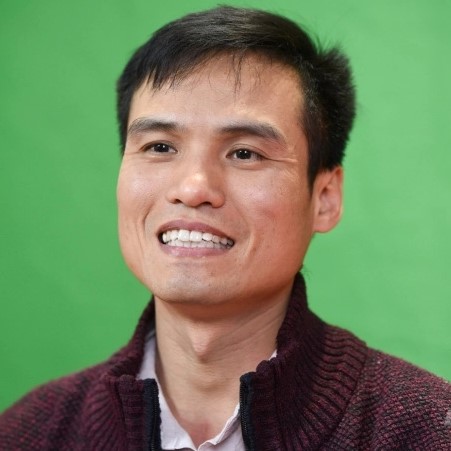 Dang Dinh Bach
Tran Phuong Thao reported that she met with her husband Dang Dinh Bach on April 15. Bach, the former head of an environmental NGO convicted of "tax evasion," has been on a partial hunger strike since March 17 to demand justice. Bach maintained his innocence and said that if nothing was done about his case, he would go on a full hunger strike starting on June 24 to coincide with the two year anniversary of his arrest. He requested that the family not send him any supplies after that point, adding that he would not yield until he achieved his goal. Thao said her husband has already lost more than 10 kg and appeared emaciated.
In a written statement obtained by Project 88, Bach asked that the UN Human Rights Commission and other rights organizations coordinate with the Vietnamese government to have his case investigated by an international judicial body. In particular, Bach requested that Dam Van Khanh, head of the Hanoi Investigative Agency, be prosecuted for violating human rights regulations. Bach also suggested that the government of Vietnam be investigated for having an ulterior political motive for imprisoning him and three other NGO leaders on tax charges. The 88 Project will be releasing an in-depth report on this subject next week.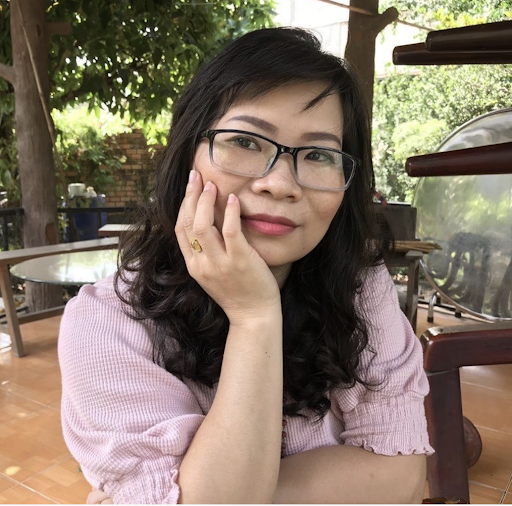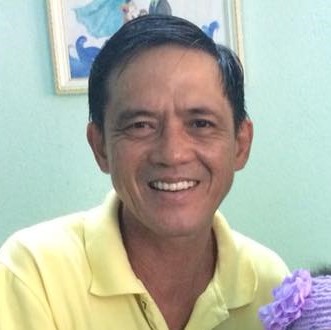 Pham Thanh Nghien and Huynh Anh Tu
Married former political prisoners Pham Thanh Nghien and Huynh Anh Tu arrived safely in Houston with their daughter on April 13. In Houston, Nghien told the Little Saigon magazine that her family was held at Tan Son Nhut International Airport for two hours before being allowed to board because officials wanted to make sure that Blinken was indeed coming. During their months-long process of preparation, Nghien said she was repeatedly advised by U.S. consulate officials to keep a low profile and not say anything, especially on social media. Last September, lawyer Vo An Don and his family were stopped by security police at the same airport after they had already sold their house and all their belongings and were on their way to emigrate from Vietnam. While waiting to board the plane, Don posted a photo of his family on Facebook with the caption "Ready to go."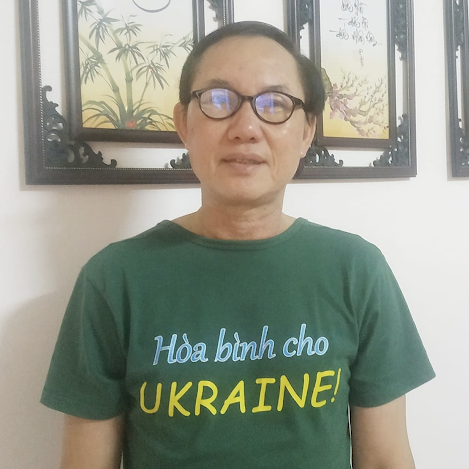 Dang Dang Phuoc
On April 11, a lawyer for Dang Dang Phuoc confirmed that the investigation into his client had been completed. Phuoc, a music teacher from Dak Lak Province, was arrested in September of last year and charged with "anti-state propaganda." His wife Ha Le said on her Facebook page that Phuoc's lawyer, Le Xuan Anh Phuc, had met with her husband and reported that he was in good spirits, and that his health was normal.
Vu Thi Dung was released early after serving nearly five years of her six-year sentence for "anti-state propaganda." Her release followed the early release of Nguyen Thi Ngoc Suong last month. Both were arrested in 2018 for activities related to anti-China protests and opposition to the cybersecurity bill. It is not known why the authorities released them early.
International Advocacy
The International Commission of Jurists has written an open letter to the Vietnamese government denouncing the conviction of Nguyen Lan Thang and calling for his release. "The prosecution and conviction is not only a miscarriage of justice against an individual, but yet another attack on an already battered rule of law in Vietnam," said Ian Seiderman, the ICJ's Legal and Policy Director. "The ongoing and heightened crackdown has targeted civil society activists, lawyers, journalists, political commentators and human rights defenders for engaging in activities that are protected under human rights law."
Secretary Antony Blinken said in Hanoi: "The United States is committed to supporting a strong, prosperous, independent, and resilient Vietnam.  And we respect Vietnam's right to shape its future under its own political system.  At the same time, we continue to underscore how future progress on human rights is essential to unleashing the full potential of the Vietnamese people.  That's the central focus of the U.S.-Vietnam Human Rights Dialogue." The full speech is available here.
Ahead of the visit, the U.S. Department of State released a detailed statement on the important issues facing the two countries. Read it here.
Vietnam responded to allegations of human rights violations by UN Special Procedures in the cases of 18 journalists, activists, and human rights defenders.
NEWS & ANALYSIS
U.S., Vietnam pledge to boost ties as Blinken visits Hanoi. Matthew Lee, AP; April 15, 2023: Blinken and Vietnamese Prime Minister Pham Minh Chinh pledged to boost relations to new levels as they met just two weeks after the 50th anniversary of the U.S. troop withdrawal that marked the end of America's direct military involvement in Vietnam. And it came as Blinken broke ground on a sprawling new $1.2 billion U.S. embassy compound in the Vietnamese capital, a project the Biden administration hopes will demonstrate its commitment to further improving ties less than 30 years after diplomatic relations were restored in 1995. Despite concerns over Vietnam's human rights record, Washington sees Hanoi as a key component of its strategy for the region and has sought to leverage Vietnam's traditional rivalry with its much larger neighbor China to expand U.S. influence in the region.
US looks to boost ties in Vietnam as China reportedly stalls Blinken visit. Reuters (via The Guardian); April 14, 2023: On Saturday Blinken emphasized the importance of human rights in a meeting with the Vietnamese prime minister, Pham Minh Chinh, a US State Department spokesperson said. Rights groups have regularly raised concerns over Vietnam's treatment of dissidents. The US faces challenges in South-east Asia in building a coalition to counter China and deter any potential action by Beijing against Taiwan. Many countries in the region are reluctant to antagonize their giant neighbor, which is not just a military power but also a key trading partner and source of investment.
Unveiling the engines behind e-government in Vietnam. Pham Thi Thuy Duong and Truong Thuy Quynh, East Asia Forum; April 15, 2023: The Communist Party of Vietnam (CPV) has political incentives driving its ambitious e-government project. The government treats e-government as a crucial step towards reforming its chunky bureaucratic system, as the digitisation of public services provision is predicted to cut the administrative budget by VND 8.5 billion (around US$360,000) per year. The CPV also considers e-government critical for improving surveillance. This is evident in its nationwide campaign to replace the old ID card with a chip-based one, which has resulted in a national population database. Beyond a more efficient surveillance structure, e-government represents the CPV's deeper desire to reinforce its legitimacy and mobilise greater public support.
© 2023 The 88 Project
https://the88project.org/wp-content/uploads/2018/08/nguyen-lan-thang.jpg
960
960
kayleedolen
https://the88project.org/wp-content/uploads/2019/01/88project.png
kayleedolen
2023-04-19 04:08:40
2023-04-19 04:08:40
Vietnam Free Expression Newsletter No. 15/2023 – Week of April 11-17