Huynh Anh Tu
Current Status: At risk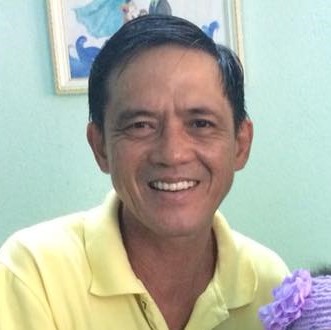 Other Names: Huỳnh Anh Tú
Date of Birth: February 15, 1968
Gender: M
Religion: Christian (Catholic)
Ethnicity: Kinh
Areas of Activism:
Democracy
Environment
Freedom of expression
Human rights
Sovereignty
Communities At Risk:
Highlighted Human Rights Concerns:
Former Political Prisoner
Details - Background, History of Activism, Family Situation, Contact Information.
In 2016, Huynh Anh Tu got married Pham Thanh Nghien, a former political prisoner who has lived in Loc Hung since 2014. They have a toddler and had just completed building their own house in Loc Hung vegetable garden one week before the new house was torn down during the forced evictions on January 4 and 8, 2019.
Profile photo source: Facebook Huỳnh Anh Tú
In 1999, Huynh Anh Tu was sentenced to 14 years in jail and seven years under house arrest for "Carrying out activities aimed at overthrowing the people's administration," (Article 79 of the 1999 Penal Code). After his release, the authorities refused to issue his identification documents, causing him trouble with travelling and finding a job.
January 8, 2019: house destroyed during forced eviction at Loc Hung vegetable garden
Forced eviction
January 8, 2019
Local administration
Loc Hung vegetable garden, Ward 6, Tan Binh District, Ho Chi Minh City (
map
)
freedom of movement
respect of privacy, family, home, and correspondence
In the early morning of January 8, the authorities carried out their land-grabbing for the second day at Loc Hung vegetable garden, Ward 6, Tan Binh District, Ho Chi Minh City.
A house of former political prisoners Huynh Anh Tu and Pham Thanh Nghien was destroyed on this day. The couple just completed building their new house in Loc Hung with their ten-year savings, only to see that house destroyed a week after. Pham Thanh Nghien managed to leave to bring her one-year-old daughter to a safe place, thanks to a friend's support, while Huynh Anh Tu stayed behind and witnessed the destruction of their house at 4:25 pm.
Tu and Nghien's family is now in a particularly precarious situation: as a former refugee in Thailand and long-term political prisoner, Huynh Anh Tu does not have any identification papers, so they are unable to rent. Nghien and Tu's toddler has asthma, and they need a home with electricity for her to have access to a functioning nebulizer aspirator.
Note: Loc Hung vegetable garden is a six-hectare area that belongs to the Catholic Church of Vietnam in Ward 6, District Tan Binh, Ho Chi Minh City. That area has been in dispute between the local government and the households for nearly twenty years. The authorities prevented the Loc Hung residents from legalizing their land use right even though the residents have valid documents to support their claim.
The negotiation ended with the first forced eviction on January 4, destroying around 10 houses by a powerful force, including police, civil defense forces, and volunteer youth, with equipment such as bulldozers and firetrucks. After the second day of land-grabbing on January 8, 2019, all 112 houses were totally destroyed.
Please read more on the land-grabbing at Loc Hung vegetable garden, here.
Profile last updated: 2020-02-20 14:23:12