Dang Dang Phuoc
Current Status: Pre-trial detention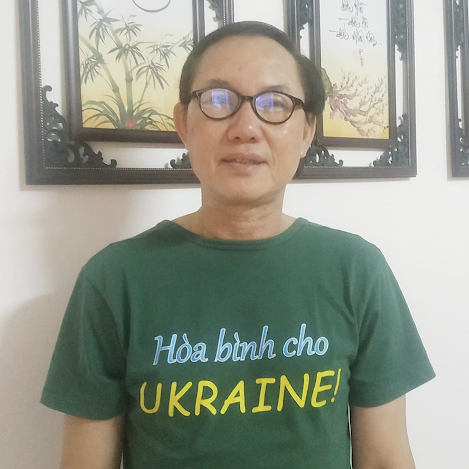 Other Names: Đặng Đăng Phước, Đặng Phước
Date of Birth: August 20, 1963
Gender: M
Ethnicity: Kinh
Occupation: Teaching professional
Areas of Activism:
Anti-corruption
Democracy
Freedom of expression
Human rights
Sovereignty
Highlighted Human Rights Concerns:
Details - Background, History of Activism, Contact Information.
July 22, 2022: summoned for questioning related to Facebook posts
Police interrogation
July 22, 2022
Local administration
08 Ly Thai To Street, Buon Me Thuot City (
map
)
On July 22, 2022, Phuoc posted on his Facebook account that he complied with the Dak Lak Department of Information and Communication summons and also shared his experience about the working session with representatives of the department.
According to Phuoc, the department representatives asked him about three things: (1) Was he the owner of two Facebook accounts? (2) Had he posted all the articles and videos on his accounts? and (3) The two Facebook posts on his account called "The Uncle gave gifts to beautiful girls," and "Arguments by the Dong Lao region."
For questions (1) and (2), Phuoc answered that he created his first Facebook account in 2009, and that it was later hacked. Hence, he did not use that account anymore. He said he then signed up for his second Facebook account, but it had before been hacked; he claimed he could not control it. Phuoc confirmed that live-streamed videos on the second Facebook were posted by himself, while he did not take credit for articles and other content on the page.

For question (3), Phuoc affirmed that there were two mentioned posts on the Facebook timeline, but he was not the writer and he does not know how to remove them due to his limited IT skills. The department representatives concluded that the two posts had content that violated Article 5.1 of "Providing false information, slandering or damaging the reputation of organizations or dignity of individuals" and Article 26.4 of Decree 72/2013 NĐCP, and asked Phuoc to remove them. However, Phuoc told them that he did not know how to do that.
Arrested September 8, 2022. Charged under Art. 117 (2015 Code).
September 8, 2022
Dak Lak province public security, Dak Lak province
Tan Loi Ward, Buon Me Thuot City (
map
)
freedom from arbitrary arrest or detention
liberty and security of the person
freedom of expression
On September 8, 2022, state media reported that Dak Lak provincial public security arrested Dang Dang Phuoc. He is charged with "storing, making, and posting online materials that propagandize, distort, and defame the Socialist Republic of Vietnam" under Article 117 of the 2015 Criminal Code.
According to state media, from 2019 onwards, Phuoc had regularly posted many articles and videos on his Facebook accounts, which the government alleged included distorting and anti-State content. The authorities added that although he was repeatedly lectured and warned by the local authorities, he published more extreme posts. Noticeably, his most recent post was about activist Bui Tuan Lam, who was arrested the day before Phuoc was arrested.
A close friend of Phuoc (who wished to remain anonymous due to security concerns) told RFA that "Phuoc was arrested around 6 am when he was doing morning exercises near his house. He was then escorted home and his house was searched for hours."
On September 14, the Security Investigation Agency of Dak Lak province's Police Department sent Phuoc's family a notice issued two days earlier which stated: "Dang Dang Phuoc did not ask for a defense [lawyer] but [chose to] protect his own interests during the investigation process." His wife, Le Thi Ha, told the media that she doesn't believe the contents of the notice as "My husband told me to hire a lawyer for him before he was arrested," she explained.
According to his wife, Le Thi Ha, Phuoc was healthy before his arrest.
Phuoc has no mental health issues, as confirmed to The 88 Project by his wife.
Profile last updated: 2022-11-06 05:08:29