Do Nam Trung
Current Status: Sentenced to prison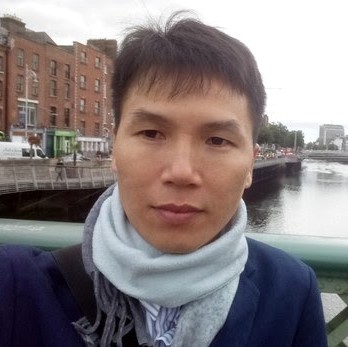 Other Names: Đỗ Nam Trung
Date of Birth: November 25, 1981
Gender: M
Ethnicity: Kinh
Last Known Prison: Prison No. 5, Thanh Hoa province
Areas of Activism:
Democracy
Freedom of expression
Sovereignty
Highlighted Human Rights Concerns:
Former Political Prisoner
Harsh Physical and Administrative Conditions
Denial of Family Visit/Punitive Prison Transfer
September 2023:
Anh Tuyet, the fiancée of Do Nam Trung, reported to Project 88 that Trung's health is fair. However, she said that since his arrest 17 months ago, she has not been allowed to visit him every month, because they are not yet married; only his direct family members have been able to see him.
***
The UN Working Group on Arbitrary Detention (WGAD) released its preliminary opinion on the case of Do Nam Trung, noting that the government of Vietnam was very late in responding to its request for more information.
March 2023: Do Nam Trung's wife is seeking help finding a place to stay after their lease expired and the landlord refused to renew her lease. She and her child finally found a place, put down a deposit, and had begun moving in, but hours before she was to sign the contract, the new landlord said she had to leave. She suspects the landlord was pressured to cancel her contract. Forced eviction is often employed as a means of pressure against families of political prisoners.
Details - Background, History of Activism, Family Situation.
Do Nam Trung lives and works at Dong Da District, Ha Noi City. His permanent address, however, is still at Nghia Hung District, Nam Dinh Province.
Profile photo: Source
Do Nam Trung has a long history of activism. In 2014, at the height of protests opposing China's action in the South China Sea, Trung was arrested and sentenced to 14 months in prison for calling for and participating in those protests.
After his release, Trung continued to support democratic and human rights efforts in the country.
Trung became a frequent target of security police. He was often harassed online by the state-run army of cyberthugs. Before Trung's arrest, it is likely that his Facebook account was targeted by government-backed social media users known as "Force 47."
According to Trung's fiance, Trung's account was reported four times and blocked for 30 days each. Once the temporary ban ended, Trung was able to log into the account for an hour or two before it was reported again, and Trung was blocked once more.
It is likely that this was the result of a coordinated attempt to silence Trung by triggering Facebook's community standards on mass reporting.
Read about the unlikely start to his activism journey, here.
Arrested July 6, 2021. Sentenced to 10 years in prison and 4 years probation under Art. 117 (2015 Code). Expected Release is July 6, 2031.
July 6, 2021
Nam Dinh public security, Nam Dinh province
December 16, 2021
The People's Court of Nam Dinh Province
Pham Le Quyen
Ha Huy Son
Dang Dinh Manh
Le Van Luan
10 years in prison and 4 years probation
July 6, 2031
freedom from arbitrary arrest or detention
liberty and security of the person
fair trial
political participation
The 88 Project
UN Special Rapporteurs
UN Working Group on Arbitrary Detention
The European Union
Office of the United Nations High Commissioner for Human Rights
On July 7, 2021, the Public Security of Nam Dinh Province issued the official indictment and the decision on his detention. Trung's partner said that the security force offered no specific reason for the arrest, but provided the warrant saying that Trung is being investigated under Article 117 of the 2015 Criminal Code.
Nam Dinh Public security escorted Trung from Ha Noi to Nam Dinh on the same day.
Noticeably, Trung, his fiance and two of their friends were followed by plainclothes police officers on July 04, 2021; two days before his arrest. They were followed by three strangers while they were on their way back home after eating out at a restaurant in Hanoi.
October 2021:
Authorities finished the investigation of long-time democracy activist Do Nam Trung after only three months of pre-trial detention, his family reported. Trung's family was still waiting to hear from his lawyers what the charges against him would be.
November 2021:
The fiance of Do Nam Trung, Nguyen Thi Anh Tuyet, reported that he was visited by his lawyer, Ha Huy Son, and that Trung's health was stable and that he had regained some of the weight that he had lost. However, Trung said he had not received the full amount of money she'd been sending him, even though Tuyet always got confirmation from the front office that they received her money. She also said Trung has not not yet received any vaccination against Covid.
***
Previously: Do Nam Trung was allowed to see his lawyer on November 11. According to lawyer Ha Huy Son, Trung's health was stable. Since his arrest, Trung had been neither physically abused nor pressured to confess. He had lost about 2kg and weighed around 70kg. Trung had received money that his family sent but not any other items.
December 2021:
On December 16, long-time activist and former political prisoner Do Nam Trung was given a 10 year prison sentence for "anti-State propaganda," bringing the total number of Article 117 victims to four in just three days — a new record. Out of the four, Trung's background story is the least well known but quite intriguing nonetheless. We invite you to read about it here.
During his trial, Trung's parents and his younger sister were allowed into the court. The police took Covid concerns as an excuse to refuse his fiance, Tuyet, to join the trial, even though it was allegedly a public one. There were around 70 police officers inside the courtyard and outside along the street. They set up two signal scramblers so that people could not connect with each other and send updates on the trial. Therefore, Tuyet had to go to a shop to buy drinking water and sit there, trying to text people who could report on Trung's trial. The police then came and asked the vendor to close the door.
Earlier in the month, Trung's lawyer met with him twice and reported that Trung was healthy and mentally strong. The lawyer said he was able to access all the documents related to the case without any harassment. Thirteen of 16 video clips which were to be used as evidence of his spreading "anti-state propaganda" were deemed non-admissible by investigators.
January 2022:
Do Nam Trung's request to appeal his conviction was approved on January 4, but his lawyer, Ha Huy Son, did not receive the court's notice until January 21, more than two weeks later. It's not known when the appeal trial will take place.
February 2022:
On February 3, 2022, Tuyet and the family visited Bat Di prison to send Trung pocket money and food. Homemade food was allowed this time to be sent to prisoners because the prison canteen was closed during the Vietnamese Tet holiday. Trung's lawyers and the family have not been allowed to see him since the trial. They have no updates on his current physical and mental health situation.
March 2022:
Do Nam Trung had his appeal trial on March 24. Trung was convicted of "anti-state propaganda" in December 2021. In a highly unusual move, the authorities allowed Trung's parents and sister into the courtroom. Unsurprisingly, however, the judges upheld Trung's sentence of 10 years in prison for posting video clips that allegedly "opposed the Socialist Republic of Vietnam."
**
Do Nam Trung met with his lawyers, Luan Le and Pham Le Quyen, on March 9. Truong was in good health and had been vaccinated against covid. Anh Tuyet, his wife, and their daughter were allowed to visit him at the Bat Di Prison in Nam Dinh Province on February 3 and delivered outside food for the first time in seven months. On March 1, however, Trung's mother was turned away and was told that only "cooked food" was allowed.
May 2022:
Anh Tuyet, wife of Do Nam Trung, reported on her Facebook page that she and Trung's mother were allowed to visit him for the first time since his arrest. Suffering from an ulcer and anxiety, Tuyet said she was relieved to see that Trung looked healthy and appeared to have even gained some weight. Trung told her he was treated well by others in jail, including the guards. He wanted to thank everyone who's been advocating on his behalf.
Later in the month, Do Nam Trung's wife posted on her Facebook page that Trung had been transferred from Bat Di Detention Center in Nam Dinh Province to Prison Camp No.5 in Thanh Hoa Province.
June 2022:
Do Nam Trung's wife, Anh Tuyet, and his mother went to Prison Camp No. 3 on June 13 to visit Trung but were not allowed to see him. According to the family, they were only able to give him some documents to sign for the registration of his marriage certificate. Trung was reported to be in good health and spirits.
For more details, see the above section.
April 2023:
The UN Working Group on Arbitrary Detention (WGAD) released its preliminary opinion on the case of Do Nam Trung, noting that the government of Vietnam was very late in responding to its request for more information.
November 2021:
On November 1, 2021, the UN Special Rapporteur on Arbitrary Detention sent the government of Vietnam its report on human rights defenders Chung Hoang Chuong, Nguyen Van Nghiem, Le Van Dung, Dinh Thi Thu Thuy, Do Nam Trung and Dinh Van Hai, requesting a response. On November 21, the government requested a two-month extension to February, 2022, to reply.
Actions take in the wake of his trial:
Nhà hoạt động Đỗ Nam Trung bị bắt theo Điều 117, Radio Free Asia Vietnamese, July 6, 2021
Bắt Đỗ Nam Trung về tội chống phá Nhà nước, Nguoi Lao Dong, July 7, 2021
Bắt tạm giam đối tượng tàng trữ, phát tán tài liệu chống Nhà nước, Nam Dinh Internet Gateway, July 8, 2021
Nhà hoạt động Đỗ Nam Trung bị bắt, VOA Vietnamese, July 6, 2021
Report from the UN Special Rapporteur, November 2021
Facebook update, November 30, 2021
Facebook update from his lawyer about the trial, December 16, 2021
From Wrongful Conviction to Political Activism: The Background Story of Do Nam Trung, December 20, 2021
February 2022 Facebook update
March 2022 Facebook update
May 2022 Facebook update
Opinion from the UN Working Group on Arbitrary Detention, March 2023
May 2022 Facebook update on prison transfer
Profile last updated: 2023-09-28 15:32:05