Dinh Thi Thu Thuy
Current Status: Pre-trial detention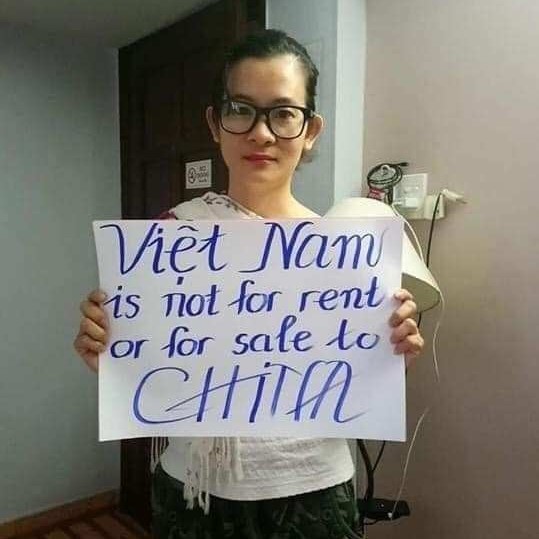 Other Names: Đinh Thị Thu Thủy
Date of Birth: 1984
Gender: F
Ethnicity: Kinh
Occupation: Sales
Areas of Activism:
Digital rights
Rule of law
Anti-corruption
Freedom of expression
Sovereignty
August 2020:
Police in Hau Giang Province extended by four months the detention of Dinh Thi Thu Thuy. She has been held incommunicado for four months and if convicted could face a prison sentence of seven to 12 years.
Details - Background, History of Activism.
Thuy lives in Nga Bay City, Hau Giang Province.
Profile image: Thuy held a sign in protest of the Law on Special Economic Zones in 2018. Source
In June 2018, Thu Thuy participated in a national demonstration against the Law on Special Economic Zones and the Law on Cybersecurity. She was then accused of disrupting public order, arrested, and detained like many other participants at the time. In the temporary detention camp, she was reportedly beaten and harassed.
The simple act of expression being punished by such arbitrary force affected her perspective about the current government. Thuy is now a fervent supporter of rule of law, freedom of expression, and democratization in Vietnam. Unfortunately, it has resulted in her being harassed and put under surveillance in the time since the June 2018 protest.
Arrested April 18, 2020. Charged under Art. 117 (2015 Code).
April 18, 2020
Hau Giang province public security, Hau Giang province
Her house in Nga Bay City (
map
)
freedom from arbitrary arrest or detention
liberty and security of the person
freedom of expression
According to the accusation against her, Thuy has opened multiple Facebook accounts to edit, post, and share thousands of documents defaming and slandering the Party's leadership. The public security agents also added that during the "national war" against COVID-19, Thuy has used social media to distort the state's policy and create confusion among the public. Our brief review of Thuy's Facebook account shows that none of these accusations are credible. She simply criticized certain policies, which should be completely protected as an international right to freedom of expression. According to VOA, the authorities also confiscated several facemasks that have the "NO - U" logo. NO - U is a political movement protesting the territorial claims of China in the South China Sea.
Profile last updated: 2020-08-24 04:38:27