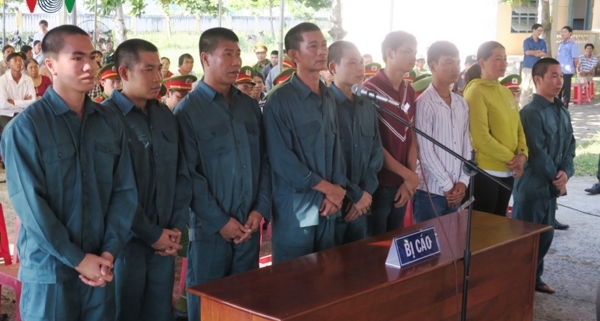 Vietnam's June 2018 Protests: 127 Jailed or At Risk A Year Later
Vietnamese protesters on June 10, 2018. Source: Nguyen Thi Khiem Nhu Facebook
The scenes of the June 2018 national protests were troubling: authorities storming into areas where protesters gathered, rounding up massive groups of people on the streets, and allegedly even inciting violence to elicit responses from demonstrators. The June 2018 protests over draft bills on Cybersecurity and Special Economic Zones saw thousands of people from all backgrounds and from all areas of Vietnam take to the streets to protest over issues of sovereignty, freedom of expression, and the lack of ability to participate in the political process that yielded the proposed legislation. The aftermath of the protest crackdown is still sending shock waves through communities one year later, as 127 people are behind bars or at risk after their participation in the demonstrations. Of the 359 profiles of political prisoners and activists at risk featured in our Database of Persecuted Activists in Vietnam, over one third have been affected by the crackdown on the June 2018 protests.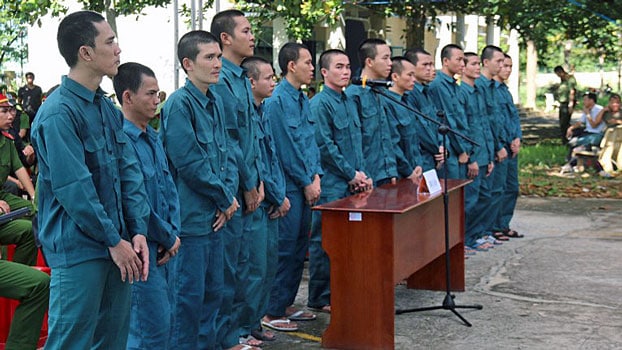 Defendants in court on September 26, 2018. Source: Radio Free Asia
Of the 127, 92 people are behind bars serving prison sentences. Nine are still awaiting trial. Another 26 are at risk: eight who are sentenced to probation, 14 who finished serving their prison time but remain at risk, and another four who have not been formally arrested but have suffered other types of harassment and persecution for their involvement. Twenty-five of the 127 are females. Many of the 127 people come from poor backgrounds and occupations as laborers and vendors. The incidents of arrest and harassment have been localized in provinces around Ho Chi Minh City, with 80 incidents in Binh Thuan province, 23 in Dong Nai province, and 22 in Ho Chi Minh City. Due to the absence of independent media in Vietnam, it is likely that many more people are in prison or suffering from harassment due to their participation in the protests.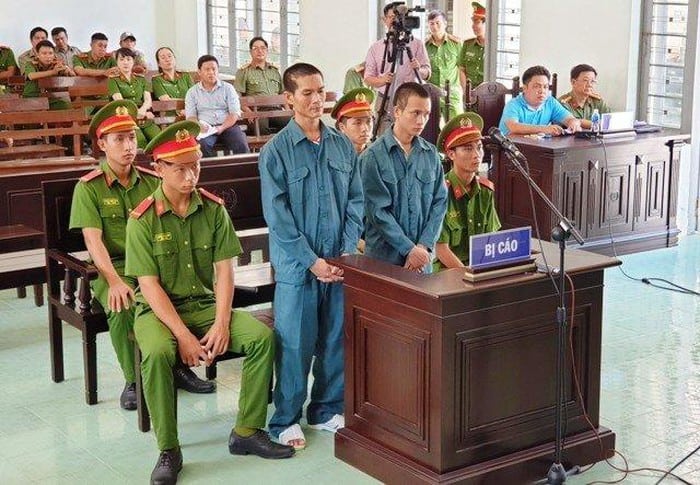 Dang Ngoc Tan (R) and Pham Thanh (L) at trial on May 21, 2019. Source: Nhan Dan
Most all of those imprisoned have been charged with or tried under Article 318 of the 2015 Criminal Code for "disturbing public order." Many were tried without a lawyer, and almost all were tried in one-day trials with up to ten or fifteen other prisoners. In one case, some protesters did not have a defense counsel because police went to the defendants' houses and told the families "not to hire a lawyer because it would be a waste." Two protesters were sentenced to between 5-9 years in prison, and two to more than 15 years each. Dang Ngoc Tan and Pham Thanh were sentenced to 17 years and 11 years in prison, respectively, for "deliberate destruction of public property," under Article 178, Clause 4 of the 2015 Criminal Code, on May 21, 2019. The two had already been tried before under a different charge, and Dang Ngoc Tan tried two times previously, all for their involvement in the June protests. In total, Dang Ngoc Tan and Pham Thanh have been sentenced to 24 and 15.5 years in prison, respectively. Dang Ngoc Tan is only 19 years-old.
Even after being released from prison, some protesters have continued to suffer from harassment. According to Facebooker Vu Quoc Ngu, a group of seven citizens was briefly detained at Moc Bai border gate, and their phones confiscated, on May 26, 2019 when they were on the way back from Cambodia for a trip. Four of them are former political prisoners: Nguyen Thi Ngoc Phuong, Nguyen Thi Truc Anh, Ho Cong Di, and Vo Nhu Huynh, all sentenced to prison for their involvement in the June 2018 protests. Authorities have also harassed supporters of the imprisoned protesters for trying to send money to or visit the imprisoned peoples' families. On December 7, 2018, activists in Ho Chi Minh City and Vung Tau drove cars to visit families of 15 protesters, but before they arrived, the police of Dong Nai attacked the car by throwing stones, breaking the car windows, and injuring the activists. The activists were forced to turn back. These tactics are emblematic of a large crackdown that has affected activists in many aspects of their lives, including surveillance and restriction of freedom of movement.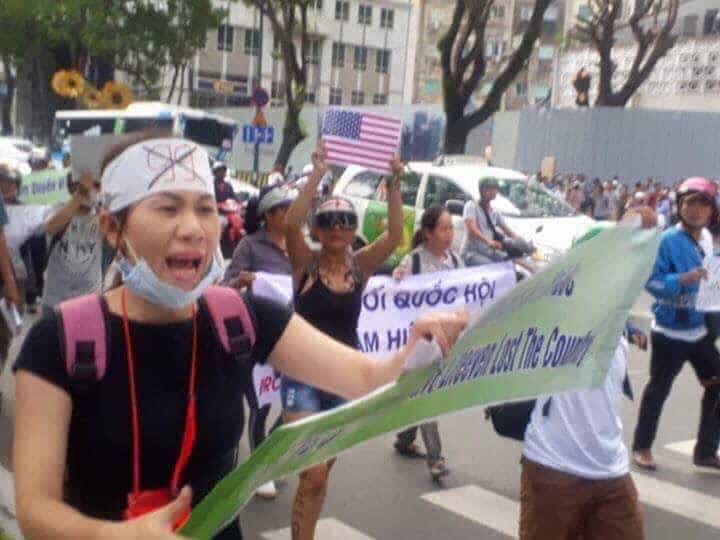 Doan Thi Hong is one of the 25 women targeted in this crackdown. Photo source: Facebook Nguyen Thuy Hanh
While the authorities accused some of these protesters involved in the June 2018 protests of using violence, Vietnamese activists themselves claim that the violence was actually started by the authorities, who sent their own people to mingle with the protesters to start or incite violent scenes, which would justify the use of harsher means to disperse the crowd, such as tear gas, water cannons, physical assaults, and arrests. This method, the activists said, would be part of what the Public Security calls Project A2 – Disperse protests and Repress riots. While this claim from the activists remains to be verified, it is true that the police have used brutal violence towards protesters and activists. This has been well documented in the "Black Sundays" report. In the absence of a free press environment, the protesters should be given the benefit of the doubt, and any accusation by the authorities against them should not be taken for granted.
We call on the international community to not overlook these cases due to an unproven element of violence and to hold Vietnam accountable to its obligations under the International Covenant on Civil and Political Rights to respect its citizens' freedom of expression, freedom to peacefully protest, and freedom of political participation.
© 2019 The 88 Project
***
Featured Image (top of post): Nine protesters sentenced on November 29, 2018 in Binh Thuan province. Source: Voice of Vietnam
https://the88project.org/wp-content/uploads/2019/06/Nine-protesters-sentenced-on-November-29-2018_Source-Voice-of-Vietnam.jpg
375
600
kayleedolen
https://the88project.org/wp-content/uploads/2019/01/88project.png
kayleedolen
2019-06-06 12:59:42
2019-06-06 12:59:42
Vietnam's June 2018 Protests: 127 Jailed or At Risk A Year Later