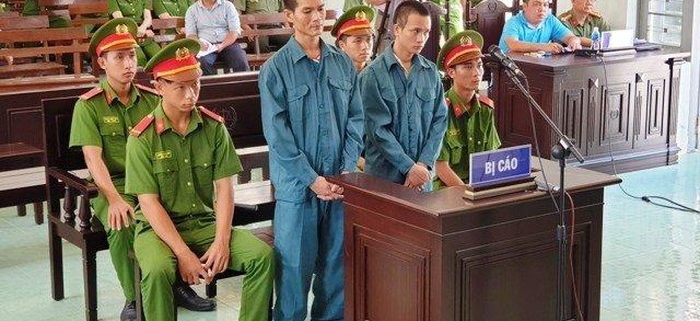 More Than 39 Years in Prison For Two Activists in Binh Thuan Province As Persecution Against June 2018 Protesters Continues
On May 21, 2019, the People's Court of Binh Thuan Province held a trial against Dang Ngoc Tan and Pham Thanh, two protesters who had participated in mass demonstrations against the bills on Special Economic Zones and Cybersecurity on June 10 and 11, 2018 in Binh Thuan province. They were sentenced to 17 years and 11 years in prison, respectively, for "deliberate destruction of public property," under Clause 4, Article 178 of the 2015 Criminal Code.
The two had already been tried before under a different charge. On September 26, 2018, in a trial against 15 protesters, the People's Court of Bac Binh district sentenced Pham Thanh to four years and six months in prison, and Dang Ngoc Tan to four years, for "disturbing public order," under Article 318 of the 2015 Criminal Code, for their participation in the protest on June 11, 2018 in Phan Ri Thanh commune, Bac Binh district, Binh Thuan province. On March 7, 2019, Dang Ngoc Tan was also sentenced to three years in prison by the People's Court of Tuy Phong district, also under Article 318, for his participation in the protests on June 10, 2018 in Phan Ri Cua town and Hoa Minh commune, Tuy Phong district, Binh Thuan province.
In total, Dang Ngoc Tan and Pham Thanh were convicted to 24 and 15.5 years in prison, respectively. Dang Ngoc Tan is only 19 years-old.
According to our database, to this date, 127 activists who had participated in June 2018 have been either convicted or otherwise harassed for joining the protests. The sentences in this trial are believed to be the highest so far against those protesters.
In addition, Tan and Thanh also had to pay a compensation of 3.6 billion VND ( 154,210 USD) and more than 1 billion VND (42,836 USD), respectively, for burning four fire trucks and 12 police cars at the headquarters of the Binh Thuan Police's Fire Fighting and Prevention Office during the protest on June 11, 2018, according to the indictment.
Violence has been one of the reasons the authorities have deployed to justify the harsh punishment against those protesters. Yet, Vietnamese activists themselves claim that the violence was actually started by the authorities, who sent their own people to mingle with the protesters to start or incite violent scenes, in order to justify the use of harsher means to disperse the crowd, such as tear gas, water cannons, physical assaults, and arrests. This method, the activists said, would be part of what the Public Security calls Project A2 – Disperse Protests and Repress Riots.
While the claim from the activists remains to be verified, it is true that the police themselves have used brutal violence towards protesters and activists. This has been well documented in the "Black Sundays" report, which details the detentions of unarmed protesters and the physical assault that amounts to torture against them, and calls for accountability from the Vietnamese government in line with international human rights obligations. In the absence of a free press environment, the protesters should be given the benefit of the doubt, and any accusation by the authorities against them should not be taken for granted.
© 2019 The 88 Project
https://the88project.org/wp-content/uploads/2019/05/Dang-Ngoc-Tan-right-and-Pham-Thanh-left-at-trial-on-May-21-2019-Source-Nhan-Dan.jpg
485
700
Huong Nguyen
https://the88project.org/wp-content/uploads/2019/01/88project.png
Huong Nguyen
2019-05-23 04:05:08
2019-05-23 04:11:00
More Than 39 Years in Prison For Two Activists in Binh Thuan Province As Persecution Against June 2018 Protesters Continues